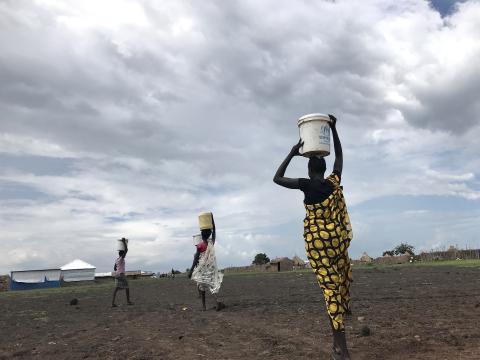 A salute to South Sudanese women's courage and grace in the midst of unimaginable odds
Wednesday, March 6, 2019
By Vanessa Saraiva, Protection & Gender Senior Advisor, World Vision South Sudan
I have learned so much since moving to South Sudan. The country has various laws and policies that aim to support a woman's full realization of her rights such as the National Gender Policy, the National Action Plan to Implement Resolution 1325 on Women, Peace, and Security and a Standard Operating Procedure for Gender-Based Violence (GBV) Prevention, Protection and Response.
Yet, we continue to hear about the negative experiences of women and girls – the violation of their rights. Someone said to me, "Whenever I hear that one works on protection and gender in South Sudan, I imagine how overwhelming that job must be".
According to United Nations Population Fund, in 2018, 98 percent of survivors of GBV were women and girls; 2% were men and boys. This is reflective of two things: entrenched gender inequality in the country andthe stigma experienced by men and boys that significantly deters them from reporting and seeking GBV response services.
The mother-to-mother groups empower women to keep other mothers aware of health issues and what can they do about them.
In my work, I hear of the consequences that conflict has had on all people of South Sudan, but most especially, women and girls: physical assault, emotional abuse, rape, denial of resources and opportunities, forced marriage, and sexual assault. However, at the root of these, is unequal power dynamics between women and men, girls and boys; the belief that one person is superior to the other, simply by virtue of their sex.
But the women and girls I have met in South Sudan are anything but inferior. These are women who bear the burden of household work, walk long distances to collect firewood and food, earn a meagre income where the opportunity allows and raise children – the future generation.
I spoke to one girl who said "Can I tell you my story now?" - which to me demonstrates her resilience, agency, and power in ensuring her voice is heard. These young girls and boys spoke of their desire to escape and come home to 'wash away the bad knowledge they had in their minds'.
Every time I meet women in South Sudan, I am in awe of their strength and grace; women who give so much of themselves to supporting their families, communities, and even the mission of organizations like World Vision.
Moving to South Sudan from Canada made me realize how crucial, and tough, our work on gender-based violence is. 
This week, Justine Abenaitwe, our Child Protection Specialist, led a psychosocial support (PSS) training for animators. She said, "Every time I do PSS trainings, I realize how stressed our staff are. They opened up to me, released their emotions, and I was overwhelmed. Our staff hear so much from children and women who experience so much violence as they deal with their own personal concerns."
Our animators, social workers and case supervisors, most of them women, work each day to provide psychosocial support to women, girls, and boys, who have survived violence and gross violations of human rights.
Gender equality is everyone's responsibility. We are each uniquely responsible for ensuring that the voices of women are heard and that women have equal opportunity to participate in decisions – in their homes, communities, and workplaces.
Many of the abducted child soldiers are girls and World Vision, along with partners, provide psycho-social support and guidance until they are fully re-integrated.
World Vision engages women across a variety of platforms: women's rights committees, farmer field school groups for women, mother-to-mother support groups, parent-teacher associations, water committees, community-based protection committees, and more. A woman's realm of influence can be endless if we invite her into the space and create a balanced environment.
This year's global theme for International Women's Day is "Balance for Better". South Sudan's Ministry of Gender, Child, and Social Welfare has elaborated on this theme, focusing specifically on how to 'think equal: make 35% plus of women's participation count'.
The 35% refers to the minimum representation of women across various transitional justice institutions stipulated in the Revitalized Agreement on the Resolution of the Conflict in the Republic of South Sudan, namely: the Commissions for Truth, Reconciliation, and Healing; the Hybrid Court for South Sudan; and the Compensation and Reparation Authority.
But as the Ministry of Gender, Child, and Social Welfare has stated, think equal: make 35% plus count. Achieving balance is not a women's issue; it is the responsibility of all of us. Gender balance is essential for economies and communities to thrive. We must challenge stereotypes that limit women and men's realization of equal rights.
We must celebrate the achievements of the women and girls of South Sudan.