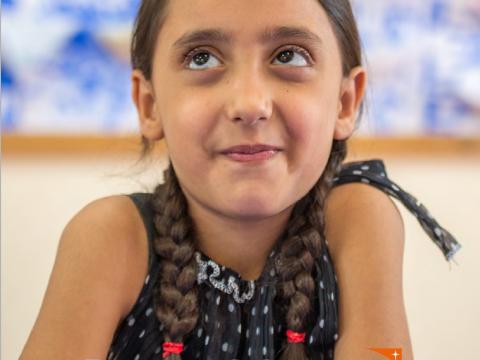 Stories After Syria - Seven Stories for Seven Years
We partnered with Al Jazeera's virtual reality studio Contrast VR to teach budding journalists and filmmakers in Jordan's Za'atari Refugee Camp how to share their #StoriesAfterSyria using 360 cameras. Meet our filmmakers and view their work.


Marah (18) has been living in Jordan's Za'atari Refugee Camp since 2013. She is married, and a mother to five-month-old Omar. Marah's dream is to become a professional photographer or filmmaker "…when people hear about Za'atari they think of us as dirty refugees, I want to show the world both sides of the story… I hope I can film a great movie about life here in the camp. My message to every young woman in the world is, do not stop dreaming for any reason." 

Tabarak (16) missed several years of school due to the conflict but now attends regular lessons in the camp. She wants to be a journalist. "I have a message to all the students: Never give up on your dream despite any situation whatsoever. They should read and work hard." Tabarak's film explores the challenges she and her family faced when they first arrived in Jordan. "In the beginning we weren't used to this kind of life. Now we are used to it, we adapted. It has become like our home in Syria." 

Obada (15) like many his age, is passionate about football. There was never any doubt the 'beautiful game' would feature in his film. Obada says football not only brings him joy, but it helped him make friends when he first arrived at the camp five years ago. "I want to show people all over the world that despite all of the difficulties in the refugee camp, we play soccer." Obada hopes to one day make the Syrian national football team and become a professional photographer.

Yousef (16) misses Syria but is thankful his family is together. He left his home five years ago for a tent in Za'atari Refugee Camp. He profiles his entrepreneurial older brother who started a barber-shop inside the camp. "I wanted to show my brother Ali in my story because he is my oldest brother in Za'atari camp and he takes care of me." 

Najat's (16) dreams of obtaining a passport and traveling the world. She wants to become a journalist and promote peace. "I want people to remember me [as someone who] helped many people. We need to help each other." Najat's film explores her love of theatre. Something which developed after taking lessons in the camp. "When I'm on stage, I feel as if I'm in a different world. Everything I feel, I can express it and show it on stage."

Mahmoud's (14)  arrived in Za'atari camp in 2012 along with his parents and six siblings. He'd like to be a photographer or famous singer. Singing brings him joy and he'd like to one day audition for Arab Idol. He says his ultimate goal in life is to help children in need. "Especially the poor ones. And the people that live in tents. I want to tell people all over the world to help people in war zones like Palestine and Syria." His film examines how his life has changed since leaving Syria.

Nisreen (16) misses Syria and her old life. "I want Syria to go back as it was before the war with everything in it, so we live safely in it. [I want] everything to go back as it was: houses, shops, and people go back to their work, back to their families and back to their country." Nisreen wants to become a journalist so she can report on what life is really like in the camp. In her 360 film, she profiles her disabled drama teacher who has overcome many difficulties, and provided a creative outlet for many young refugees.
In partnership with: