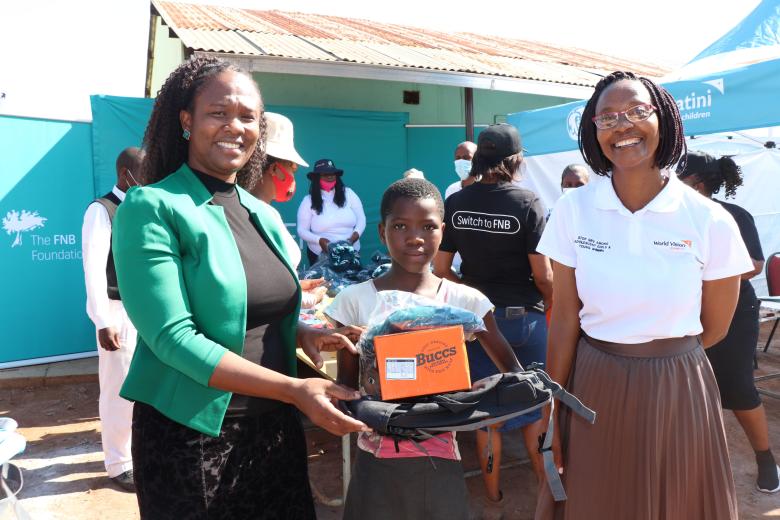 102 vulnerable pupils receive brand new school shoes, jerseys and backpacks
Friday, May 27, 2022
After wearing old plastic open flops to school, Nhlakanipho Myeni, who aspires to be a doctor, was pleased to get a new pair of shoes. He hasn't had a pair of school shoes in over three years, and he sometimes used to walk to Mlindawe Primary School barefoot. He also got a school jersey and a backpack to carry his books around in.
"I once had shoes when doing Grade 1 and after some time they were torn and there was no money for new shoes. I am now doing Grade 4 and I haven't had shoes since then. I cannot wait to wear the new shoes at school and be like the rest of my friends. I will no longer feel the cold anymore," he said smiling. Nhlakanipho is staying with his parents but both of them are unemployed.
Nhlakanipho is one of the 102 vulnerable pupils from Mlindazwe Primary School and other neighbouring schools from Somntongo Area Program who have received a donation of school shoes, jerseys and backpacks from First National Bank (FNB) Foundation. FNB Foundation donated a sum of E56 100 (US$3 740) to World Vision Eswatini for the Back-to-School Campaign and this money was used to buy the school shoes, jerseys and backpacks.
Praise Nkambule (12), a Grade 6 student, is one of the beneficiaries and lives with his grandmother.
His father, who used to buy him school shoes, died early this year, so he had to go to school in old, torn shoes.
"My father was hit by a car while in South Africa and he died. He was the one buying school shoes and uniforms for me and my two siblings. We stay with our grandmother and she is the one who is taking care of us now. I am really excited that I have received the gift from World Vision and FNB and I already feel warm," he said smiling.
According to the Head Mistress of the school, Dudu Kunene, most children in her school are vulnerable one way or the other hence they really appreciated the kind gesture from World Vision and FNB Eswatini.
"I just don't know what to say because World Vision has really supported this school in many ways. We now boost of clean water and good sanitation facilities for children and teachers because of World Vision. We have been able to operate smoothly last year and in 2021 because World Vision supplied us with sanitizers, hand-washing facilities, soaps and many other things. Now in winter, World Vision has got a new sponsor to buy school shoes and other things for our vulnerable children. We are forever grateful to World Vision for everything," Dudu said.
World Vision Cluster Manager Sithembile Dlamini explained that they started negotiating this partnership with FNB last year December in preparation for the school opening in the Back-to-School Campaign initiated by World Vision.
"We decided to venture into this campaign because most parents were rendered unemployed during the peak of Covid-19 in the country and this has perpetuated vulnerability to most children. This kind gesture from FNB Foundation will inspire positive change in the pupils," Sithembile said.