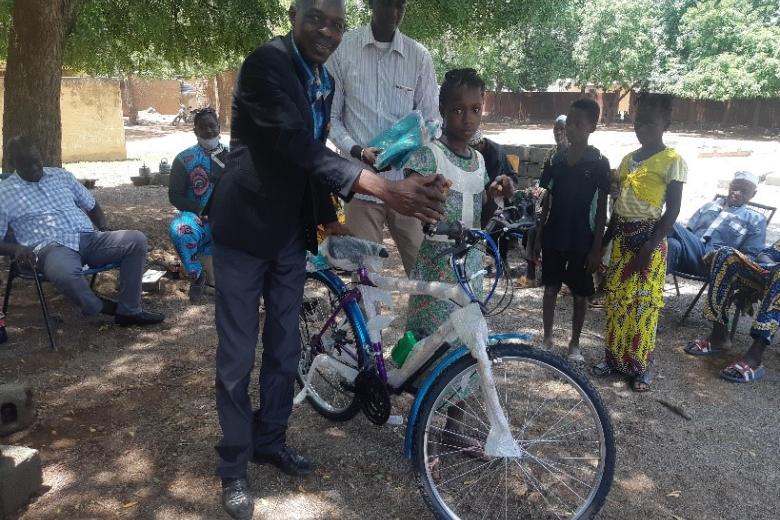 9-year-Sitan from Safo shines bright at reading club competition which drew 159 participants
Tuesday, August 30, 2022
Safo is a small rural community in the Kati prefecture, 15 kilometres from Bamako. Here, you will find a centre designed and outfitted by World Vision to encourage reading through educational games for children.
Since their inception, the Djèkabaara cluster's World Vision reading centres have welcomed many students each year who desire to advance their reading abilities. Sitan attends the primary school in Donéguébougou, a community 12 kilometres away from Safo. She is one of the pupils who has worked hard to learn, which has enabled her to get great outcomes.
The daughter of a farmer father and a housewife, Sitan Thienou, is nine years old and is in grade three. Both of Sitan's parents have never been to school, but know the importance of children's schooling and do their best to give their daughter Sitan a better education.
Sitan attends the book club; today, she is proud of her performance; thanks to learning, she has improved greatly in reading. 
"Before, I could not read well; now I read with precision and fluidity, respecting the punctuation marks. I like school because I want to study and have a job to help my father and my mother. I go to the book club, and I like everything you learn in the club. I learned the letters of the alphabet, stories, games, and pair reading. Thanks to the book club, I am 1st out of 100 students in my class with an average of 9.66," says Sitan.
Sitan stood out for her brilliant work during the competition of excellence organised by World Vision in her class and the activities carried out by World Vision within the framework of education framework.
The competition aimed to encourage students to improve their performance.  The two reading clubs of Donéguébougou housed 159 students for the competition, 73 boys and 86 girls. A total of 42 students from grades 1 to 3 participated in the reading competition,
Sitan ranked first in her school. "I am also the first of the excellence competitions organized by World Vision in Safo. Thanks to the book club, I won the prize for the best student (a bike and some school supplies). The bike will now facilitate my trips to school, and with the supplies received, I will strengthen my knowledge. I thank World Vision concerned about the well-being of children and their future. I invite my classmates to join the club to enjoy educational games through reading," says Sitan