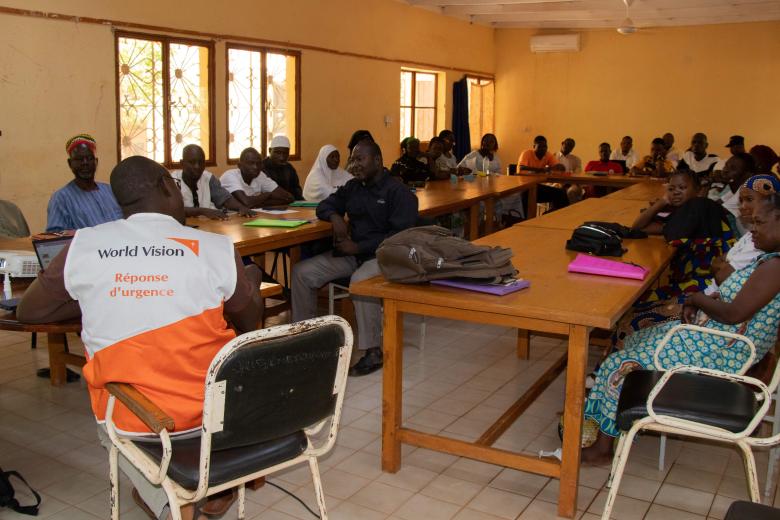 "Do No Harm" approach : Peacebuilding by Understanding of the Context
Wednesday, July 19, 2023
In fragile contexts, faith leaders play an essential role in peacebuilding because they are respected community leaders who can have a very positive influence on norms and behaviours within their communities.
In Burkina Faso, World Vision is working with faith and community leaders to establish Congregational Hope Action Teams (CHATs) to promote positive norms and practices in communities. The members of these teams, who come from different religious denominations (Catholic, Muslim, Protestant, Customary), are key stakeholders  in efforts to reduce the fragility that threatens children and families.
32 members of the CHATs in Kaya, in the Centre-North region, recently completed a two-day training course on the "Do No Harm" approach. World Vision uses this approach to integrate conflict sensitivity into interventions in favour for children and their families.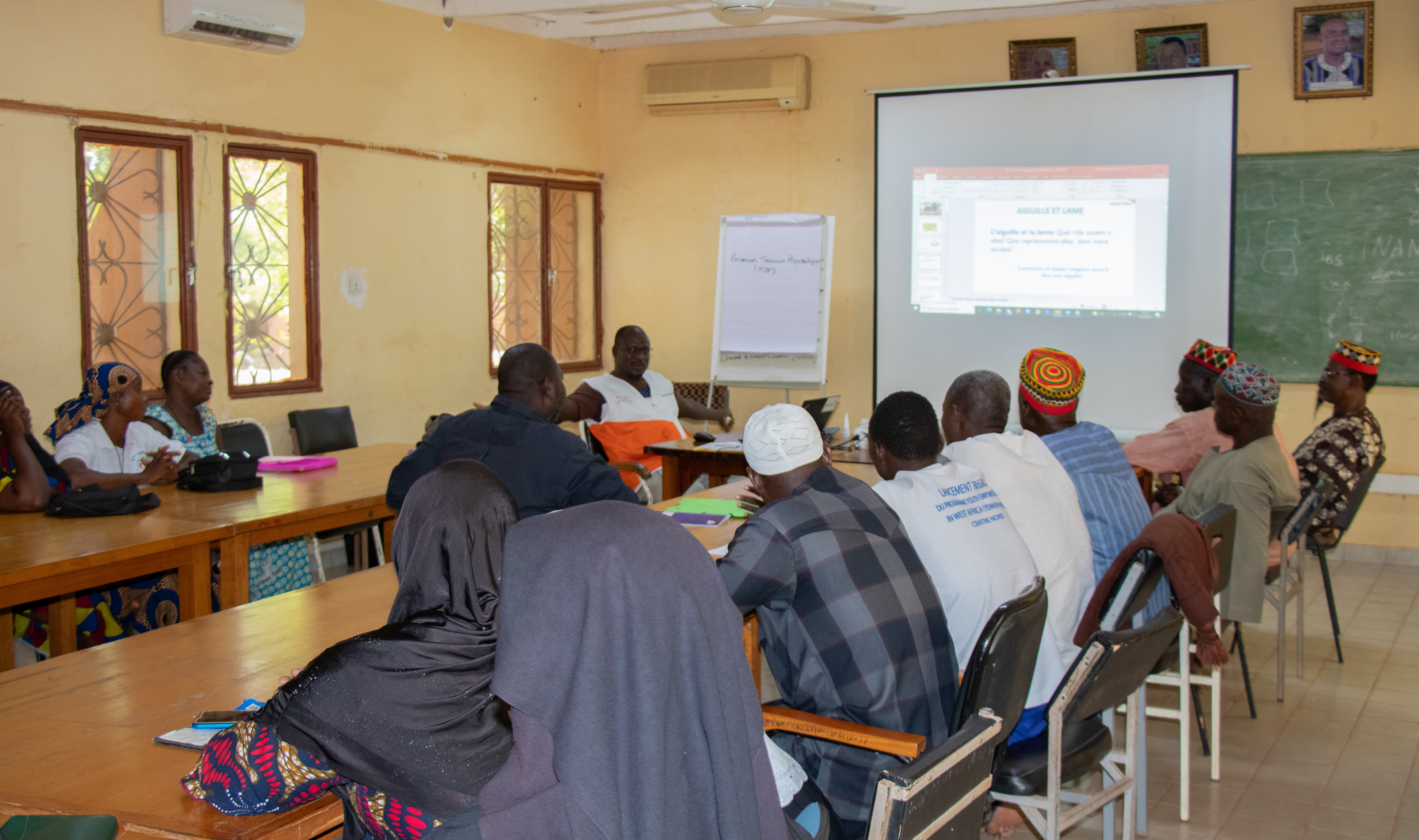 "Conflict sensitivity is defined as the ability to understand the contexts in which we operate and the interactions between interventions and those contexts. World Vision's decisions must be based on this understanding in order to minimise negative impacts and maximise positive impacts for the children we serve," explains Pastor Joël Sawadogo, Faith & Development Project Officer.
During the "Do No Harm" training, the facilitator helps participants to better understand conflict sensitivity principles and skills, and creates a space for faith leaders to learn from each other by sharing ideas on what works in peace-building. They also reflect on the causes of the various conflicts they face or may face, and learn to work together to consolidate peace initiatives.
Balakissa is a Muslim woman who is a leader in her community. She is actively involved in the activities of one of the CHATs in Kaya.
"I thank World Vision for this capacity building. The Do No Harm approach has opened my mind and taught me tolerance towards other religions. I am now aware of the changes I need to make as a leader for the well-being of my community. I also know the values and attitudes I need to focus on to create a peaceful environment for myself, my family and everyone else," she said at the end of the training .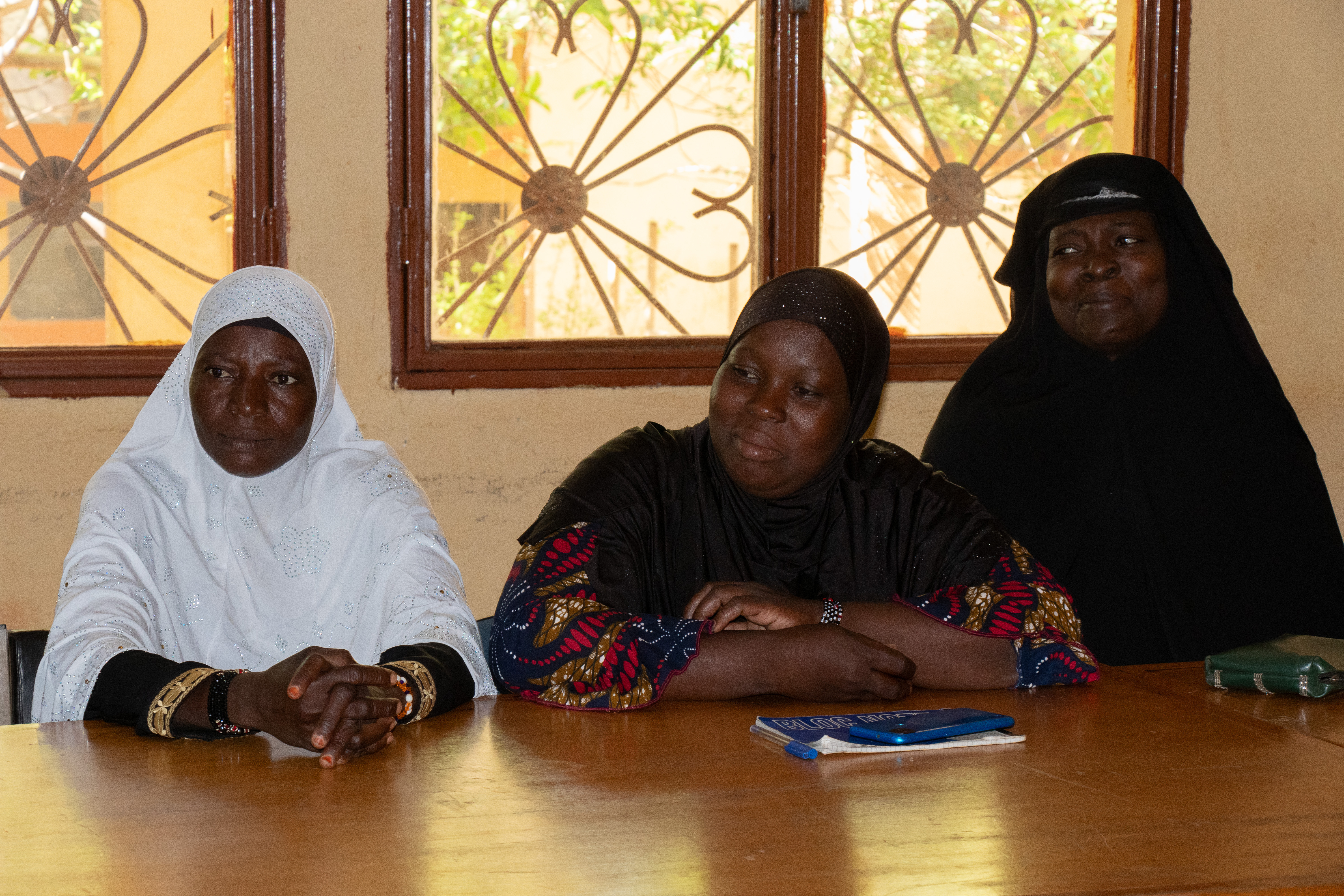 For Imam Salam, the training has allowed them to deepen their knowledge of the Holy Scriptures, both the Koran and the Bible. "I went to Koranic school and French school, but there are things you don't learn in a classroom. It's great to be able to talk to each other between different religions, to share our experiences and, above all, to get to know each other better. It strengthens interfaith dialogue," he says.
Faith leaders have access to communities and can help World Vision make a difference when they understand the social dynamics of their community. That's why World Vision works to ensure that all its faith-based partners are trained in the "Do No Harm" approach, so that they can build on links that bring children and their communities together to reduce divisions and sources of tension that can lead to destructive conflict.
The trained leaders are responsible for sharing the knowledge acquired during the training with the other members of the CHATs (64 in total) in order to help create an environment of fulfilment for the children and families affected by the crisis.
"My husband is the Imam in our community and when I receive knowledge from World Vision, he allows me to share it with the other women at the mosque. We have already organised awareness-raising sessions on child protection and psychosocial care. I'm also going to share what I've learned about the Do No Harm approach with the others," concludes Balakissa.
By Noëlie Wendpanga Sawadogo, Country Communication Specialist.