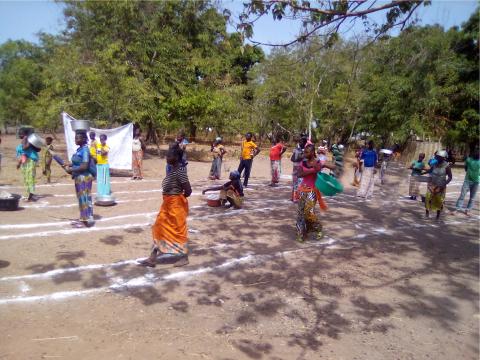 COVID-19 in CAR: World Vision & partners adapting operating models to offer life-saving support
Monday, May 25, 2020
Even before the COVID-19 pandemic erupted in the Central African Republic (CAR), World Vision, with support from the UN World Food Programme (WFP), was implementing an integrated food assistance project in 6 of the 16 prefectures of the CAR. One unit  has been operating from the Bangui Response Office, whilst others have been intervening mainly from the sub-offices of Bouar, Bozoum, Batangafo, Bambari and Paoua).
With the onset of the global pandemic, World Vision continues to maintain food assistance programmes, offering a lifeline to almost 260,000 vulnerable people within the 6 prefectures. The ongoing project involves the general distribution of food and food vouchers, the prevention and treatment of malnutrition of 18,600 children aged 6 to 23 months as well as those under 5 years; and 9,100 people under antiretroviral (ARV) treatment. It is aimed at reaching over 310,000 internally displaced persons (IDP), returnees and other beneficiaries by the end of the project cycle in December 2020.
Less than an hour after the World Health Organization (WHO) declared COVID-19 a pandemic, World Vision declared a comprehensive emergency health response, with an initial response assigning priority to the most vulnerable children at risk of being most affected. World Vision's CAR Office has since adapted its work by including the COVID-19 crisis in all of its activities.
In alignment with preventive measures against COVID-19, World Vision and WFP have adapted their ways of operating to ensure uninterrupted life-saving assistance to the most vulnerable populations; ensuring that programme implementation does not put beneficiaries at a higher risk of infection. In this context, before each distribution, World Vision's CAR Office has put in place different mitigation measures such as sensitisation on the importance of washing hands, temperature screening, social distancing, reducing food distribution site congestion, and others.  
With support from local authorities and while respecting the recommended distance between each recipient, beneficiaries receive food and vouchers according to a rotation of one hour interval in order to avoid congestion and crowding on the sites.
To date, more than 65,023 children are no longer receiving school meals due to school closures. Discussions are ongoing to see how the food stock left in targeted schools can be reallocated to other lifesaving activities or returned to WFP in case the lockdown is extended and as long as it is unclear when school will resume.
Thanks to these operational adaptations, World Vision with WFP's funding will be able to continue offering lifesaving food assistance to vulnerable households and groups, and will eventually scale up by supporting suspended school feeding and resilience-building activities once the COVID-19 outbreak is contained in the country.