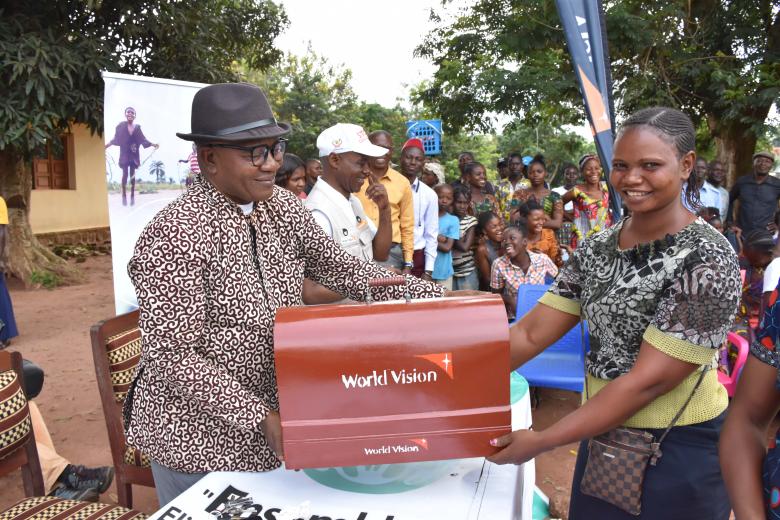 99 unemployed girls receive sewing machines from World Vision
Monday, December 19, 2022
By Didier Nagifi, World Vision DRC Communications officer
World Vision DRC has officially handed over 99 sewing machines to 99 unemployed girls for their care after receiving training in cutting and sewing. The activity took place in Gemena, in the province of South Ubangi in the Democratic Republic of Congo.
For the local authorities, it is a source of pride to see these young girls have a social promotion thanks to the technical and financial assistance of World Vision.
"We recall that apart from these girls who have just benefited from sewing machines, there are others who were trained in two other fields. These are the aesthetics and pastry. And these girls have received their kits that will allow them to work in these two sectors," said Gabriel Mondonga, Head of Division of Social Affairs of the South Ubangi Province
World Vision thanked these young unemployed girls for their patience, endurance and perseverance in following their training to the end. A step that has just been taken with a lot of dedication and that will serve for the improvement of the living conditions of their children.
"Our Vision for each child, life in all its fullness; Our prayer for each heart, the will to achieve it" summarized Rashidi, the Manager a.i of the Ledia program, representing World Vision at this ceremony. A way of reminding that this assistance aims to contribute to the improvement of children's well-being.
Furthermore, Alenge, Mayor of the city of Gemena congratulated World Vision for its concrete actions that make the province proud and give hope to young girls by teaching them a trade that will transform their lives, their family and their community.
A gratitude towards World Vision and the Social Affairs Division, was addressed by one of the beneficiaries of this donation. Micheline, a daughter-mother, has experienced difficulties in ensuring the survival of her only child and is delighted with the process she has just completed
 "The social workers came to look for us while we were in activities that helped us to feed and clothe ourselves because we were young girls without any job. They made us aware of the disproportionality of our job and our age. Thus, they brought us back to the training center to learn the job, while following up on our adaptation," said Micheline, one of the beneficiaries.
Continuing, she thanked World Vision for having provided her training in the learning center and for having offered her a sewing machine.
The Ledia program had identified 126 young girls who had lost their jobs.  They were accompanied by 75 social workers in collaboration with the Division of Social Affairs of the South Ubangi Province, which facilitated their integration into 11 vocational training centers for their apprenticeship in 3 selected fields among others. That is to say 100 girls in cutting and sewing, 16 in pastry and 9 in aesthetics.
At the end of this apprenticeship focused on practical exercises, each beneficiary is equipped with a sewing machine for cutting and sewing. For the pastry sector, 1 bag of flour of 50 kgs, 1 bag of salt of 20 kgs, 5 bags of sugar of 5 kgs, 1 can of oil of 10 kgs and 3 packets of yeast and finally, 18 ointments, 12 hooks, 3 of relaxers and hair lotions for the aesthetic sector.
To date, the 125 idle girls have changed and abandoned their former life and have benefited from an exit kit that can help them evolve instead of resorting to third parties. Some of them have already created their own workshops and are already enjoying the income from their work.
The Ledia program was launched in 2012 in Gemena, capital of the South Ubangi province. This program has 4 technical programs including education, livelihood, wash and health and nutrition