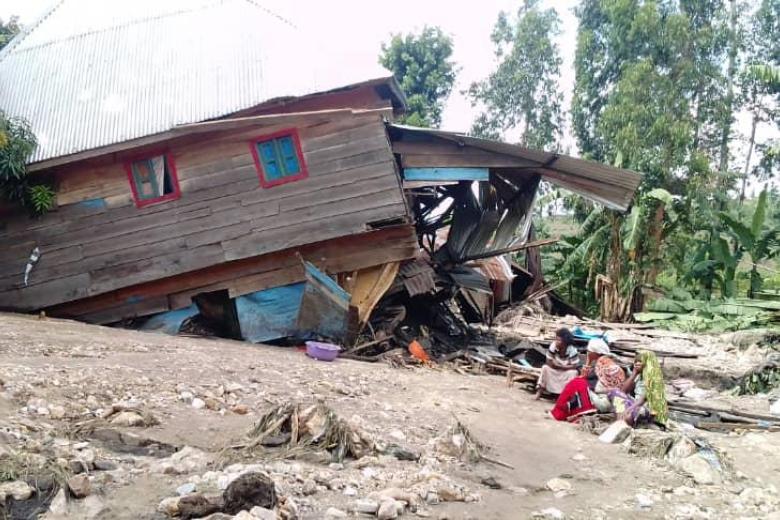 Devastating Flash Floods and Landslides in the Democratic Republic of Congo Claim Over 350 Lives and Leave Thousands Missing and Displaced
Monday, May 8, 2023
By Farida Eliaka, Advocacy, Communications and External Engagement Director
Over 350 people have died, 4,393 are missing, and over 100,000 people are displaced following flash floods and landslides in Kalehe, a territory in the South Kivu Province of the Democratic Republic of Congo. This devastation covers a wider area than the floods last year, and it has affected an even greater number of families.
"By this morning 351 bodies have been recovered up from 175 bodies on Thursday. Bodies are being found in Chabondo axis, Nyamukubi, Kabushungu, and Nyamukubi",
says Jean Baptiste Mirindi (Senior Officer Social Behavior Change Communication and Media based in Kalehe), based on information received from the President of the civil society consultation framework in the territory.
"I am saddened by the loss of lives caused by the now regular floods, landslides, and severe weather-related incidents that are killing many people, including children, and washing away years of invested development effort," says Aline Napon World Vision's National Director in the Democratic Republic of Congo. "The humanitarian community, Government, donors and keys stakeholders need to do more anticipatory programming to address these climate related challenges," she added.
World Vision has already dispatched a team to assess the immediate and anticipated impact of the crisis. In addition to the water, food, shelter, medicines and essential needs, cholera is also a real threat. World Vision implements 2 education projects in the area ANCP, funded by the Government of Australia, and SASA TUNASOMA by the US Government.  The third, a US-funded Food Security Project, closed field activities in March.   
Meanwhile, the bodies of the victims are being buried in mass graves. Last Thursday evening, the Nyamukubi and Chishova rivers overflowed their banks and washed away everything in their path. Homes, a market, two schools, a health center, a multi-purpose hall a warehouse were wiped out in one of the communities at the foot of the green hills of Kalehe.
Key roads to the affected areas in the villages of Bushushu, Nyamukubi and Rambira have been made impassable by the rains, hampering the early response. As a result, affected families are yet to be reached with much-needed assistance.
The Red Cross and the administration continue to register families who have lost their loved ones and those affected by the disaster.
More details relating to plans, key messages and interventions to follow shortly.
Note: Statistics have been drawn from UNOCHA, and the local coordination team in Kalehe. 
FOR MORE INFORMATION PLEASE CONTACT:
National Director: Aline Napon Aline_Napon@wvi.org 
Sustained Humanitarian Response Director: Patrick Saah – Patrick_Saah@wvi.org 
East Zone Director: David Munkley – David_Munkley@wvi.org