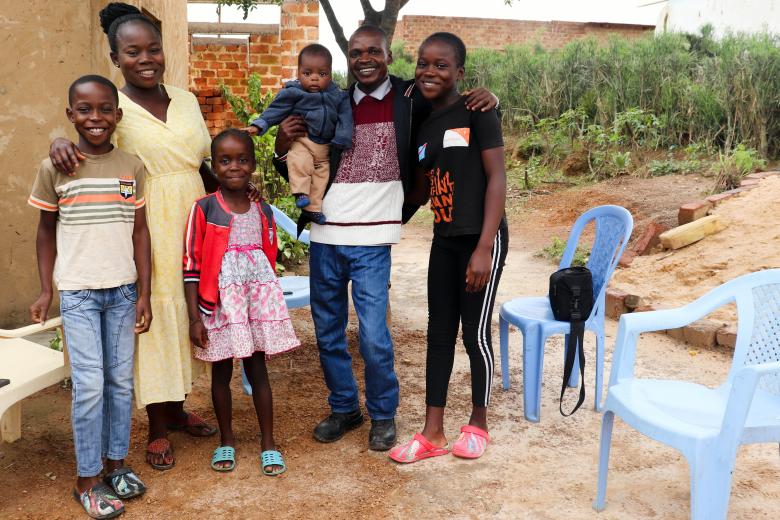 Gloire, a former sponsored child who became a community volunteer
Thursday, May 18, 2023
By Tatiana Ballay, Communications Officer
It has been 20 years since Gloire was registered as a sponsored child with World Vision. He spent his childhood in Kolwezi, the capital of the Lualaba province in southern DRC. He is the third child in his family with three brothers and three sisters.
 Living in Mutoshi AP at the age of 8, World Vision agents registered him in the sponsorship programme launched in this area in 2006.
When Gloire was eight, his mother who was a teacher sent him to live in the town of Kolwezi. This is how World Vision teams identified and registered him as a new child to be sponsored. His school fees were paid by the organisation. Gloire saw his childhood change and aspired to transformation at an early age thanks to the World Vision programme. Keeping in constant contact with his sponsor and receiving support from World Vision gave him the confidence to believe in his well-being and that of the children in his community. 
"I became a sponsored child at the age of 8. Every year, my information was updated and sent to my sponsor with a new picture of me. I received nice letters from my sponsor and sometimes gifts, I was happy to reply to these letters. Thanks to World Vision, I received school uniforms, books, and occasionally food," recalls Gloire, now 28.
From sponsored child to World Vision volunteer
After graduating from the Baraka School Centre with a state diploma in General Pedagogy in 2007, Gloire had to start working to help her family and support herself.
Passionate about the welfare of children, Gloire decided to support World Vision by becoming a volunteer in 2007. He was very happy to be reunited with his high school teacher, Alphonse, who had become a World Vision worker.
"As a volunteer, I identified future children for the sponsorship programme.  I also registered them for later sponsorship. During this work, I remembered that I had also gone through this same process," Gloire said.
"Through this opportunity, I became a World Vision volunteer and community facilitator in 2008. I facilitated awareness sessions on children's rights, supported the development of programmes to support the poorest people such as the Saving Group approach," explains Gloire.
Father and humanitarian volunteer today
In 2022, at the age of 28, Gloire and his family are thriving. They live in their own house.
"My life has taken a positive turn through my involvement with World Vision, I am a living example of how sponsorship can transform the lives of children, I got married in 2009 and today I am a father of 4 children. My wife, Rebecca, has benefited from livelihood training. She has developed an income-generating activity," he says.
He has a good knowledge of the organisation and the realities of the communities he works in, Gloire always refers to World Vision as the organisation that changes lives.
"World Vision has been my home since I was a child, I have so many memories, I have met so many great people like Alphonse my former teacher when I started, some are no longer with the organisation and some have come back and there are those who are still here. They have contributed to my evolution and my personal construction." ,he added.
Today Gloire lives in Mutoshi PA, which has 3,446 sponsored children. World Vision implements its education, livelihood and sponsorship programmes in this area.