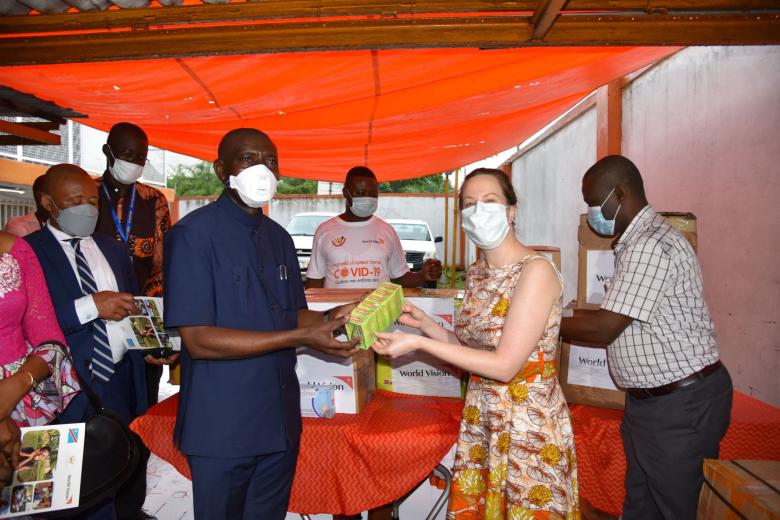 World Vision donates medical supplies to fight COVID-19 in the DRC
Tuesday, May 19, 2020
World Vision has handed over personal protection gear to the Government of the Democratic Republic of Congo (DRC), to help safeguard health and community workers as they support vulnerable populations to address the COVID-19 pandemic.
The contribution is intended to strengthen a struggling health system and support health personnel to deal with swelling cases of COVID-19, by providing them with the necessary tools to fight against the spread of the virus and ensuring personal safety of the health workers. These supplies will be delivered to 161 health facilities in 36 health zones.
"In supporting the COVID-19 response steered by the government of DRC, World Vision seeks to alleviate the impact of the crisis on children and their communities. We have launched an integrated response comprising health, food assistance and protection interventions to reduce the vulnerability of children who no longer have the protection cover that school often provides,"said Anne-Marie Connor, National Director of World Vision's programmes in DRC. She called on government to prioritise the safety of children.
Mr. Yuma Ramazani, the Secretary General at the Ministry of Health, received the donation on behalf of government. "It is over two months since the first case of coronavirus was confirmed in the DRC and we have in place a $135 million preparedness and response plan for which we are seeking funding. World Vision's support is a welcome response to our appeal and I thank the organisation for this gesture," he said.
To date, DRC has registered more than 1,600 cases with varied magnitude, across seven provinces.
This donation included: 486,820 medical masks, 655,300 pairs of gloves, 250 thermoflash thermometers, 17,703 bottles of hydroalcoholic gel and 1,008 pieces of medical soap (Donated by @Gulf Africa).