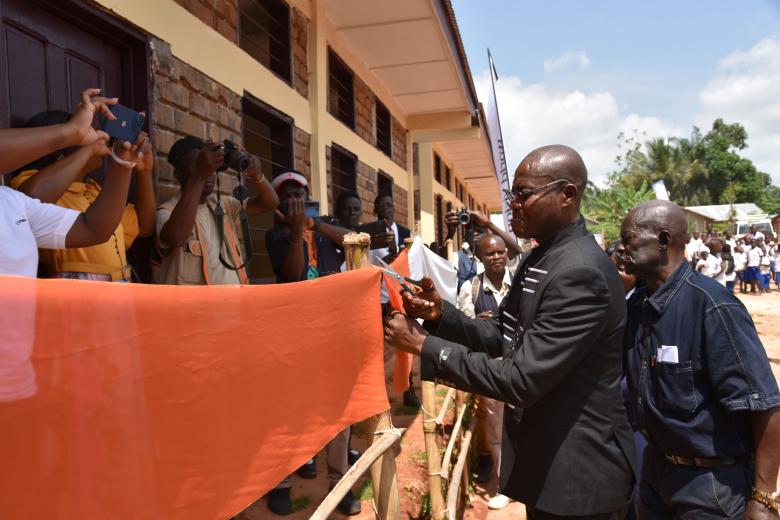 World Vision rehabilitates and equips DARK Primary School in Gemena
Friday, March 31, 2023
By Didier Nagifi, World Vision DRC Communications officer
World Vision DRC has officially handed over a school building with six classrooms, an administrative office and a latrine block with six doors, built with sustainable materials for the benefit of the DARK primary school students in Gemena, the province of South Ubangi in the Democratic Republic of Congo. It was during a ceremony attended by provincial authorities, religious leaders, teachers, beneficiary students, parents and representatives of World Vision DRC.
Long before, DARK Primary School did not have a building, the pupils were always numerous but studied in poor conditions, placed under sheds built with branches. If it rained, they could not study, they would automatically have to go home. If it was hot, they had difficulty looking at their notebooks because of the sun's rays. In the classrooms, there were no desks or blackboards, so they sat on the floor and used their thighs to write.
This building was built and equipped with desks, tables, chairs, and blackboards with financial support from Covenant Church in the United States.  The rehabilitation work cost 98,180.71 USD through World Vision DRC's Ledia Program. This school infrastructure will contribute to the improvement of study conditions for 1321 students, including 920 sponsored children.
"We thank our partner World Vision who never stopes to make a lot of efforts to make this great work possible. We also address the population of Gemena 3 and the students to make good use of this great work" expressed the representative of the diocesan coordinator of Catholic schools.
"For ten years of support to the provincial government of South Ubangi, ecclesiastical partners, non-governmental organizations and various community organizations, World Vision has provided considerable support in the field of education through an effective partnership with the authorities of the education sector. World Vision directly supports 50 elementary school in the Gemena 1 sub-division out of a total of 213 schools that indirectly benefit from World Vision interventions. These supports benefit 97372 pupils, 51226 girls, through different supports such as teachers' training, promotion of communities' actions of reading club, training of parents' committee, support in school materials and equipment, water supply and promotion of hygiene and sanitation in the school environment" reminds José Munsaku, Cluster Manager of Gemena.
"World Vision's support for the construction of the DARK Primary School is a response to the needs of the children and the population of Gemena 3 district expressed during the September 2020 community review in preparation for World Vision's 2021 fiscal year planning. This support contributes to one of the objectives of World Vision DRC's national strategy. This aims to increase the number of primary school children who can read and write and this contributes to one of the child well-being aspirations that girls and boys be educated for life but also meets the sustainable goals that advocate for access to quality education."  He adds
"World Vision has made a difference in the lives of students in our community who were studying in poor conditions. This support has empowered the students, the teachers and myself the Headmaster. Today, our school is the best in our community which previously did not look like a school, thank you World Vision for supporting our community," said Judith, Headmaster of DARK Primary School.
 "Before, we used to attend classes in the shed, when it rained, we did not study, when it was hot because of the sun, we did not look at our notebooks very well, our clothes got dirty every day. Since there were no benches, we used our knees to write. By the grace of God, a new school building was built for us and equipped with benches, which will allow us to study in good conditions", testifies Nadine, 12 years old, a pupil of the DARK elementary school
In addition, the Provincial Minister of Education thanked World Vision for its support to the government, which has contributed to the realization of the three main axes of the central government's strategy for national education in the DRC, namely access, quality and school governance.
The parents of the students praise this gesture because, they say, their children were gradually losing the taste for attending this school given the state in which it was.
Since 2012, World Vision has maintained a positive impact in South Ubangi Province through the LEDIA program which has touched the lives of 133,676 children in general and 15,672 sponsored children in particular by implementing four technical development programs in the areas of education, protection, food security and livelihoods, health and nutrition, water, hygiene and sanitation through a process of community engagement supported by the child sponsorship project.