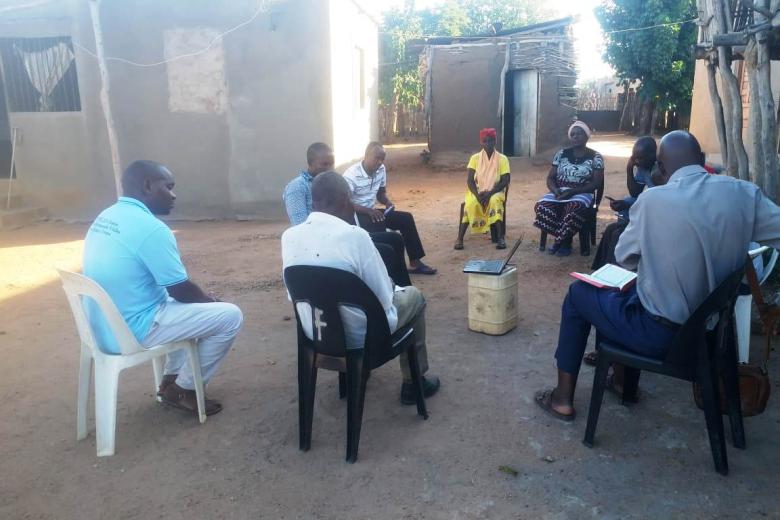 COVID-19: Engaging faith leaders to be channel of hope during the pandemic
Friday, April 17, 2020
In the wake of the COVID-19 pandemic, World Vision in Mozambique is re-thinking the way it does business in order to continue its humanitarian mandate. The Faith and Development division is conducting online awareness-raising sessions with faith leaders from across the country. The online meetings are aimed at equipping the faith leaders with essential knowledge necessary to support the prevention and mitigation of this pandemic to vulnerable communities.
As part of measures put in place to prevent dissemination of COVID-19, including the ban of public events and gatherings and travel restrictions, World Vision staff cannot meet and engage with faith leaders onsite. In order to counter this, the solution includes the use of information and communication technology, where possible.
In small groups, and observing social distancing, faith leaders attend online awareness-raising sessions on prevention guidelines laid down by government authorities and by World Vision International, based on those recommended by the World Health Organisation.
Elidio Orlando, one of the 50 faith leaders who attended the sessions so far, who happens to be using such technology for the first time, found it "very interesting". "And it's easy and fast since the facilitator doesn't have to travel and take time to get to the community," he added.
The information, according to Elidio, was useful as it helped him clarify doubts about the measures put in place by the government. 
"It was good and useful in the sense that we learned more about COVID-19 prevention. Before the session, we thought that when the government told us not to go to church it was a way of banning us, but by having this session and asking questions, we understood that this was intended for our own good and prevention," he said.
"We have been doing the sessions via internet," Faith and Development Coordinator, Maurício Mugunhe, says. He has been facilitating the sessions across the country from his home in Gaza province, southern Mozambique. "It was exciting to see how faith leaders craved for accurate and reliable information," he adds.
"We know that faith leaders are influential people within the communities and beyond. In circumstances like this, they have a role to play to prevent the spread of this pandemic. But to do so, they need the right information," he explains. "We want them to be the channel of hope during the pandemic."
Faith leaders are expected to use all means and platforms, including community radios, to share preventive measures to counter the pandemic.
On 30th March the President of the Republic, Filipe Nyusi, decreed a 30-day state of emergency, which limits and suspends certain rights and prohibits public and private events, "except for pressing State matters," including limitations on "internal movement of people throughout the country."