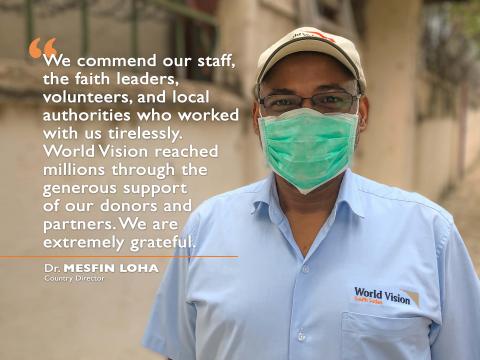 COVID-19: The pandemic that brought people together in South Sudan
Tuesday, March 9, 2021
By Mesfin Loha, Country Director, World Vision South Sudan
The year 2020 is a year like no other.
It brought, and continues to bring, confusion, and uncertainty. But it also ushered us through 2021 filled with courage, hope, and creativity.
The COVID-19 pandemic left an indelible mark on global socio-economic, and public health architecture.
It affected lives all over the world in different forms, and with significant negative impacts on individuals, families, national economies, and political systems.
It brought health systems to the brink of collapse and its aftershocks disproportionately affected the most vulnerable.
In South Sudan, the impact was severe on the millions who suffer from the convergence of vulnerabilities and depend on external assistance.
Amidst all this, World Vision was able to reach 2.8 million with its campaign and much-needed lifesaving interventions through the gracious support of our donors and partners.
We are extremely grateful of the partnerships. No man is indeed an island.
Our courageous front-line staff deserve an applause. They are our hidden heroes who always had the most vulnerable at heart.
The faith leaders, community volunteers and leaders, and local authorities inspired us in this difficult time. They helped us promote hope, and made our work possible.
We were not alone. One thing this pandemic shared with us is the lesson that we cannot do it alone.
It brought all of us together.
Above all, we thank God for His mercy and grace. He gave us a chance to tell this story, one year on.