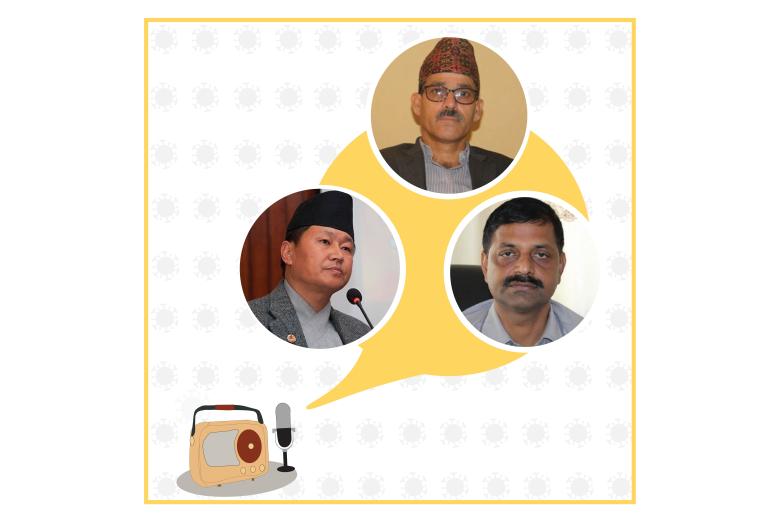 Ensuring Child Rights in COVID-19 Crisis
Thursday, July 30, 2020
The COVID-19 pandemic is one of the greatest shocks to global stability since World War II. Many countries have put in place measures to control movements; about 60% of all children worldwide now live in countries where a full or partial lockdown is in place. While children's health appears to be less directly impacted by COVID-19, the outbreak and the measures put in place to contain it will deeply affect the environment in which children grow and develop. Existing inequalities and vulnerabilities become exacerbated in a crisis – exposing children to increased violence[1]. Child-focused organisations like World Vision, around the globe, have assessed the situation and called on the governments, donors, UN agencies and civil society organisations to recognise and prioritise child protection as a priority lifesaving intervention in the humanitarian crisis.

Nepal, like the rest of the world, is battling against the global pandemic. Although the direct impact of COVID-19 is insignificant, Nepal is likely to face greater indirect impacts. Civil society, private sectors and international agencies with available expertise/resources have been supporting the Government of Nepal (GoN) who have been leading the overall response. World Vision as one of the active development/humanitarian partners of the GoN, have been joining hands with the GoN in the fight against the coronavirus since the identification of the first few cases in the country. Learning from the global experiences, World Vision implemented a comprehensive response plan to backstop the government in the fight against coronavirus and to support vulnerable children and families impacted by COVID-19 through various strategic interventions.

Engaging with key decision-makers of provincial governments through dialogues to ensure child rights in the COVID-19 crisis is one of the key strategic interventions of the COVID-19 response. Owing to the changed context, three virtual dialogues were initiated with the Chief Ministers of Province 1 and Sudurpashchim Province, and Minister for Internal Affairs and Law of Province 2 to deliberate on pressing issues relating children and their rights. Organised in partnership with Community Information Network (CIN), an umbrella of more than 300 community radios in Nepal, these dialogues brought together more than 200 participations including children, single women, local government representatives, elected representatives (Mayor/Deputy Mayor), media, human rights activists, Parents Association and civil society.

While these dialogues became a great platform for children to put forth their concerns with leaders of their respective province, several child participants highlighted the emerging child protection issues and violation of child rights in the communities. Some of the major issues raised included – poor management of government quarantine facilities leading to increased violence against children and women; lack/inadequate access to internet hindering children from continuing their learning process during lockdown; poor health facilities amongst economically vulnerable families; increasing child marriage; increased psychosocial problems amongst children due to fear of coronavirus; the influx of migrant returnees; among others.
"Quarantine facilities in our area are not children/women-friendly. They do not have proper food, water and sanitation facilities. People do not want to stay here but go out," highlights Bishnu from Sarlahi district, who was supposed to appear in Secondary Examination Exam (SEE) this year but the examination has been put on hold due to fear of COVID-19. Child participants also mentioned children are undergoing mental pressure due to uncertainty of SEE, the final examination in the secondary school system of Nepal.
Appreciating children's participation and agreeing most of the concerns raised, Chief Guests in all three dialogues committed addressing issues in coordination with Local and Federal Governments. "Working in close coordination with Federal Government, Province I government is committed to ensuring gender-friendly quarantine facilities, psychosocial support to children and survivors, ending child marriage by 2025, proper management of the influx of migrant returnee, and remote learning platforms for children," shared honourable Chief Minister Sher Dhan Rai. The minister also highlighted two of its flagship programmes aimed at engaging children i.e., Aatmanirbhar Chhori (independent daughter) and Chief Minister with Children are already into effect. Further, Hon'ble Chief Minister of Sudurpashchim, Trilochan Bhatta, highlighted a social transformation campaign has been initiated to in the province to address social issues including violence against children. The municipal representatives, who were also present at the dialogues, highlighted their ongoing planning process has integrated concerns of children as a priority area.  
Represented by various sectors, the dialogues were able to ignite cogent discussions and gather some verbal commitments from the decision-makers. World Vision, on the other hand, was represented by Public Engagement Director and Operations Director, who emphasised on World Vision's collaboration with the governments in the provinces in addressing the needs of vulnerable children and families impacted by COVID-19. World Vision has been working closely with the governments of Province 1 and Sudurpashchim Province to fight against child marriage through "It Take Nepal to End Child Marriage".
Broadcasted through more than 35 community radios and Facebook pages of CIN and World Vision, these events reached over one million people virtually. Recorded clips of the dialogues can be accessed in the following links:
Dialogue with Province 1 Chief Minister: https://bit.ly/30Xo8sM 
Dialogue with Sudurpashchim Province Chief Minister: https://bit.ly/3jNolae
Dialogue with Province 2 Minister for Internal Affairs and Law: https://bit.ly/3g0waXY
[1] Child Rights Now! Ending Violence against Children and COVID-19, June 2020.