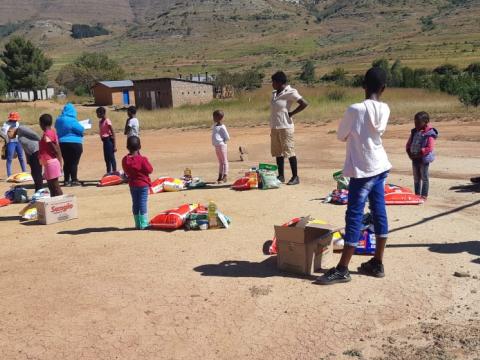 Supporting children on ARV treatment during COVID-19 lockdown in Lesotho
Tuesday, April 28, 2020
During school days, children living with HIV, whose families struggle to put food on the table, get their first meal at school and that is motivation for them to continue  with their  studies even despite the difficulties. With the current countrywide lockdown imposed by the Lesotho Government as a preventive measure against COVID-19, these children's hopes of getting that only meal of the day are dashed. Many of them were at the verge of dropping the medication that has helped keep them alive because it requires that they eat first . 
I was about to stop taking the medication because it requires that I eat first. If I take it on empty stomach, I get sick with stomach cramps.
Limakatso, 10, cannot help but look down hiding tears in her eyes as she says this. She lives with an unemployed aunt who struggles to make ends meet. Her mother went to neighbouring South Africa but could not come home for two months due to the lockdown.
These  days, Limakatso and her aunt sleep on empty stomachs because even the good Samaritans  who used to come to their rescue are no longer coming  due to the lockdown .
"The lockdown has made it impossible for us to get the only meal we used to get at school. I am not sure what would have happened if I stopped taking the medication," reveals Limakatso.
Limakatso is among  more than 100  children on antiretroviral (ARV) treatment  who received food packages  distributed  by  World Vision in Mokotjomela  Area programme in the South of Lesotho. About  half of these children are on medication that requires that they eat first  and current movement restrictions have made it impossible for parents to  look for means to support their children. Some children have been left at home to fend for themselves, with parents having gone to neighbouring countries in search of employment  but unable to return back home because of the lockdown.
"Now that we have restrictions, I am frustrated when I come to think of the situation that these children live in. They need my daily monitoring but now I cannot and I fear we will lose some of them," reveals Masophia, a community Development Facilitator at Mokotjomela Area Programme.
Lesotho has since yet to record a single positive COVID-19 case, with 48 suspected cases testing negative. The country however relies heavily on the neighbouring Republic of South Africa for testing suspecting cases. This might 
The situation says, people can only hope and pray that the so called zero COVID-19 infections are true because if not, the country is facing a huge risk.  Despite the country's population estimated at 2 million, Lesotho has the second highest HIV prevalence in the world. It is estimated that about 340,000 people are living with the pandemic and 70% are children on ARV treatment. (UNAIDS report 2018).The situation is now aggravated by lack of food because of the country lock down.
In the face of the global outcry for help on reducing the impact of COVID-19 infection, children like Limakatso whose lives are dependent on food availability and continued access to ARV treatment. Their situation may worsen if they are forgotten.
Lesotho Vulnerability assessment (LVAC) Report 2019 indicates that due to deterioration in Food security driven by severe drought and an increase in food prices, 30% of Lesotho's rural population will need humanitarian assistance. With the current lockdown, this number is likely to increase.