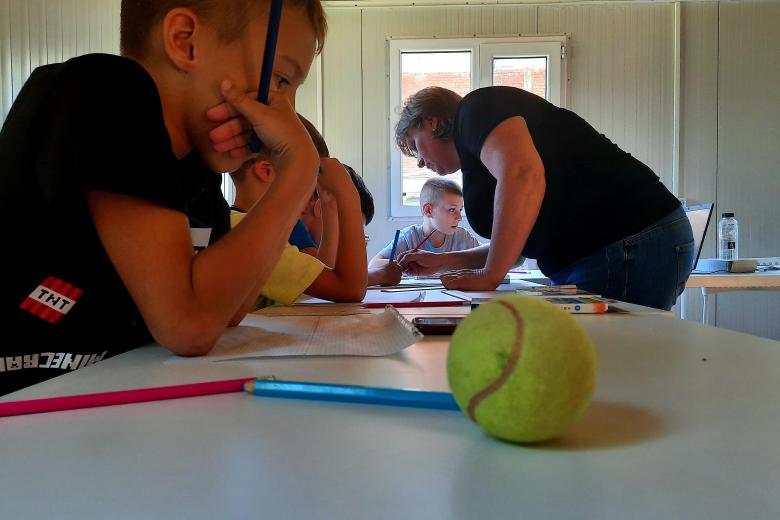 Bringing a place to play and relax for Ukrainian children and mothers in Romania
Thursday, June 23, 2022
By Florinela Iosip, Content Writer, with Florentina Dan and Mariana Arnăutu, Ukraine Crisis Response Operations
The message from a Ukrainian teacher displaced in Romania: "Children's education must continue regardless of the times we live in."
More than five million Ukrainians are currently living abroad, and since the beginning of the conflict, two out of every three children have fled their homes. For those children and their families, the chance of returning to school means much more than preventing learning losses or learning foreign languages. It's about finding a safe place. A place where they belong and can hope for a better tomorrow.
Near a lake in a park, a young woman dressed as a clown holds a sizable plastic circle in her hands, like the ones used in the circus. At first, she looks frightened by the object, as if something terrible is beyond it. Then, together with the other two clowns, she grimaces down at it. It's their way of communicating, without words, that nothing beyond that circle can hurt them. The children laugh at the faces the clowns are making. They are no longer afraid either.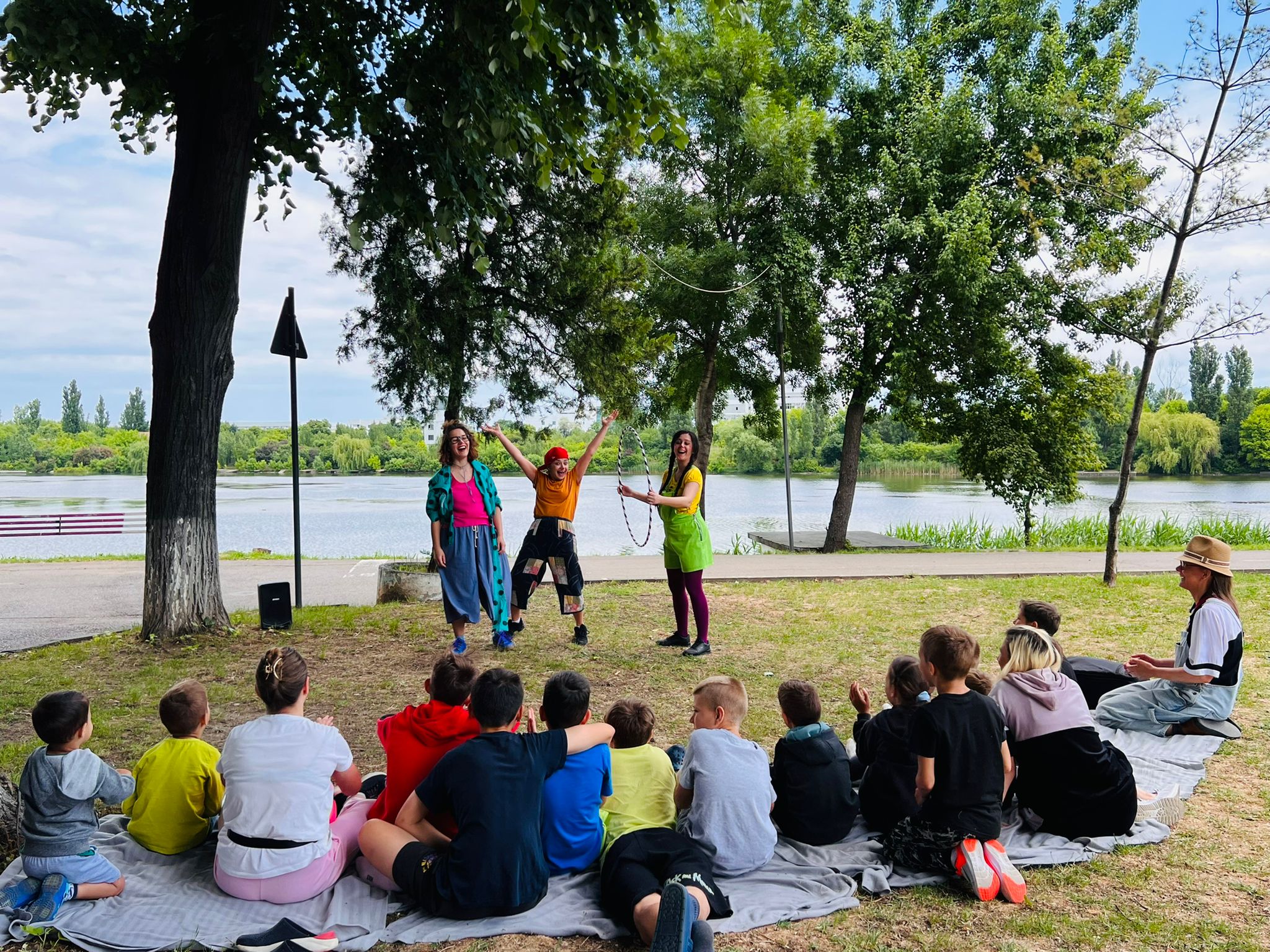 Therapy for any trauma: Laughter
"In a conflict hampered by language barriers; we use body language to make Ukrainian children laugh. Laughter is an immediate effective therapy for any trauma. When children laugh, they feel safe," says Adelina Dobrea, a Ph.D. student at the National University of Theater and Cinematography in Bucharest, and a volunteer at Clowns Without Borders.
Among the children watching the comedic performance are a 14-year-old girl, whose pink T-shirt says "PEACE", and a boy from the neighbourhood who stopped his daily walk around the lake to see the clowns. The power of laughter unites all children, even those who speak different languages.
It is a morning with a gentle sun. We are at one of the three Happy Bubbles in Bucharest, Romania, created by World Vision. Two child-friendly spaces have been running since May, with a third just opened, and more planned in other refugee hotspots in the country. At a sports centre nestled along the lake, 15 children from Odesa, aged between seven and fifteen, continue to learn and play. As any child should do.
The suffering behind drumming
Dolls with different coloured skin holding hands in one circle, posters with animated characters, soccer and tennis balls, Lego pieces, and rubber animals bring life to the white walls and shelves of the activity room. All the objects are representations of a secure and friendly micro-universe for the children who ran from the war that's going on at home. In addition to this room, the children and their mothers have showers, toilets, and a space where they can prepare snacks.
After the three clowns leave, the children have lunch. At 2 PM, they come back for their math lesson. On other days they take Romanian language lessons, do theatre, dance, or painting workshops and make plasticine figurines or puzzles. They even did experiments with dry ice and played tribal drums once.
"The kids had the most fun playing the drums. All the mothers were on video calls with their husbands, showing them what their children were doing. I realised then that even though they were having a good time, a lot of suffering was still happening because of the family's separation. It is painful, especially for mothers, so we try not to dig into their trauma unless they feel the need to talk about it. For such cases, we offer psychological counselling," says Florentina Dan, World Vision's field officer for the Happy Bubble activities.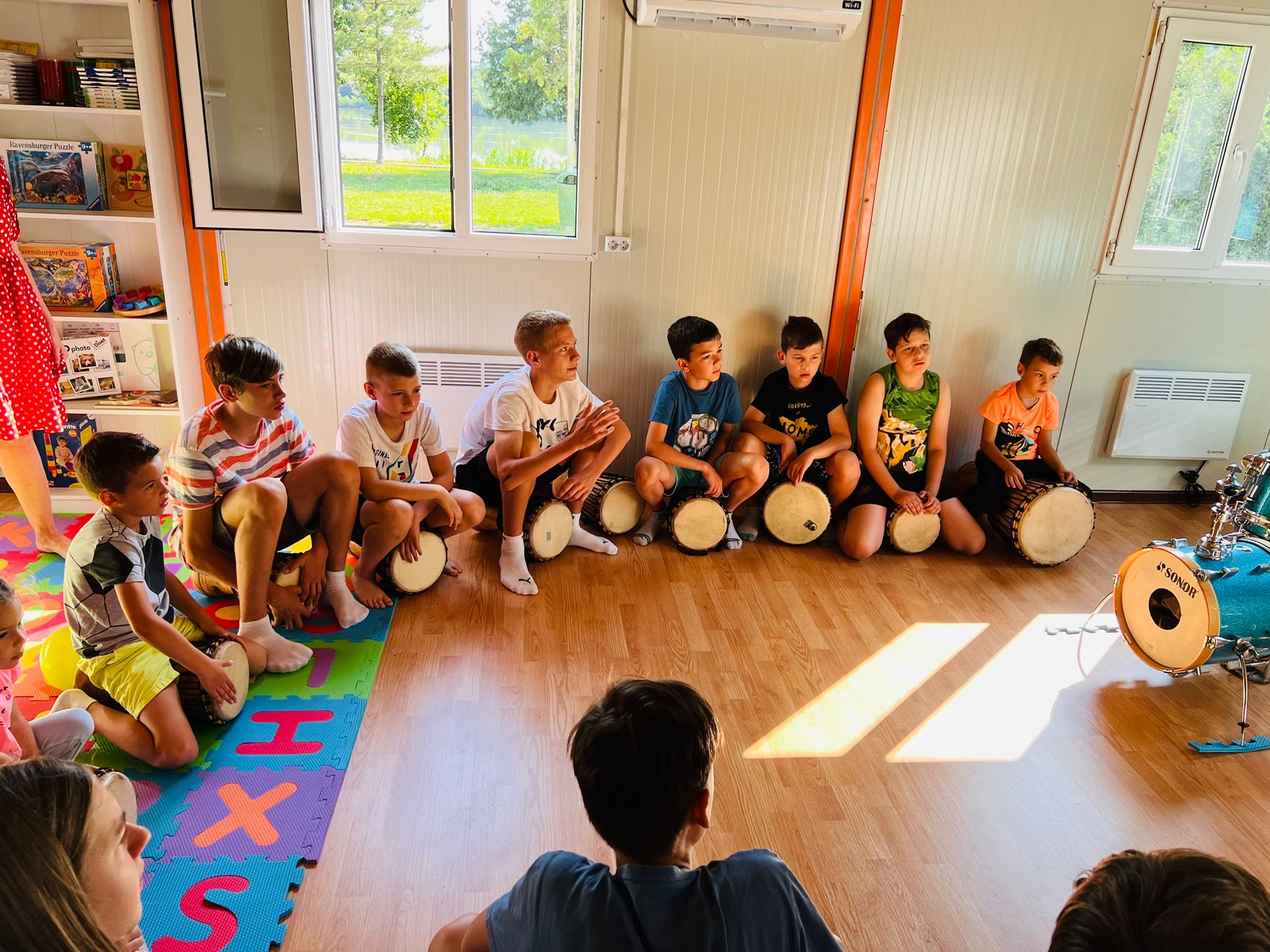 The children who left to be safe and to pursue their passion
There's no strict schedule in the Happy Bubble spaces like there is in traditional schools. Mothers often participate with their children in creative activities. And they also have separate lessons to learn Romanian.
"If there's one thing we've learned in recent months since we left our homes, it is that we must adapt. We do not teach a strict curriculum here. Our goal for the children is to continue allowing them to learn and play in a positive and safe environment. Let them feel good and give them back a piece of the normalcy they lost," Svetlana (46) explains. She is a maths teacher at the centre, and the mother of a 13-year-old boy called Dani.
Svetlana and Dani, along with dozens of other mothers and their children, left Odesa in early March when airstrikes were hitting the city. They drove their cars with other members of their football club to Giurgiulesti, a border point between the Republic of Moldova and Romania. From there, one of the Romanian Football Federation buses took them to Bucharest. The Federation offered them accommodation close to a sports centre, so they could continue practising their favourite sport.
Finding hope in loved ones and in teaching Mathematics
One by one, the children enter the classroom, each saying "pryvit" ("hello" in Ukrainian) to their teacher, Svetlana, who has prepared the exercises for today on a laptop. She gives each child a few sheets of paper, rulers, and pencils. The teacher draws two perpendicular axes on the board, to which she adds the coordinates with letters. The difficulty of the exercises is determined for each child according to their group level. The first group includes kids between Year 2 and Year 6, and the second group, which her own son is a part of, has Year 7 and Year 8 students.
Even if her new students are of different ages, this way is "easier " for her, Svetlana explains with a relaxed smile. At her school in Odesa where she taught for more than 20 years, she had classes of nearly 30 pupils, covering classes for Years five through eleven.
"Here, I can be more creative and combine math with art. For example, today, we will create drawings with the help of fixed points on axes. Mathematics is not an abstract science. It has a direct connection to what we see and feel. Any object around us can have a mathematical representation: from the face of a man, to a landscape, or the flag of a country," Svetlana explains.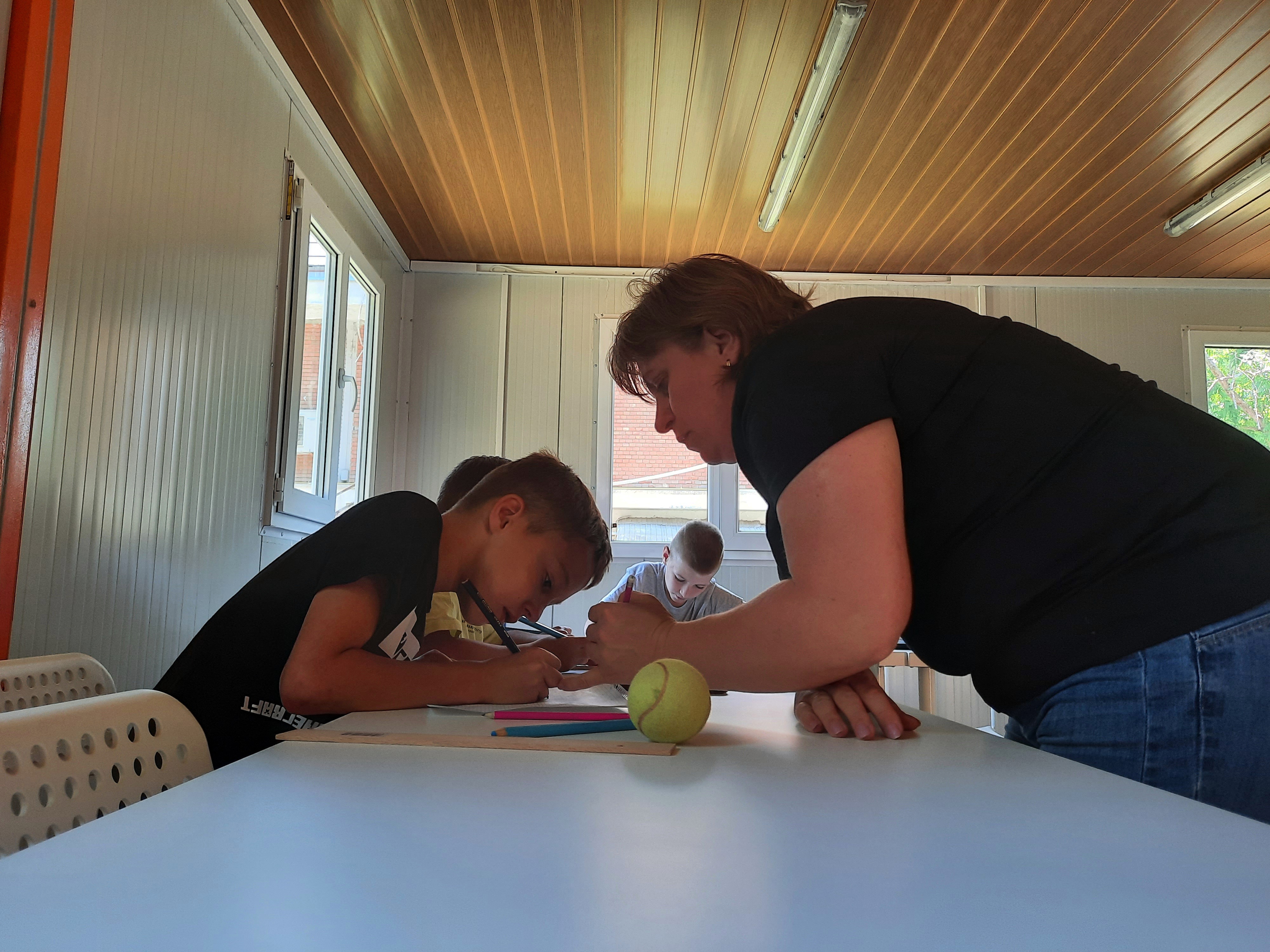 The teacher who continues to teach lessons to the children who remained in Ukraine
After being forced to leave her husband, parents, school, and country, Svetlana now finds a sense of achievement in teaching mathematics. But her greatest hope is to reunite with her husband and parents. Svetlana's husband, who worked as a driver before the conflict, has since moved to her parent's village, on the outskirts of Odesa, which is safer from attacks.
Svetlana keeps in touch with her loved ones on Viber, Facebook Messenger, and WhatsApp. To cheer them up, she sends them pictures of the activities happening at Happy Bubble. The last ones she sent are of the anti-stress origami toys she made with the children.
It was not easy for her to leave, but she and her husband thought about their son Dani, who wanted to continue playing football. "My favourite team is Barcelona, and the player I admire the most is Mesi, even if he no longer plays for Barcelona," the 13-year-old boy decisively explains.
Dani's favourite subjects at his old school were math, drawing, and the natural sciences. He misses his classmates, but he is glad that he can continue to learn in another country and continues to be close to his friends from the Odesa football club who came to Romania with him.
Svetlana also misses her school environment, especially her pupils. Of her 27 students, 12 fled the country, and the others moved to areas bordering Odesa.
She still attends online classes with dozens of her old students, who manage to connect from their basements. "We meet on ZOOM when I have to teach. I leave assignments on Google Classroom, and the children send them back to me after they've solved them," says Svetlana.
"Children's education must continue regardless of the times we live in," she concludes.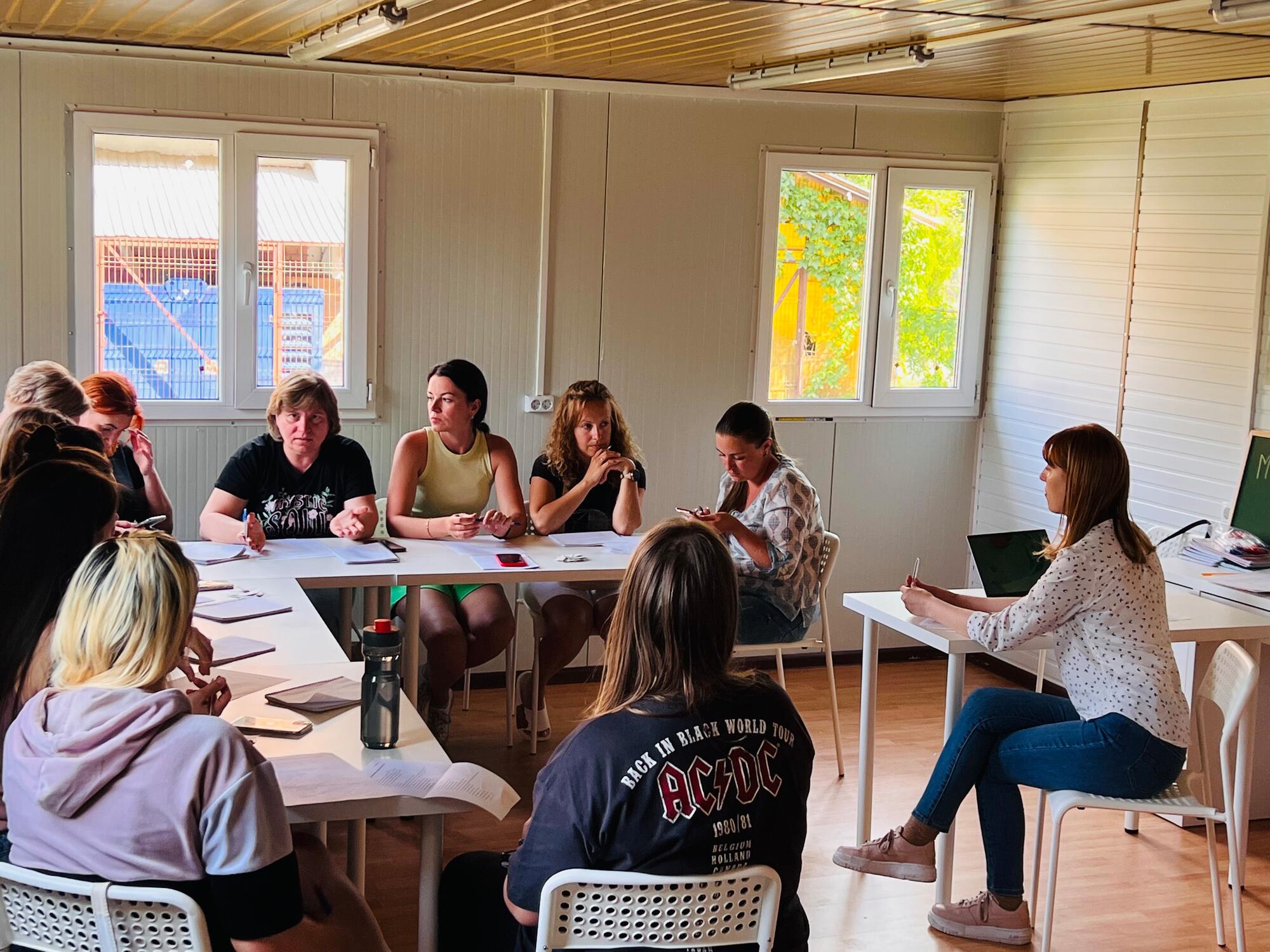 Ukrainian mothers learning Romanian
The children finish their maths lesson at 4 PM, but Svetlana stays in the classroom seated on a chair. Other Ukrainian mothers start to enter. Today there are a dozen women who've come for the Romanian language lesson.
"When you find shelter in another country, it's normal to make an effort to integrate into the society of that country. The Romanian language is very different from the Ukrainian one, so writing is very challenging. Still, we can at least learn to express ourselves when we need something. We can greet someone; we can thank them. These are small gestures, but they also matter," says Elena (38), the mother of a one-year-old girl, Elisa, and a six-year-old boy, Timur.
She left Odesa with her two children thinking about their safety and future, especially for Timur, who wants to play football. She took with her only a few pieces of clothing and their documents. "Timur knows we left to be safe. He heard the sirens in Odesa and was exposed to the information on social networks that his football friends found. We chose to leave rather than be isolated in a bunker," Elena explains.
Over the next two hours, Elena, Svetlana, and the other mothers write down the words written on the board by their teacher. They try to learn the words they need to place themselves in time and space, express their needs, and describe their loved ones.
Among the ones they learned in this class were: "today", "tomorrow", "village", "boy", "girl", "husband", "grandparents" and "home".