Local partnerships at the heart of World Vision's humanitarian work in Ukraine
Wednesday, October 12, 2022
"World Vision's relief packs are heavy because their hearts came with it."
"We are grateful with every help we receive", said Hanna, a nurse and mother of three children. She was among the displaced who lined up at the relief packs distribution with her five-year-old daughter Oleksandra and waited patiently for their turn.
You are not alone
More than the food and basic needs that many organizations like World Vision provided, Father Viacheslav from Alfa Church said what mattered the most was that, the millions of displaced people in Ukraine will feel that they are not alone.
Alfa Church, one of the 700 networks of World Vision's partner Arms of Mercy (AOM), distributed the food packs to displaced families, delivered all the way from its operations center in Chernivtsi to different areas in the country.
As he saw the people loading the packs in their bicycles and wheeled carriers helping each other, Father Viacheslav said smiling, "World Vision's relief packs are heavy because their hearts came with it."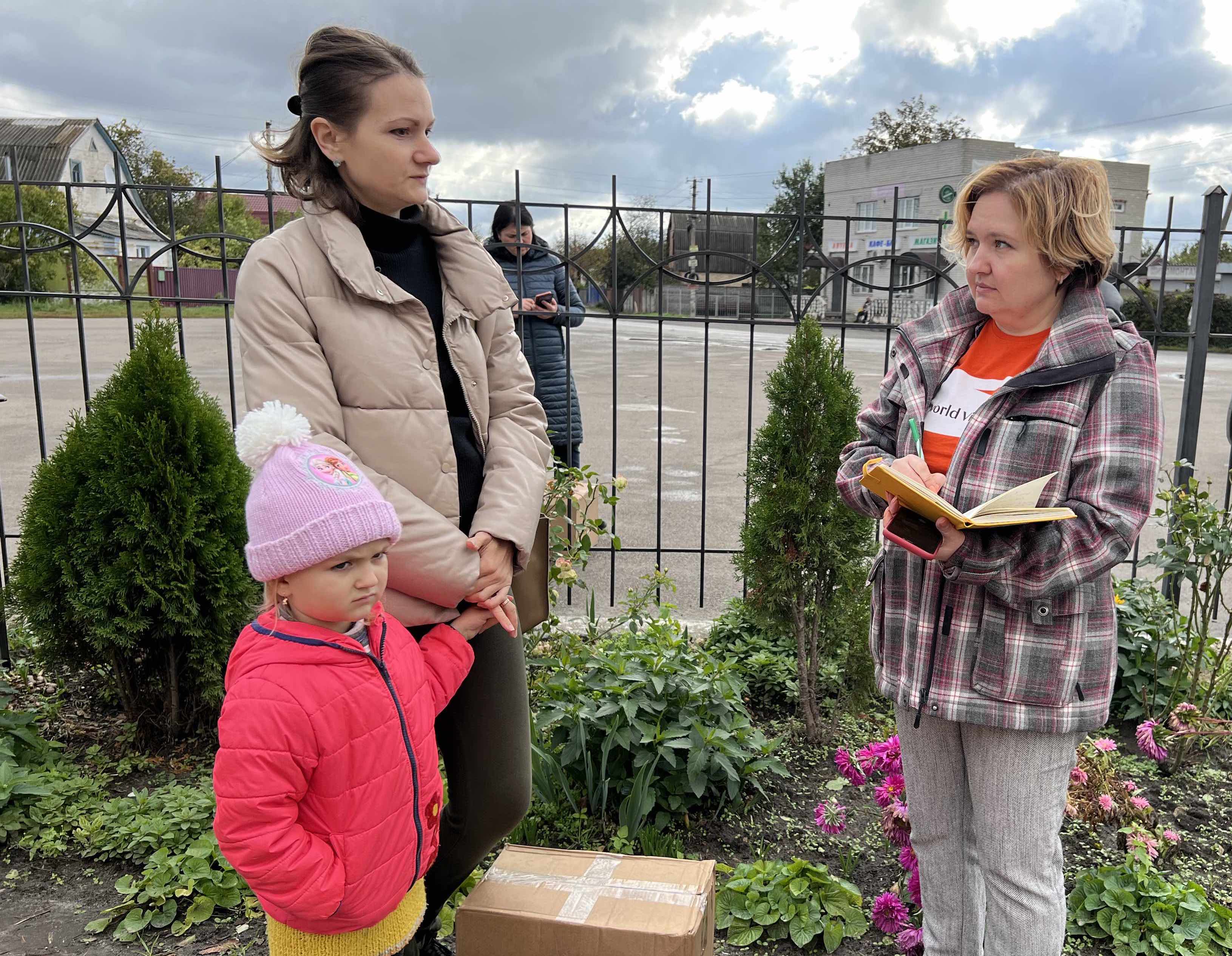 When Hanna's town in Kherson region got occupied, they know they had to leave quickly. "It was getting dangerous living there with missile attacks and people being taken as hostages", she said.
With heavy heart, Hanna's family left town with her husband, who is a doctor, and their children. They rented a place in the suburb of Kyiv, Ukraine's capital city. She shared her worry that winter is about to come, and things are still uncertain, but she is thankful that all of them are safe.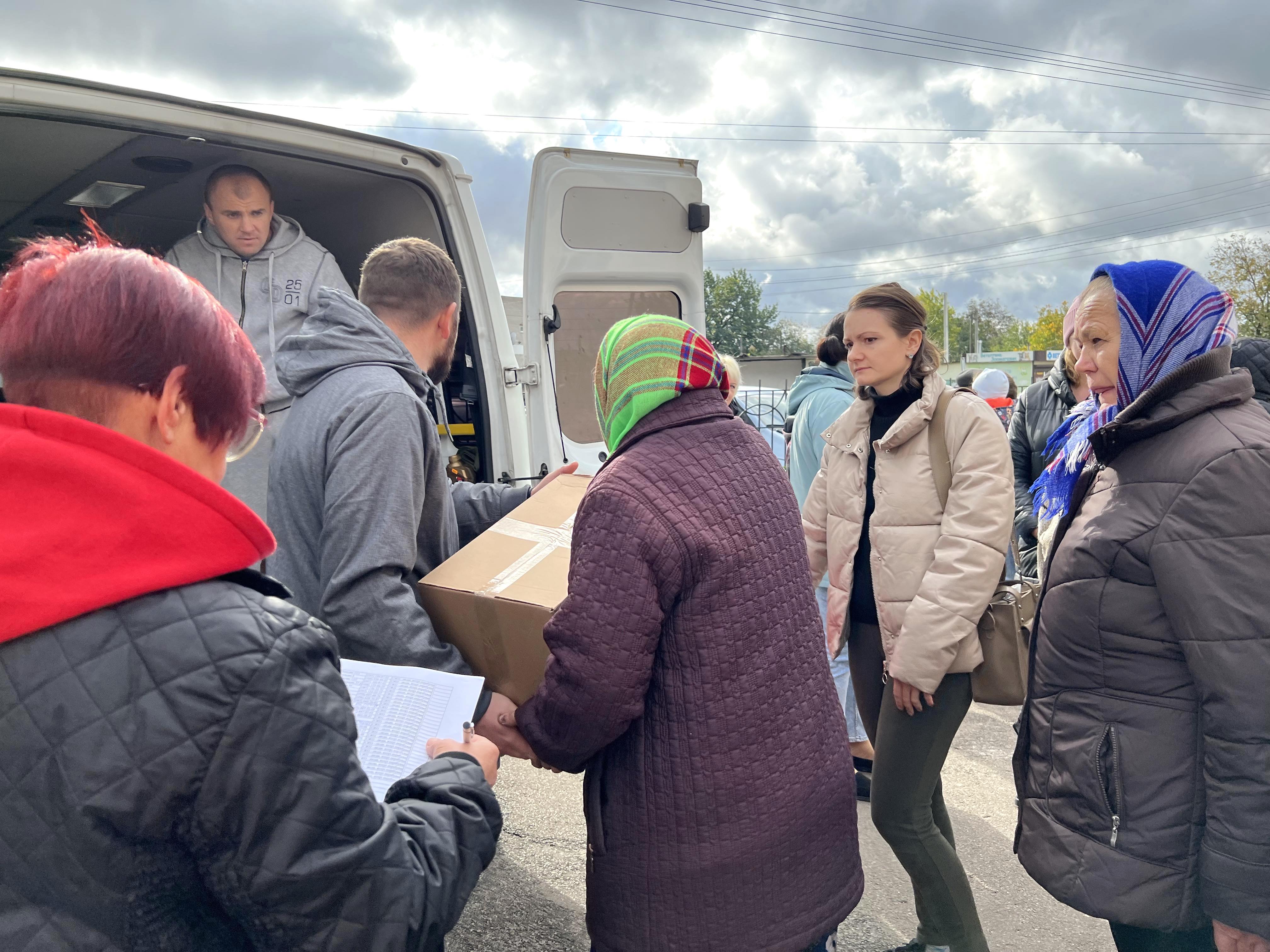 Hanna's story also represents the many challenges women face during this crisis. UN Women's brief In Focus: War in Ukraine is a Crisis for Women and Girls raised the "different and additional burdens" on the country's women and girls.
 Focus on mental health and well-being
At least 28 children in Ukraine's Borodyanka town joins World Vision's local partner Girls in the weekly psycho-social activities being conducted in various villages near Bucha District. Tatiana, a psychologist, emphasized the need for continuing support as children, especially those who were in town during the occupation.
"They suffered and witnessed a lot that no child should see. Psycho-social support must be continued until these children are fully recovered. Many of them have pain and anger in their hearts", Tatiana said.
She is optimistic of the work that Girls does with the help of the leaders of the technical school where activities are held. Girls' coordinator Katya expressed hope that through collaboration with World Vision, more children from at-risk communities will be supported.
In World Vision's No Peace of Mind report, thousands of displaced mothers like Hanna shared their concern about the potential issues on education and mental health that their children will suffer because of the war.
Collaboration and partnerships
 Currently, World Vision works with fifteen local and international partners in Ukraine and twenty in Romania and Moldova, with two in the vetting process, to implement its various sectoral initiatives based on needs identified based on program assessments.
On its seventh month of operations covering 23 municipalities across Ukraine, it has reached over 225,000 people composed of Ukraine's displaced population and host communities. See Ukraine Crisis Response Situation Report.
World Vision's Ukraine Crisis Response Director Chris Palusky calls for more support to the Ukrainian refugees, returnees and the internally displaced as he visited AOM's relief operations center last month. "Together, we can do more for the people affected by this crisis", he said.
Story and photos by Cecil Laguardia, Communications Director