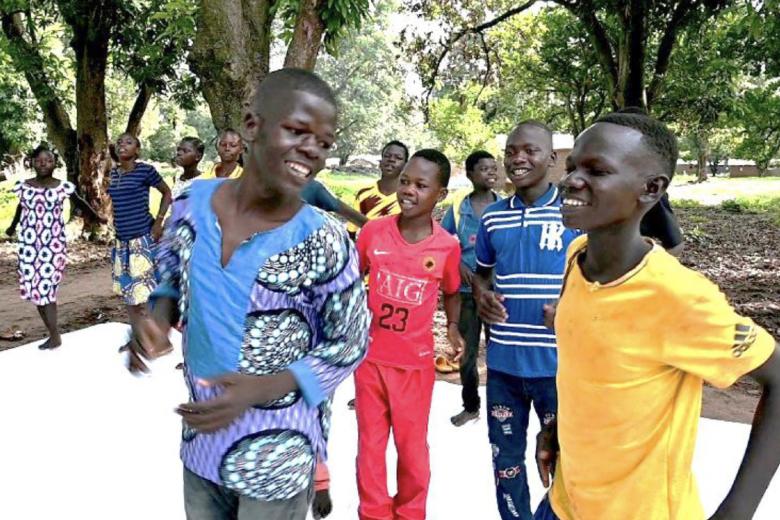 Paterne challenges adults on harmful punishment inflicted on children in CAR
Friday, June 17, 2022
He is having fun playing with his friends - perhaps a little amused because of the camera on him and his friends - but on closer inspection, 15-year-old Paterne's heart is troubled a question on his mind about a type of punishment that parents inflict on children in his community: The 'Les pieds au mur' (feet to the wall) punishment.
On this day, he has come to the Batangafo Children's Club where he and his friends are reflecting on the question "What are the key forms of violence against children in your community?". For the 15-year-old, it is unfair that Les pieds au mur is a type of punishment that seems to be reserved only for children; especially when he knows that everyone makes mistakes and can be punished.
The Central African Republic (CAR) ratified the Convention on the Rights of the Child (CDE) on 23 April 1992 and the country's child protection code was promulgated on 15 June 2020. This code prioritises the right to education, health, protection against violence, sexual exploitation and other forms of abuse to which children are exposed. 
In Batangafo (about 380 km from Bangui, in the north of CAR, and 907 km from Chad), many parents have long believed in using some habits of corporal punishment and physical violence inflicted on children that Paterne decries.
"Some parents punish their children by making them do what is called 'Les pieds au mur'. However, I am wondering, why we have always made children do the wall. Will we see Daddy giving Mommy the boot for a mistake? Or we see Mum giving Dad the boot for his mistakes?", he says. Paterne then follows up by asking, "Is it only children who have to be made to pay a higher price for mistakes they have made?" 
World Vision, through its Faith and Development, Protection and Safeguarding programmes equip our leaders and staff to live out our faith as appropriate in their context by providing training, mentoring and guidance. We work with children and young people like Paterne and encourage their participation in decision-making processes that affect their lives and communities. 
To learn more about our work to protect children against violence and exploitation, click here.