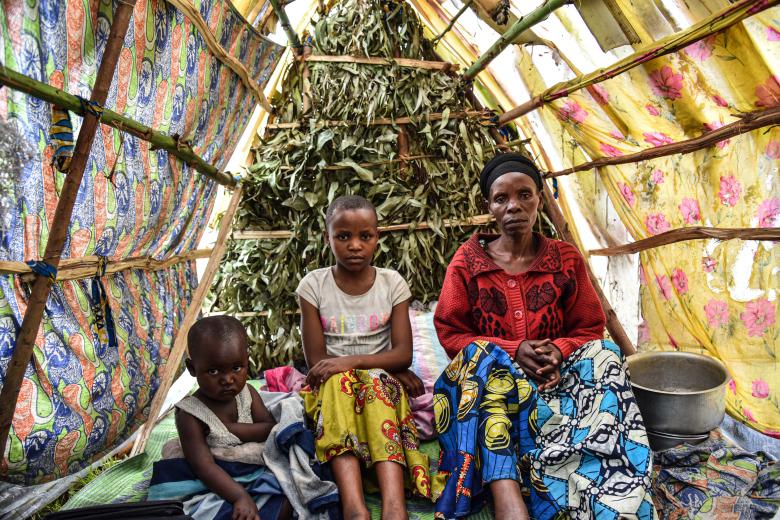 Tumaini, the 10-year-old who helped her siblings escape war in D.R Congo
Wednesday, November 16, 2022
By Rodrigue Harakandi, WV DRC Communications Officer
"We were seated at home when suddenly we heard gunshots. I was so scared! Daddy and mummy were away so we had to leave without them. We just followed the people who were running," says TUMAINI a 10-year-old girl displaced by the recent fighting between the D.R Congo army and the M23 in October. "I walked 35km on foot and I slept outside", she added.
On Thursday 27 October 2022, the M23 reached the village of Rugari, which is 35 km north of Goma in the East of the Democratic Republic of Congo. 
TUMAINI took her siblings and started trying to get as far away from gunfire as they could, and that is how they ended up in the internal displaced people's camp and Kanyaruchinya Primary School in Nyiragongo territory, near Goma. "We spent the first night outside, without a blanket, in the cold. Dad and mum found us the next day, and dad built us a small shelter that seven of us share,'' TUMAINI recalls. 
The space of the hut made of sticks and eucalyptus leaves is just about two metres long and one and a half metres wide. It is the new home for a family of seven who, a few weeks ago, were living in a good house and a healthy environment.
"I was in the bush making charcoal when it all started. I left everything in the bush and came home running to pick up the children. I found no one. I took the road to Goma on foot, and got tired, so I spent the night in Kibumba (20km from Goma). On my way, I met a child called Akilimali, about 2-years-old. She was alone on the road, hungry and barely speaking. I took her with me, and I now stay with her. The day after I arrived in Kanyaruchinya, I met my children," says Honorata, 48, mother of TUMAINI. 
"The camp of Kanyaruchiya, which hosts more than 60,000 displaced people, the majority of whom are children, has limited access to water and hygienic latrines," says Gato Julien, the site manager. 
"We have been here for a week without access to drinking water. We are hungry, and we do not have the essentials for cooking. We need your help," Honorata adds. 
"It hurts when I imagine children elsewhere are going to school, and we are not. I miss my school in RUGARI," Tumaini says. 
Since the beginning of the M23 conflict in March 2022, World Vision has distributed 1229.136 tons of food to 154,514 internally displaced persons in response to the increasing numbers of hungry families suffering from recurrent displacement in the territory of Rutshuru and Nyiragongo.The government and some humanitarian agencies have started to assist the most recently displaced communities, but the need remains enormous, given the ever-increasing flow of displaced people. 
World Vision seeks US$ 4 million to respond to the growing food, protection, and WASH needs to contribute to the well-being of vulnerable children and their families.