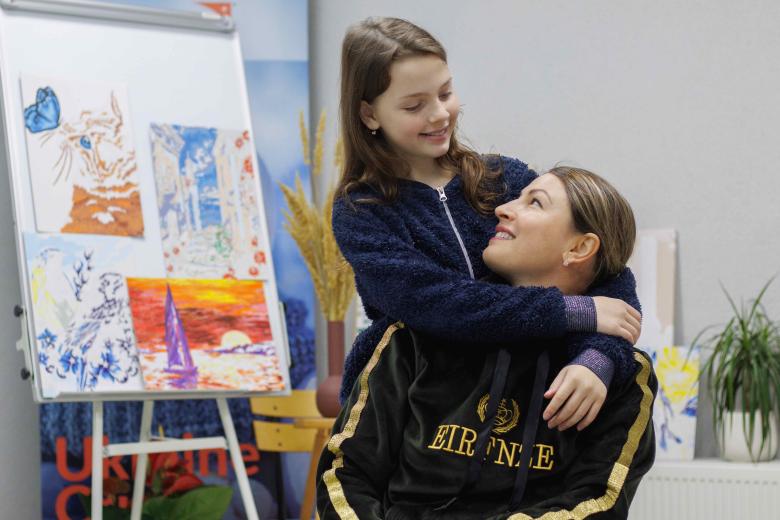 Ukrainian mothers find strength from fellow women in Moldova's refugee center
Wednesday, January 18, 2023
"We fled the war with our children." Svetlana and her two children are among the millions of refugees who left behind families, home, friends, work and school. They escaped Odessa in March and found refuge in Moldova.
More than ten months of hostilities in Ukraine has sent 7.9 million refugees across Europe seeking for safety, protection, and assistance.
The ongoing crisis has resulted in increased mental health issues among the displaced people.  World Vision's  No Peace of Mind Report highlights that over 1.5 million children from Ukraine are at risk of suffering from mental health issues as a result of being exposed to the horrors of war.
It has also increased the care burden of women and they continue to bear different and additional burdens of being displaced in their country or as refugees in neighboring countries.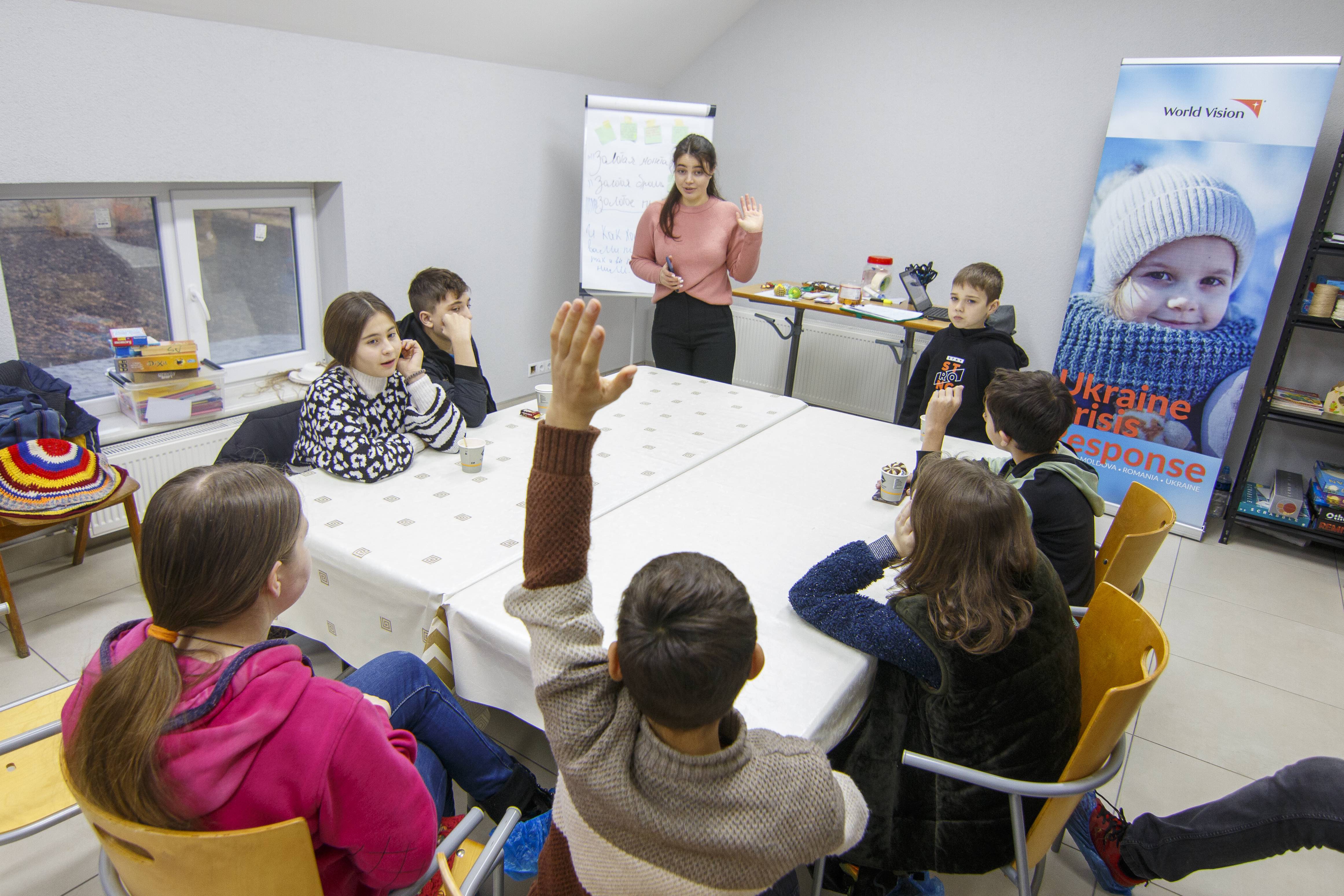 "I know that many after crossing the border, they couldn't even talk. Our women were withdrawn, they could not communicate," Svetlana shared.
In May, they found the Refugee Accommodation Center Stefan Voda, and since then she and her daughter keep on coming.
"I have children at home, I have a dog, but I need to come and communicate with women. I need to learn the news. We learn not only news in the world, but also about ourselves, we hope to use in our future lives," the 43-year-old mother said.
World Vision and local partners Food Bank and Communitas provided the displaced families immediate needs such as food and hygiene kits and help them adapt to the challenges of living in a foreign country through counseling and other support.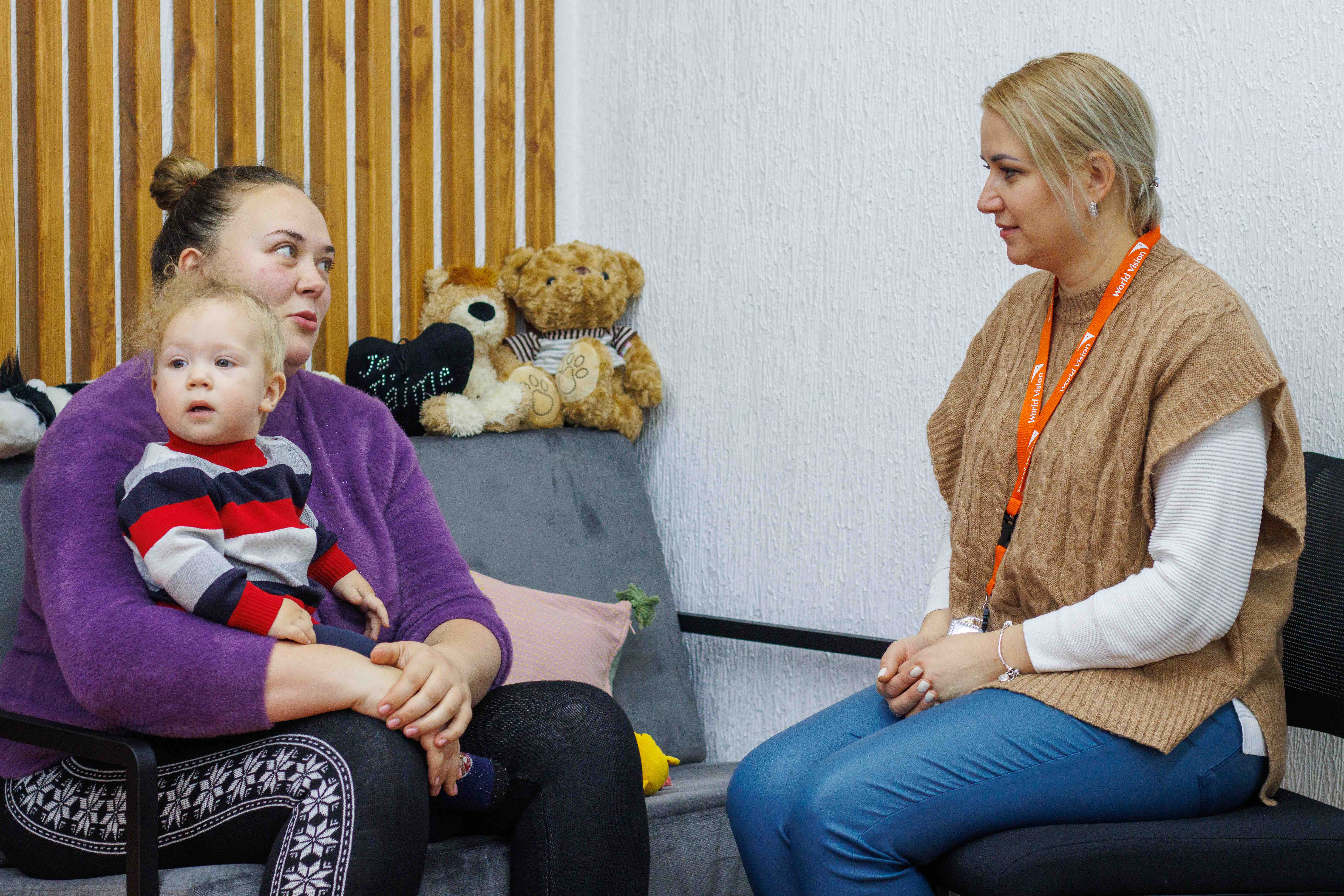 Ludmila, a facilitator at the Women's Club, stressed how important for the children and women to get help. "They are in a state of constant stress. Some of them had family problems before the war started and now, this stressful situation has worsened, and psycho-emotional support is necessary."
"We can open-up, talk, cry, laugh and somehow it brightens us up. This is a place for us to communicate, a place for relaxation, a place of spiritual communication.  My child met new friends and they started communicating.  They are meeting each other not only here but outside as well; they run and go for walks in the park. She has Moldovan friends, and they are learning each other's language," Svetlana said.
Liza, her eleven-year-old daughter shared her experience attending the center's activities, "these classes help me a lot; I am very happy here. We are very much loved. We are being looked after, treated well. I like coming here because it's a lot of fun."
I want to say that World Vision really has an impact. I am glad there are organizations with such a clear vision and impact in society.
For Ludmila, "a community of Ukrainians and Moldovans has been created together. A community that knows each other. Friendships are already linked. They are not alone. They get group support both at our group meetings and discussions as well as individual sessions."
"We are also grateful to Moldova, this small country with its big heart, for what they try to do with our stay. Here, it is brighter to remember moments, some good moments. That there is not only evil in this world; there is also good," Svetlana said.
"I want to say that World Vision really has an impact. I am glad that there are organizations with such a clear vision and impact in society. Probably the people who are part of the organization don't see the result and the joy that we see. Our center alone has touched so many lives, both Ukrainians and Moldovans," Ludmila said.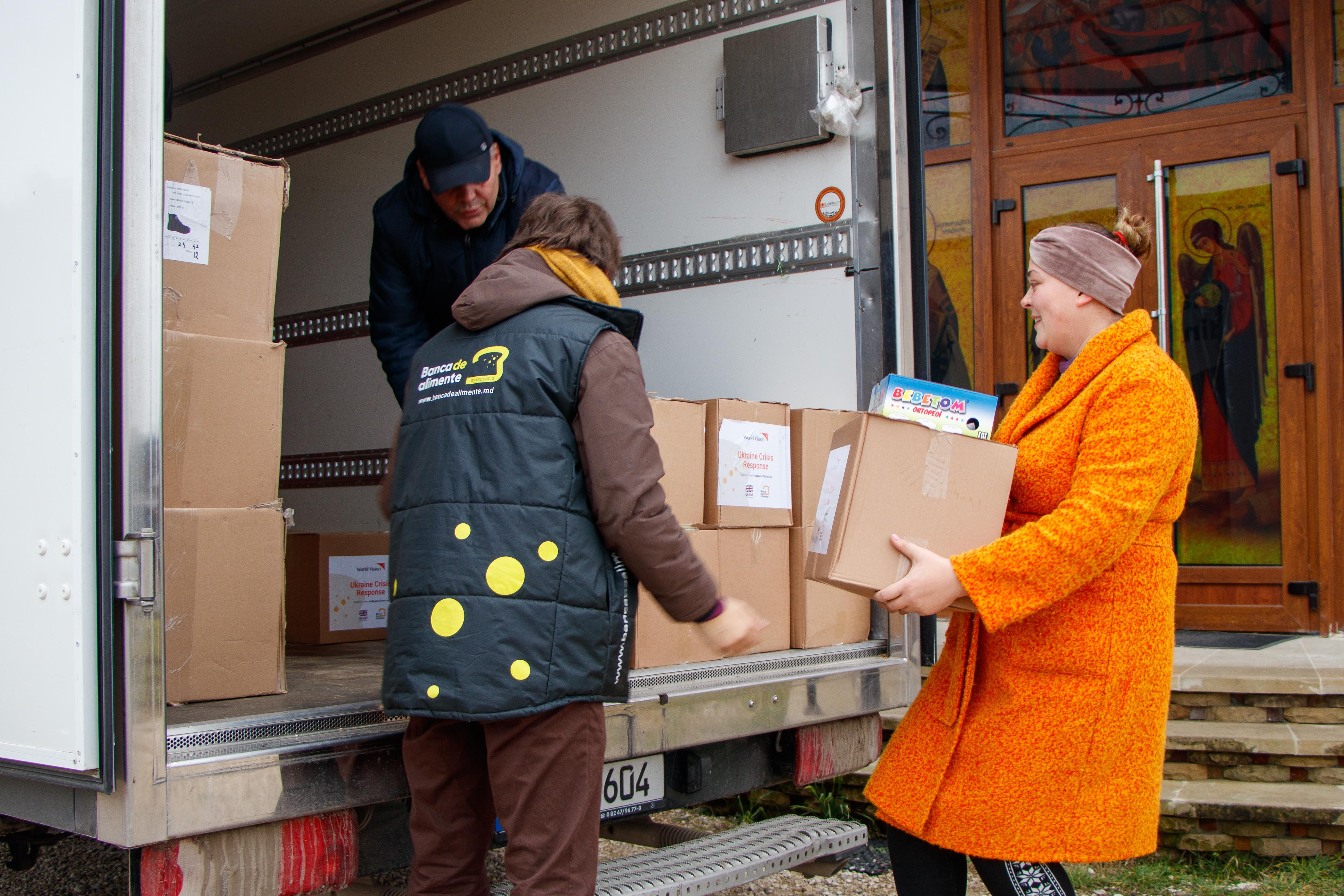 World Vision is investing in mental health and psychosocial care in the response and is employing an integrated and multi-layered approach to support affected women and children with Child Protection, Mental Health and Psychosocial Support Services (MHPSS).  
Viorica Bulat, World Vision Project Manager observed how the different activities in the center have resulted to women and children coming together and caring for each other. "I remember one woman didn't want to speak the first time she attended the activity. But later, she became comfortable and started to share her experiences. Talking about their feelings has helped them overcome distress."
Counselling sessions, therapeutic activities, homework support and language courses are some of the support being provided in partnership with local organization Communitas to help children and women integrate well in their host communities in Moldova.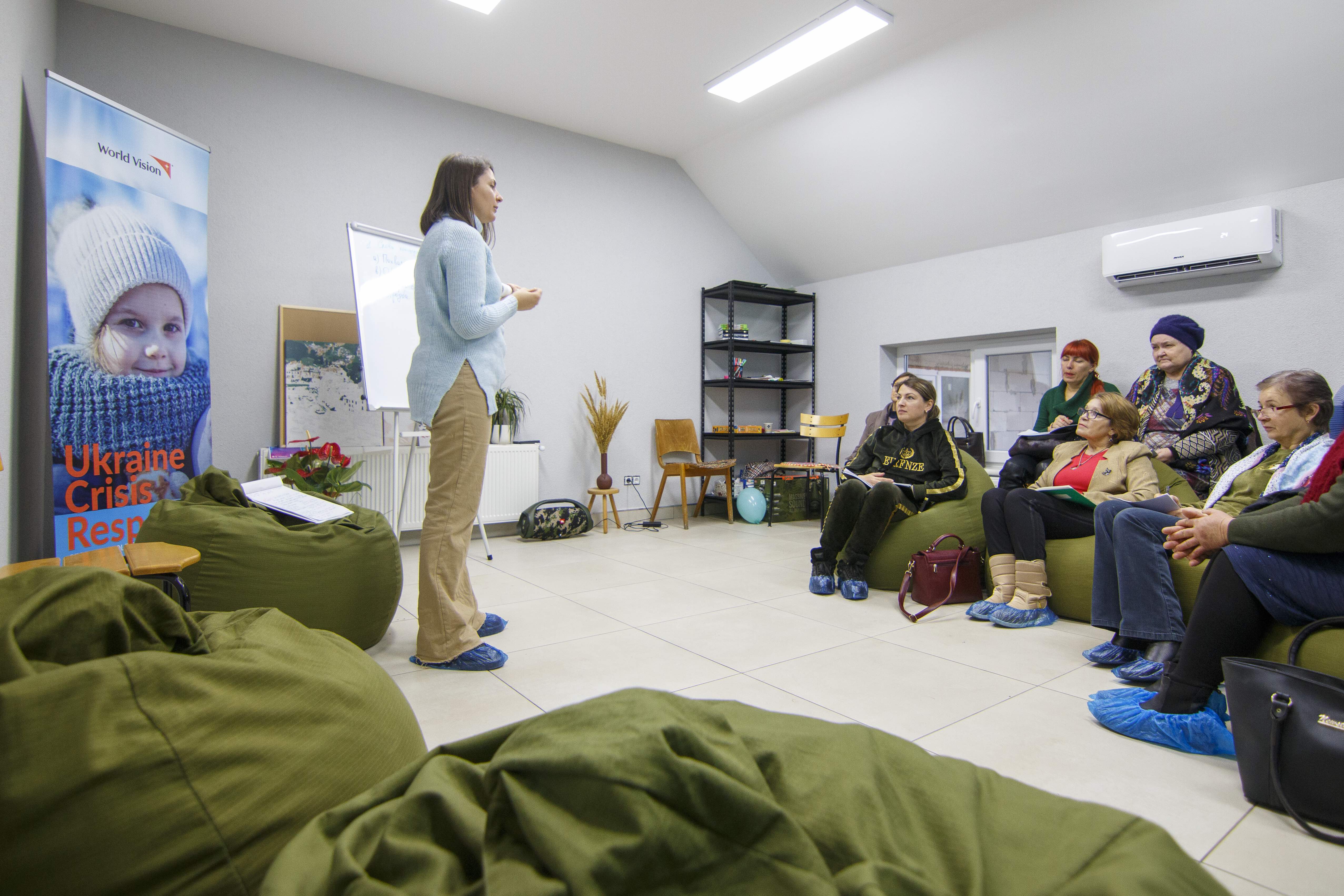 "They have learned how to cope with the difficulties. They remain optimistic and hopeful they will return to their homes. They never gave up their dream," Viorica added.
Though the future seems uncertain, Svetlana and the rest in the women's club hold on to their conviction. "We make new friends here; we start to think about the fact that soon everything will be over, and we will have to come back home. And something we will take from here and bring into our new life."
Food and cash-based assistance and mental health and psycho-social support to the refugees and their host communities is supported by the Disasters Emergency Committee (DEC).
World Vision's humanitarian work in Moldova for the Ukrainian refugees and host communities have reached 34, 567 people in 17 districts of the country.  
To date, World Vision has responded to the needs of over 553,999 refugees, internally-displaced and host families in Georgia, Moldova, Romania and Ukraine.
Watch video on how Ukrainian and Moldovan children celebrated Christmas together.
Story by Leoniza Morales, Communications Specialist I Photos by Chris Lete and Eugene Combo