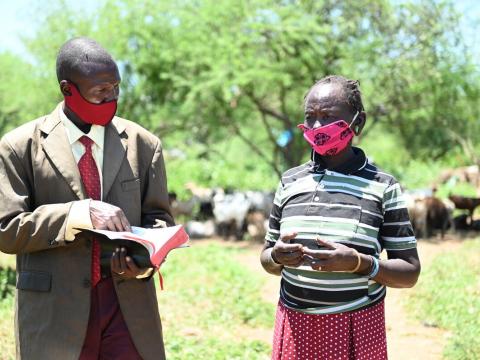 Faith leaders in East Africa denounce gender-based violence and call for stronger partnerships to protect girls and women
Friday, December 4, 2020
By Cecil Laguardia, Acting Advocacy and External Engagement Director, World Vision East Africa Region
Over 130 people, led by some of East Africa's prominent faith leaders, attended World Vision East Africa's online dialogue on the role of faith leaders in the campaign against gender-based violence (GBV) in the region on 25 November 2020.
The event highlighted this year's UNiTE 16 Days of Activism campaign with the 2020 theme, "Orange the world: Fund, Respond, Prevent, Collect!" from 25 November to 10 December 2020. As the COVID-19 pandemic gradually spread across the region, the UN Secretary General's (UNSG) Report stated that, "Accompanying the crisis has been a spike in domestic violence reporting, at exactly the time that services, including rule of law, health and shelters, are being diverted to address the pandemic".
The UNSG report defined gender-based violence to "include sexual, physical, mental and economic harm inflicted in public or in private. It also includes threats of violence, coercion and manipulation. This can take many forms such as intimate partner violence, sexual violence, child marriage, female genital mutilation and so-called 'honour crimes'."
John Makoni, World Vision's Senior Director of Operations for the East Africa Region, raised the alarm on the "appalling" and "heartbreaking" impact of gender-based violence on girls and women especially heightened during the coronavirus pandemic. He says, "World Vision highlights zero tolerance to GBV and all forms of violence" and commended the support of East Africa's faith leaders to help protect the future generation.
Among the esteemed speakers who graced the event were Rev. Dr. Elias Opongo, SJ of the Hekima Institute for Peace, Bishop Enoch Tombe from the Episcopal Church of South Sudan, Ustadh Sheik Ibrahim Lethome from the Jamia Mosque Committee and the Supreme Council of Kenyan Muslims, Dr. Lydia Mwaniki of the All Africa Conference of Churches and Uganda child leader and advocate Maria Gorret.
Rev. Dr. Opongo has emphasised the importance of stronger partnerships among faith groups, religious institutions, civil society and non-governmental organisations and other key stakeholders. The role of media and social media in the proliferation of violence and abuse was highlighted by Bishop Thombe especially on the youth and the need for better guidance of adults and society in general.
Ustadh Lethome drew interest as he shared GBV situation among Kenyan Muslims, raising the reality that "men comprise the majority of perpetrators" on violence and abuse, and that "biases and misconceptions affecting religions still exist in this time and age". Dr. Mwaniki challenged fellow faith leaders to address the "knowledge gap among church leaders on gender justice and advocacy".
Maria Gorret's representation of girls and children was very powerful as she reminded everyone of every child's right to be protected and care for and challenged the faith leaders and institutions to "work together in upholding the rights of children and women" and be protected from any forms of violence.
"Faith leaders are trusted partners and a strong voice in their communities in addressing the root causes of GBV. Deepening our commitment to mobilise and engage faith leaders to address GBV will see us Go Further in realising Our Promise across the region", " says Daniel Muvengi, World Vision East Africa's Faith and Development Director.
To listen to more interesting details and interaction of the event, please click here to listen to the recording. Access Password: uiC9&20u
---
Photo by Sarah Ooko, Senior Communications & Media Officer, World Vision Kenya
---
Check out World Vision's Aftershocks Report
In the years following the COVID-19 pandemic, the world could see up to 13 million additional child marriages according to COVID-19 Aftershocks, World Vision's report on the second wave of effects of the pandemic on children. This is in addition to the 150 million child marriages already projected in the same time period.