Farmer Natural Regeneration Brightens the Future of Katete in Fighting Climate Change
Thursday, May 23, 2019
( Story/photos by Collins Kaumba)
A large horizon of land only with crops in fields lies visibly clear in Vulamukoko community of Katete District in Eastern Zambia. Less than 30 years ago, it was impossible to have such a view in this area unless from a flying eagle's eye view to witness the once thick forest area that attracted animals and farmers to settle there and use the land.
With almost all trees now cleared because of man's activities of farming and charcoal burning - climate change hit hard on the people of this community: the once highly productive land has generally become bare, with gullies and much of the fertile soils washed away, plunging many families in poverty in the recent years.
"I grew up in this community but I have never seen what we have witnessed in the recent years. This land used to give us high crop yields without applying artificial fertilisers. Rains were plenty but not anymore," Prisca Banda, who was born and grew up in this community says.
"It has been difficult to do farming and produce enough food to eat throughout the years and to have money to buy daily needs and to support our children's education. Life has been tough for us because low rains and drought we have been experiencing over the years," Prisca explains.
Prisca, 34, mother of four children – two boys and two girls is among many other families that have faced the horrendous impact of climate change that the community of Vulamukoko has witnessed because of man's poor management of the environment and its resources.
"We did not know why we started experiencing drought, dry spells and poor rainfall pattern. Most of the time we have been witnessing too much wind that has been blowing away our houses. Most of the streams we had which provided us with water have since disappeared. The wild fruits and animals we used to enjoy when I was young are nowhere to be seen except mangoes which we have planted in our fields," Prisca adds.
But the coming of World Vision's Transforming Household Resilience in Vulnerable Environment (THRIVE) project in Vulamukoko and Kawazacommunities since 2016 has opened many doors and hope for many families.
"THRIVE has given us so much hope that we are now being helped to restore the natural resources we have lost over the years, causing us to suffer the consequences of climate change. As a result most families have been forced us to marry off children at a tender age with the hope of surviving poverty that has now stricken us because farming is no longer working well for us," Prisca points out.
True to her words, barely two years ago, drought hit the eastern part of Zambia included Katete District, destroying families' crops but Prisca and few farmers that had already been trained and started implementing farming God's Way were lucky; they managed to harvest something that has saved them from serious hunger that most families have experienced the past one year.
"What we are eating now is the harvest that survived the drought because Farming God's Way. Otherwise we would not have food to eat by now [early 2019]," Prisca says.
She adds, "I harvested a bit more that I sold some of it to have money to meet my children's school needs Otherwise my children would have been chased out of school and I don't think we would have managed to live without food as most families lost everything to drought because of farming the traditional way," she says.
Producing enough food from a small portion of land that had survived the drought to save her family from her did not just inspire her to yearn to do even more during the 2018/2019 farming season, but inspired her to right away take Farmer Managed Natural Regeneration (FMNR) seriously.
"I started pruning the few bushes around our farmland to enhance their growth and to protect them because I know they'll be of high value not only to my family but the entire community as I have learnt that they would start contributing to reversing the effects of climate change and give us other benefits," she says.
"We were used to cutting every shrub or tree that grows either home or in the fields but after learning about FMNR, I understood the importance of trees in fighting climate changet," Prisca says as she visitors to her upcoming forest reserve area.
Spread from the boundaries of her household down to where her farmland demarcates in four angles, Prisca has managed to preserve a soon to be forest area that almost has all small to medium size trees standing straight, and providing delightful fresh aired environment around her household.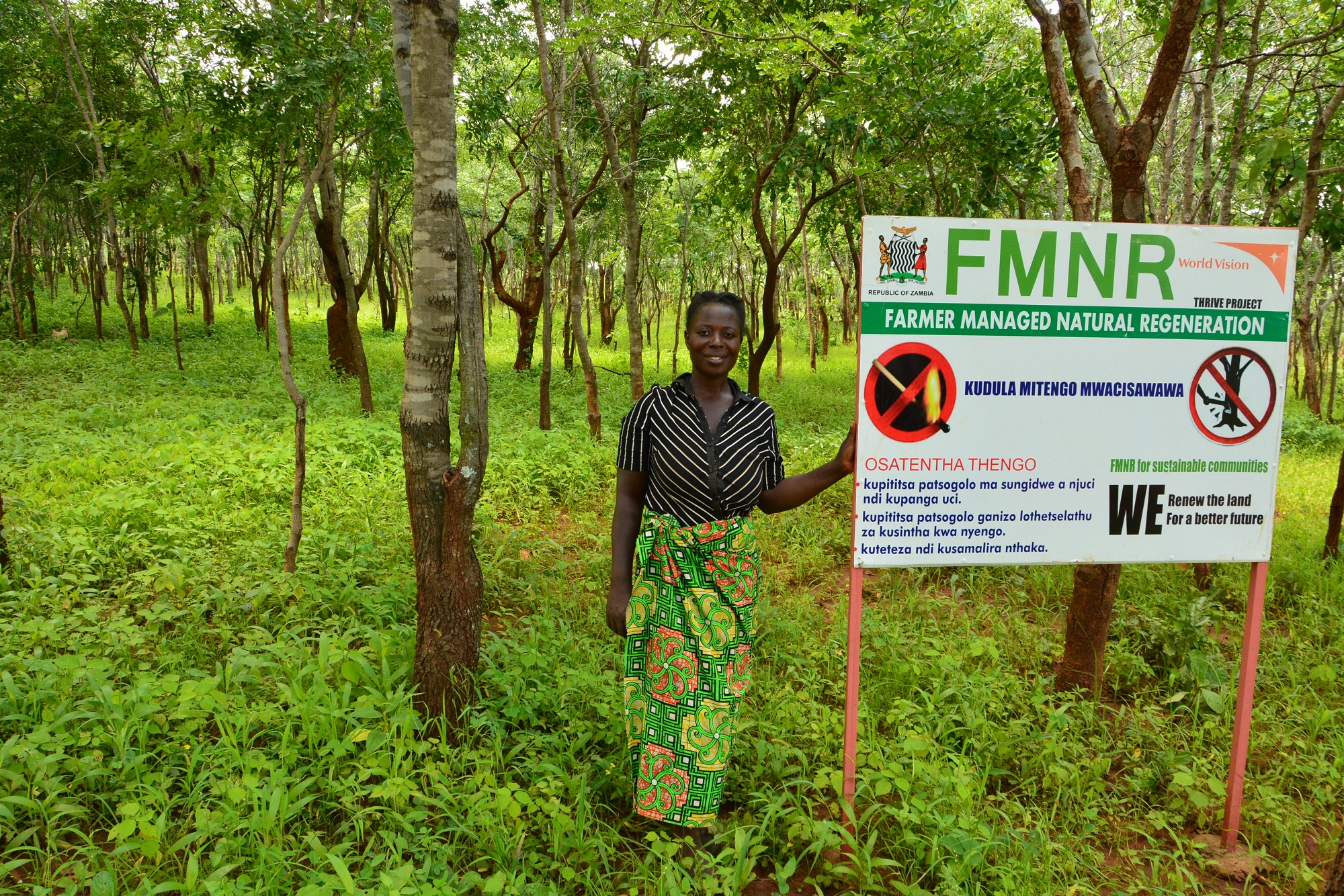 Prisca is also implementing Farming God's Way to enhance her household food security and increase her income in the next few years
"Everything I learnt about FMNR is working so well for me. See how nice the trees are looking," Prisca boasts as her eyes gaze high to the shiny leafy trees providing cool soothing air. "The trees are already protecting our houses from strong winds and we are enjoying cool fresh air from the trees. This is something I have never valued before till now."
Prisca adds, "Because of what I have done many households including my immediate neighbours have also started preserving the sprouting shrubs not just at their homes but the fields as well with the hope that one day they will become big trees that will restore our environment."  
Prisca who lives in Mutapa village says FMNR will not only help to restore the rainfall pattern in her community but will enable them generate income and fight poverty from the trees that being preserved.
"Most importantly, once nature has been restored, which most of our children have not lived to enjoy in Vulamukoko community which largely bare, they will live to appreciate the importance of preserving tree," she says. "Through Farming God's Way and FMNR, there is hope everything will change soon as we are already seeing the benefits," Prisca says.
Prisca says what they have achieved just in two years because of THRIVE has given them hope that everything is not lost yet and that they have been given a second chance to transform by protecting their environment and enhance their food security at household level.
"The knowledge that we have attained through THRIVE has opened our minds and empowered us to prepare for the future and the mistakes we have made in the past such as cutting down trees," she says.   
"Other engaging in FMNR, I am equally seriously involved and practicing Farming God's Way. I am therefore expecting to harvest a lot of maize this farming season because of this reason," Prisca says.
Prisca's children, Mathew, 15 is in Grade 5, while Dorothy, 10, is doing Grade 6. Azeredi, 9, is in Grade 3 while Timothy, 4, in Kindergarten.