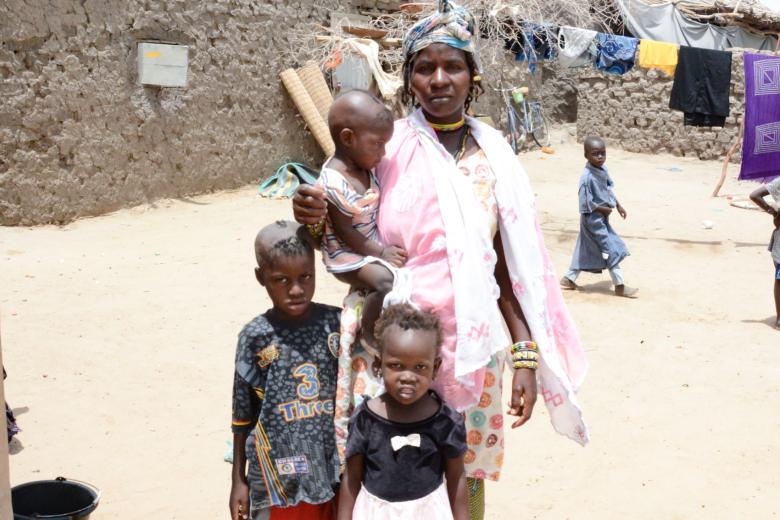 Fleeing to survive was the only solution for Malado
Monday, July 18, 2022
Food insecurity remains one of the most challenging concerns for displaced people in Mali. According to a report by Mali's security cluster, the number of people forced to flee violence increased by nearly 40 percent in 2021.  
However, since 2020, more than 114,000 Malians have been forced to abandon their villages, homes, and even their livelihoods due to the conflict. Unfortunately, the survival of this large number of internally displaced persons (IDPs) still depends primarily on humanitarian assistance and solidarity and mutual aid mechanisms. 
In the Nara region, also affected by conflict-related food insecurity, some of these people who fled attacks and threats against their villages are now in need of humanitarian assistance, as is the case with Malado. 
Malado, 34, is a mother of three who fled her village more than three months ago to the town of Nara. She is one of the people who received cash assistance from World Vision through its partnership with WFP. 
During a meeting, we had the opportunity to talk with her to find out more about the conditions she found herself in after being forced to abandon her village. Her testimony allowed us to understand that this move was not easy for her as we share here.  
"I was forced to leave my village because of insecurity. It was hard to find food there. We couldn't grow crops or do income-generating activities to feed our children." Reveals this mother of 3 children. 
"There were days when we ate tree nuts before coming here. It was not pleasant at all to eat those nuts. It is not meant to be used as a meal; but we were forced to eat them since we had nothing to survive on." She shared with us. 
These words convey the sad reality in which Malado found herself. She adds, "Coming here was not easy at all. My family and I had to leave the village in a cart to go to a neighbouring village to save ourselves and to join Nara.  
Was leaving the village the end of an ordeal for this mother of three children? The answer to that question is no.  
"When I arrived here, I encountered many difficulties, such as the lack of housing and food for my children. I did laundry for people and even pounded millet to earn some money. My husband also did small daily activities for people. This allowed us to rent a small house. We pay XOF 10,000 ($16) a month for this house.". 
Paying the rent and feeding the children properly through these small daily activities has been a problem for Malado and her husband. According to the 34-year-old woman, the invisible hand of Word Vision has allowed her and her family to forget the worry of not having enough to eat for a long time. 
"We are very happy to have been supported by a humanitarian project (World Vision). When they heard our story, they came and provided us with XOF 90,000 ($142) in monetary assistance that allowed us to provide for some of the children's needs adequately." 
In closing, she was quick to express her gratitude for the support. "I thank them very much for this help because we have forgotten the dark moment we went through thanks to them. We pray to God to bless their organisation. We really can't thank them enough. With these words, Malado concluded our interview with her. 
It should be noted that this CASH assistance reached 1,380 vulnerable households in the Commune of Nonssombougou and 52 IDP households, including Malado, who each received $142 from World Vision Mali in partnership with WFP. The assistance allowed them to overcome difficult periods of food insecurity.