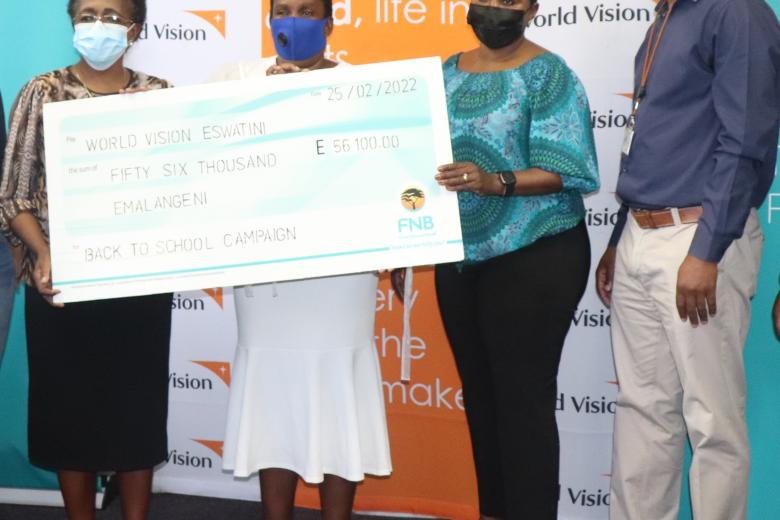 FNB Eswatini's SZL56,100 to change 85 learners' lives
Tuesday, March 1, 2022
FNB Eswatini's SZL56,100 to change 85 learners' lives
For a child with no shoes and no jersey to wear on a cold winter day, going to school can be an unpleasant task one is not too keen on. This is the situation for many learners attending Mlindazwe Primary School at Somntongo in Lavumisa, one of the most poverty stricken communities south of Eswatini.
For 85 learners, however, the coming winter will be quite different, thanks to a donation of Swazi Lilangeni (SZL) 56,100 from First National Bank (FNB) Eswatini. The donation, made through World Vision Eswatini (WVE), follows a request made to the bank by the humanitarian organisation through its Local Resource Mobilisation department.
Receiving the donation, at a presentation ceremony held at the WVE offices in Mbabane, school Principal Doris Malinga said: "We are so glad to receive this donation because we are struggling in that community; the children come from far places on foot, without shoes."
Malinga said they could not even be strict or check school uniform because they knew that most of the children hardly had anything to eat at home, so proper uniform was something parents or caregivers could not even afford. 
Mlindazwe Primary School is a rural school situated at Lavumisa, about 176 km from the capital city, Mbabane. This is an area where a lot of children live below the poverty line. They have to walk long distances to school barefoot and, often, on empty stomachs due to lack of food and money to buy them those basic needs at home.
Malinga elaborated that even if community members tried to make ends meet through farming, their efforts became useless because of the very harsh sun that destroys their crops in that area.
A representative of the FNB Foundation's Board of Trustees, Rejoice Nkambule, said the situation deeply touched them as an organisation when World Vision Eswatini approached them for the partnership.
"When we received this request from World Vision to support the children of Somntongo area …, we were deeply touched by the dire situation and the need of the students there. The students of Mlindazwe Primary School are nestled within a community where their basic needs, including water, food and clothing, are scarce."
WVE National Director Tinah Mukunda thanked FNB Eswatini for the support extended to the most vulnerable children through the partnership.
"It's exciting that we are having this relationship and partnership with FNB, which is generated from within the country, and it will ease the challenges that the children face as they go to school on a daily basis, thus enabling them to focus better on their studies to obtain good results at the end of the year," Mukunda said.
She stated that support from local donors was something the organisation was looking to increase as it had mostly been relying on donors outside Eswatini and Africa to keep doing the work done in the various areas of the country. She said, having operated in Eswatini for 30 years, World Vision Eswatini now hoped to get more support from local organisations and individuals in supporting the country's most vulnerable communities.