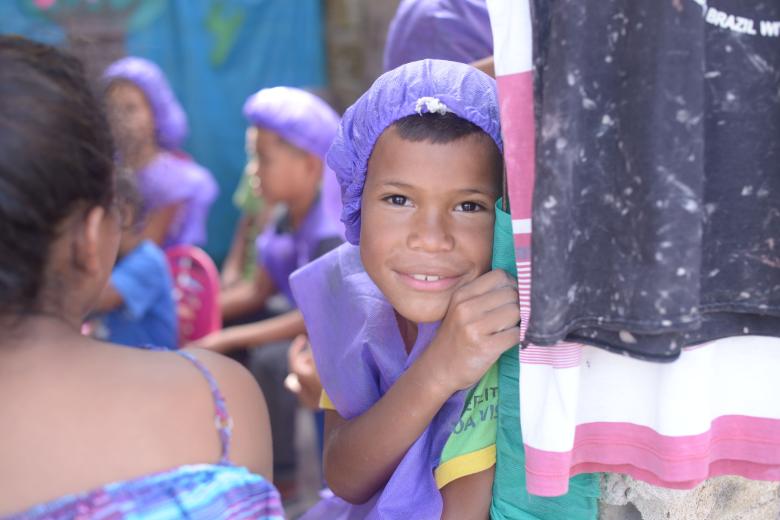 Spaces of Hope for Migrant Children in Pacaraima
Tuesday, September 5, 2023
In northern Brazil, on the border with Venezuela, Pacaraima serves as the meeting point of two realities, two cultures, and two languages. Amidst a constant flow of Venezuelan migrants crossing the border in search of a better future, Pacaraima has become a symbol of hope and challenge. Here, "Hope without Borders" by World Vision Brazil has established six "Child-Friendly Spaces for Migrant Children." This initiative aims to foster integration and peaceful coexistence between locals and foreigners.
Pacaraima is the busiest entry point for Venezuelan migrants into Brazil. This situation presents challenges for a city with over 18 thousand inhabitants (as of 2021) that receives more than 500 people daily. One of the effects of this constant human influx has led to spontaneous settlements where families often live in precarious conditions, lacking basic services such as water, sanitation, food, healthcare, housing, among others.
Children and adolescents, who make up approximately half of the migrant population in these settlements, are particularly vulnerable to this situation. Many of them face difficulties in accessing education. Lack of documentation, validation of their previous education, or their families' limited resources to cover school expenses are barriers that threaten to limit their opportunities and compromise their future.
In this context, Child-Friendly Spaces for Migrant Children have emerged as a refuge of support and hope. These places, established by the "Hope without Borders" project by World Vision Brazil in collaboration with local partners, seek to fill the gaps in care and educational support. Beyond being classrooms, these spaces are meeting places for learning and growth.
Within these Child-Friendly Spaces, children and adolescents can participate in educational, recreational, and emotional activities designed to help them face the challenges they encounter. Here, they can learn Portuguese, which is essential for their integration process. They can also engage in recreational activities that allow them to express themselves, release tensions, and forge friendships with other children who share their experiences. "Here, we help them with their homework and provide school materials. We have time to learn customs of our new country through games and also remember games from Venezuela. We want the children not to forget their country," says Juliannys Villarroel, a migrant mother who volunteers in one of the Child-Friendly Spaces in Pacaraima.
Migration is a process that can generate stress, anxiety, and a sense of loss in children and adolescents. Therefore, Child-Friendly Spaces also provide emotional support. These spaces have become places where they can express their feelings, share their experiences, and receive emotional support from their facilitators.
Stories of resilience emerge from these spaces. Miguel Ángel, a 9-year-old boy, arrived in Pacaraima with his family five months ago. The boy found in the Child-Friendly Space for Migrant Children a place to learn about nutrition and health. With enthusiasm, he shares how he now understands the importance of a balanced diet and his eagerness to prepare a cake using a recipe given by his teacher. "I learned that the most important food groups are carbohydrates, proteins, vegetables, and fruits. My brothers and I really like the fruits we eat here (in the Child-Friendly Space). Besides, I am happy because here I have three meals a day, something that didn't happen in my country," says the boy.
These spaces are not only making a difference in the lives of children and adolescents but are also contributing to the building of a sense of community and belonging. Amidst uncertainty and change, Child-Friendly Spaces have become a meeting point where migrant children can find comfort, mutual support, and the opportunity to build a more promising future.
Child-Friendly Spaces are a testimony to the power of community and human resilience. As these children and adolescents continue their journey of adaptation and growth, Child-Friendly Spaces provide them with a refuge where they can cultivate hope and forge a future full of possibilities.