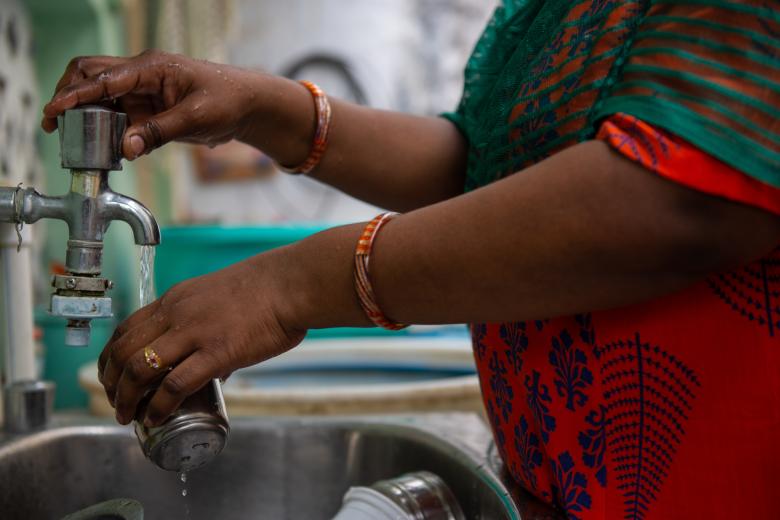 Project Axshy: a roadmap to two million TB-free Indians
Thursday, April 25, 2019
By Mridula Narayan, Communications Associate at World Vision India
"Without Ravi's constant counselling and the nutrition support provided, I wouldn't have been cured of tuberculosis (TB)", Chanti said, as he continued picking wood to craft a chair to earn his income for the day. Chanti, a 32-year-old and father of two from an urban slum in Vijayawada in India, acquired this communicable disease when he was only 24 years old.
Despite being treatable and curable, every year TB causes 4.4 lakh deaths in the country. Even more worrying is the fact that India has more than a million 'missing' cases of TB every year. These are cases that are not notified or remain either undiagnosed or inadequately treated.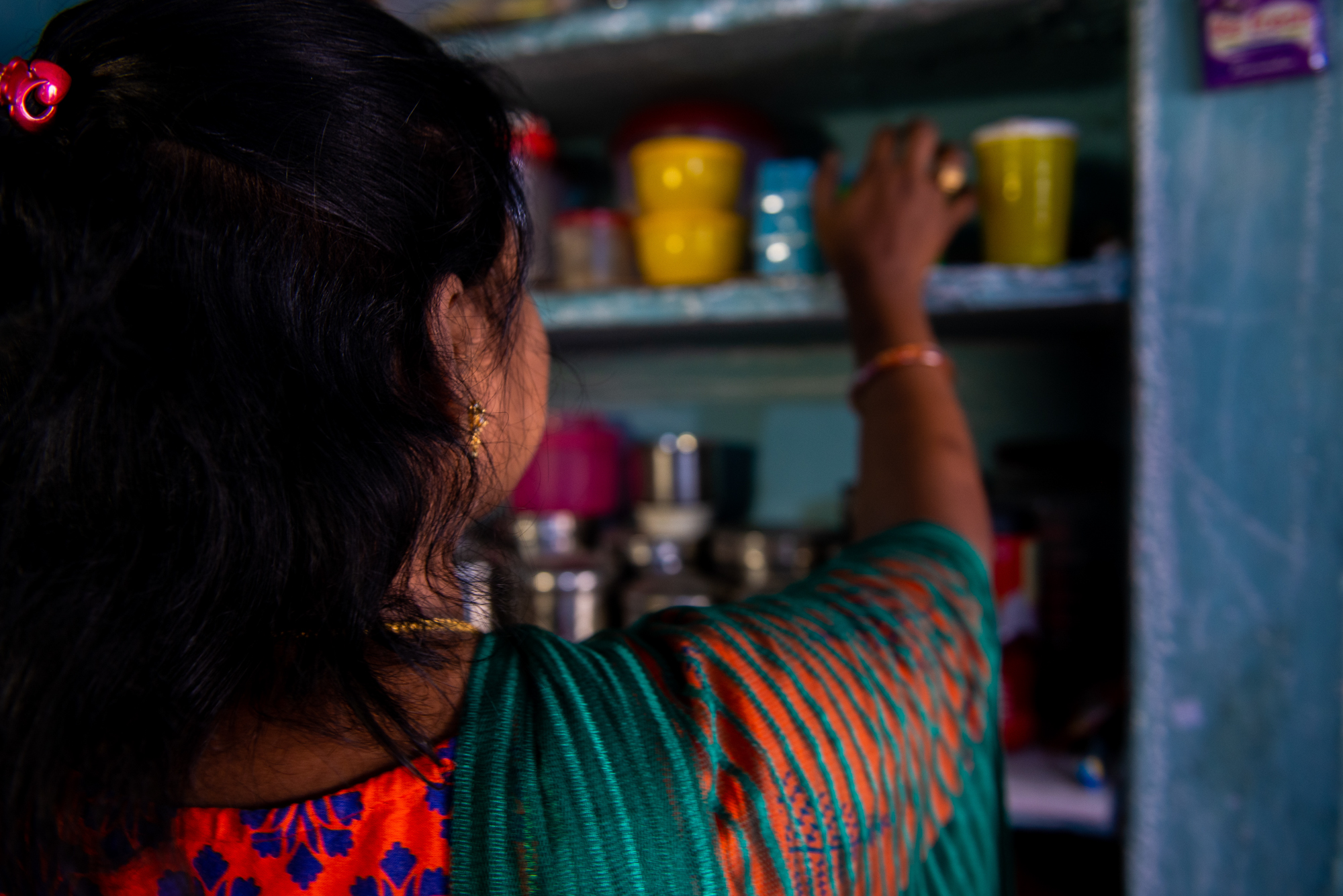 Due to improper follow-up of the treatment regimen, a large number of TB patients (both known and missing) become resistant to Anti-Tuberculosis Treatment (ATT), which then results in drug-resistant tuberculosis (DR-TB). This has consequently also left India as the country with the highest number of multidrug-resistant tuberculosis (MDR-TB) cases in the world, contributing to one-fourth of the global MDR-TB burden.
When Chanti began coughing uncontrollably nine years ago, his immediate response was to stop smoking cigarettes. A couple of years went by until a relative told him to visit the government health centre for a check-up. There, Chanti was diagnosed with TB and put on ATT for six months. Like several other TB patients in India, Chanti did not stick to the treatment regimen leading to further ill-health. He says, "At that time, I didn't want to go to the doctor again. I thought my illness will cure by itself."
But, in February 2016, his condition worsened and he wasn't able to walk. He was taken to the local TB diagnostic centre, where he was diagnosed with MDR-TB – a consequence of improper treatment adherence in the early years of his diagnosis.
While in its effort to control TB cases, the government's National Strategic Plan (NSP) for TB elimination paved the way for better diagnosis at government health centres, two major gaps have continued to prevail – notifying TB patients and providing care to MDR-TB patients. Hence, in 2010, World Vision India with the assistance of GFATM (Global Fund for AIDS, TB, Malaria) Round 9 grant initiated Project Axshya (which means 'TB free' in Hindi) with a primary objective to improve TB case notifications in both public and private sector as well as provide counselling and food support to MDR-TB patients across 74 districts in eight states of India. The project continued till December 2018 as a 'specialized' TB care and control initiative of an NGO TB-Consortium. Six NGO-partners namely ADRA India, CARE India, GLRA India, LEPRA India, SHIS and TB Alert India worked as Sub-Recipients (SRs) and around 80 grass-root level NGOs as Sub-Sub Recipients (SSRs).
A first step, finding the missing million and linking them to the government
Primarily focusing on tracking down TB patients who have not been notified to the government, the project began with methods like active case finding, community referrals and contact-tracing. Active case finding meant health volunteers going door-to-door to find presumptive TB patients. Secondly, contacts of TB patients were screened to detect and treat secondary cases since there are high chances for contacts to acquire the disease.
Thirdly, patients were identified for symptoms by community referrals through registered medical practitioners (both in urban and rural areas). The project would then notify these symptomatic patients to the government. Yet, once the government receives notifications, there is only a little being done to follow up on these patients. This results in plenty of them progressively acquiring MDR-TB.
Follow up, counselling and nutritional support to MDR-TB patients
Ravi Kumar, an Axshya MDR-TB Counsellor, received the list of MDR-TB patients from the state government and began house-to-house visits to provide patients counselling and nutritional care. "One of the common cause of death among TB patients is ineffectiveness of drugs in the body, which is usually slowed down by under-nourishment", said Ravi. During one of his visits, he met Chanti and found him coughing incessantly and looking weak.
He immediately asked him if he started off on the treatment, to which Chanti nodded 'no' in regret. Ravi, then, counselled Chanti week after week and ensured that he began his 24-month treatment regime. "Ravi visited me twice or thrice every week. I disliked his visits but now I'm indebted to him for following up on me," Chanti said, smiling. Chanti was given nutritional support for almost a year, which helped him gain 5 kilograms by the end of the treatment.
TB patients, especially MDR-TB patients, have a poor appetite that leads to under-nourishment. In one of its recommendations, WHO stated that 'patients with active MDR-TB should be provided with locally available nutrient-rich foods'. Adhering to this, project Axshya focussed on providing nutritional care to notified MDR-TB patients from vulnerable pockets across the country. 41-year-old Premalatha*, from Vijayawada also comes from a family entrenched in poverty. Nevertheless, she managed to complete higher education and became a teacher.
In 2011, she began coughing while teaching in class. Perceiving it as normal flu, she ignored its severity and visited a private doctor who diagnosed it as a throat issue. Only in 2014, she was diagnosed with TB; however, the treatment had no impact and her condition worsened over the next two years. She was then, finally, taken to a government health centre where they diagnosed her with MDR-TB and began a two-year treatment. "When her treatment began, I was unemployed because I got a stroke. I had no financial support to even provide two square meals a day. Then Ravi visited us and provided the nutrition assistance", Rajesh*, Premalatha's husband, said.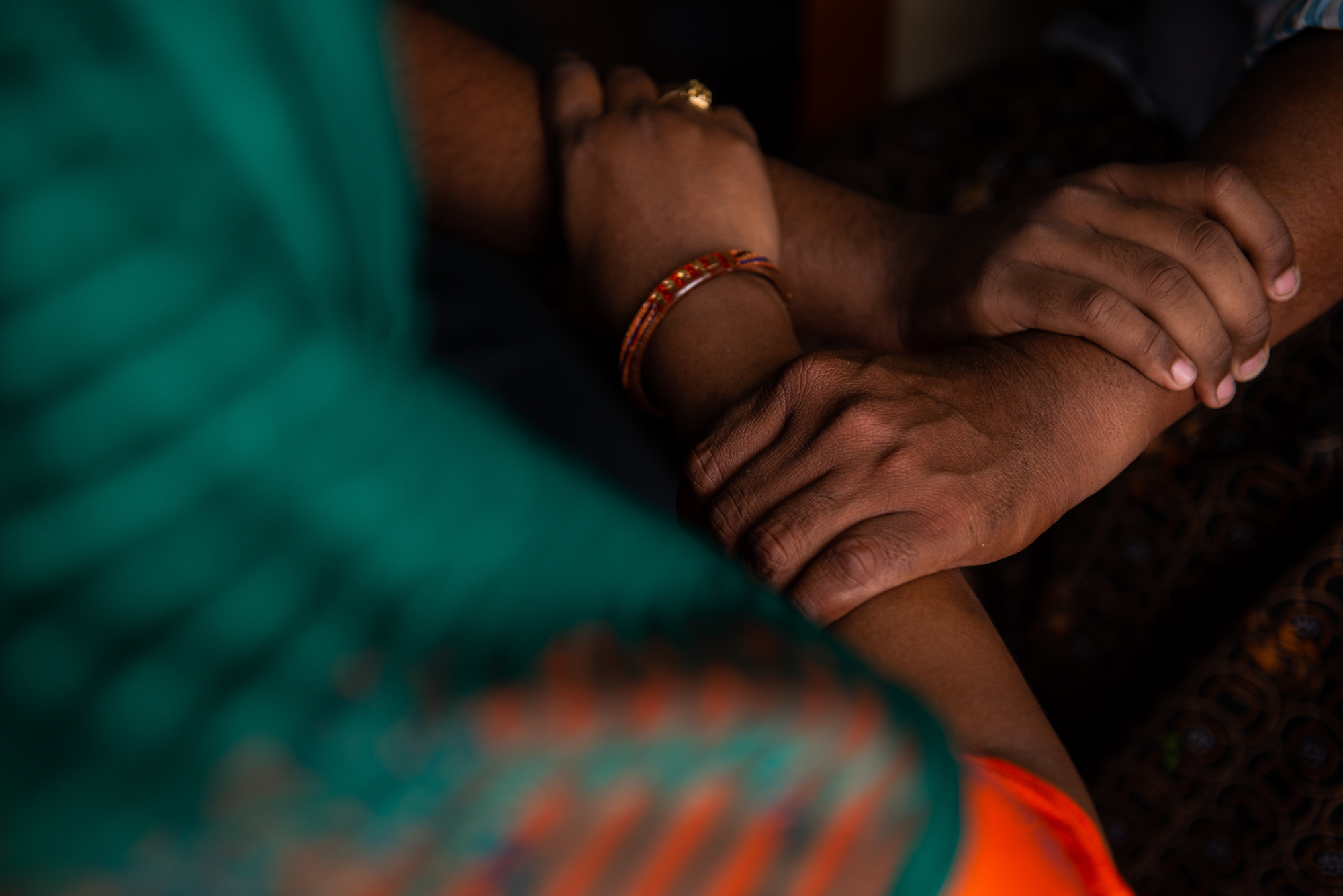 Ravi travelled from one area to another, time and again, to meet these patients and counsel them to consume meals on time, adhere to treatment regimens and monitor their weight regularly. Premalatha also received nutritional support on a monthly basis for one and a half years. It included Rice (5 kilograms), Dates, Lentils, Wheat flour and other essential raw food material. Sometimes, when she didn't follow her regimen, Ravi counselled her about how both nutrition and medication go hand-in-hand. Post counselling, her weight, which had reduced from 90 to 56 kilograms when she acquired TB, gradually improved back to 75 kilograms. "I had to build strong relationships with all 400 patients in the target areas, so that they'd follow my advice", Ravi said, looking at Premalatha and Rajesh as they chuckled in agreement. Aware of the gap in follow-up of notified TB & MDR-TB patients, Dr Rama Rao, Government TB Officer from Andhra, had himself requested the project to provide care and support to MDR-TB patients in the state.
Private sector doctors' sensitisation
"The issue with most private sector doctors is that - though they are qualified to treat TB patients, they don't have necessary diagnostic equipment and procedures to detect TB, which leads to constant delays in identifying drug-resistant TB. Only the government has tests like CB NAAT which is useful to detect the disease. Hence, we also worked on sensitising private sector doctors to notify TB patients to the government via a government online portal called eNIKSHAY", said Pradeep Kumar, Project Coordinator in Andhra. Premalatha, herself, had to borrow money and spend INR 150,000 ($ 2158) on private treatment. But it was to no benefit because they failed to diagnose that she had MDR-TB.
Axshya, has made significant contribution towards private sector engagement wherein almost 5000 private doctors and facilities in 100 cities located in 70 project-districts were sensitised on TB notification and provided assistance to notify the cases. This led to notification of about 54,917 private TB patients.
A parent cured of TB, a child's future secured
Completely cured of TB in January 2018, Chanti now earns INR 500 ($ 7) a day, through which he says he can educate his children well and support his wife. He couldn't do any carpentry work when he was being treated for TB, because of the dust that was involved; but now he can. He said, "Those days, I wanted to play with my children to show them my love, but because I loved them I stayed away to protect them from acquiring this disease."
My dream is to provide the best education opportunity to my son. Since my husband can't work due to stroke, I want to earn and support my family.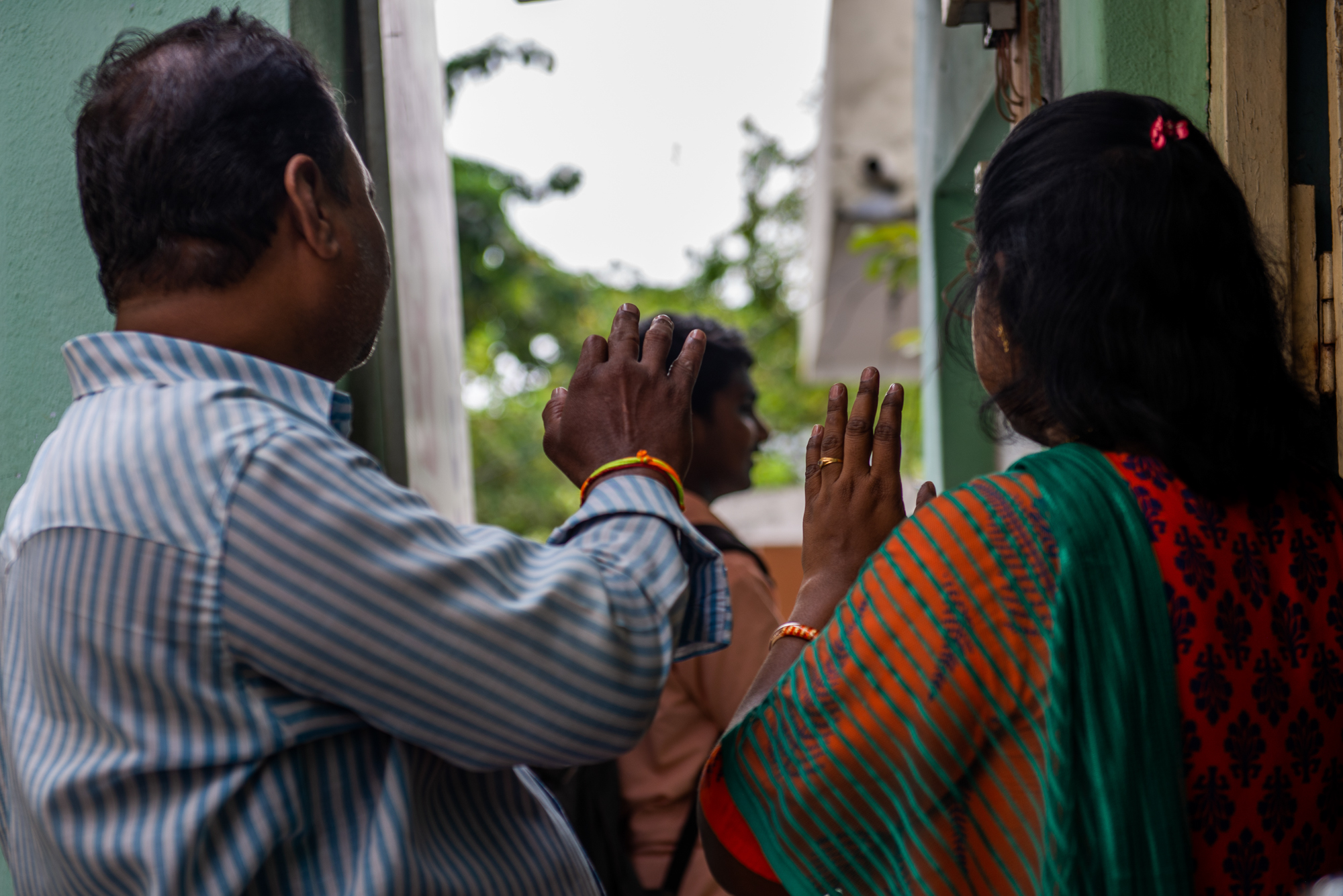 Premalatha was declared completely cured of TB in January 2019 and wants to become a teacher again. Both Premalatha and Chanti adhered to Ravi's counselling and followed precautions to protect their children from acquiring TB. Thereafter, their children tested negative for the disease and are healthy.
A persisting challenge, an aspiration unconstrained
Through the concerted efforts of Axshya partners led by World Vision India, 15% of all private sector notifications in the country is from the project sites and lives of over 1000 MDR-TB patients have been safeguarded. Dr Anita Victor, Director – Health, World Vision India, says, "Axshya, is the story of many 'firsts'. The first largest civil society consortium to be awarded and execute a grant for TB at such a large scale. The first grant where target areas were chosen by the government themselves. This being said, Axshya also left us with a lot of lessons learnt – the importance of end-to-end follow-up and leveraging from communities to raise policy changes; which we're currently implementing in JEET (Joint Effort to End Tuberculosis) project, also funded by GFATM."
There is also a greater scope to implement more grants towards India's ambitious goal to end TB in the nation by 2025. A lot more needs to be done among urban slums, small cities and villages, especially rural and semi-urban pockets of tribal population. A systematic review of Indian studies estimated that pulmonary TB prevalence among tribal people was 703 per 100,000, which is almost three times that in the general population (256 per 100,000).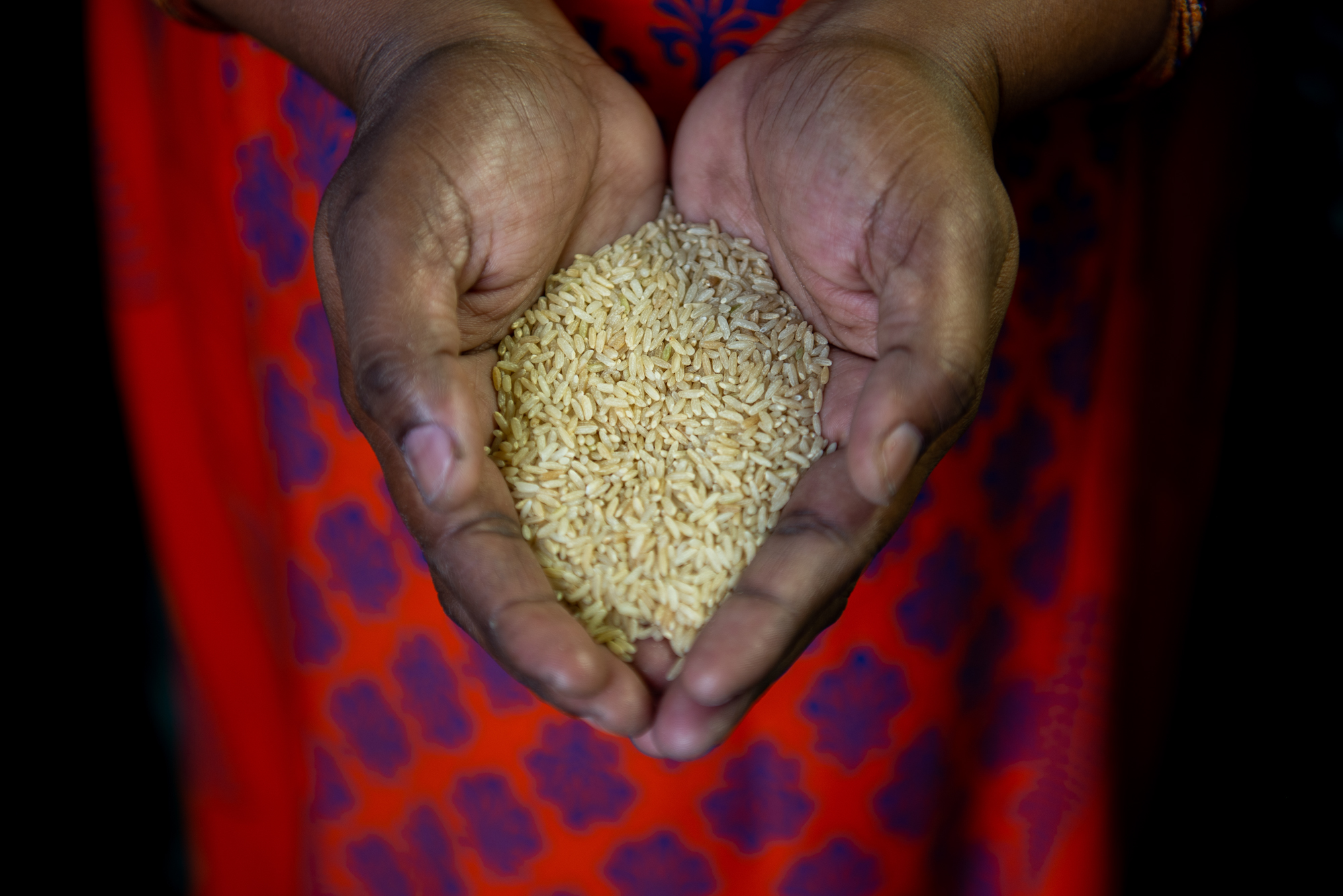 In view of this gigantic concern facing us, World Vision India is looking out for a grant to implement a TB project across tribal pockets of the country. Dr Anita concludes, "We believe that project Axshya made a tangible and visible contribution to reducing India's TB burden over the past 9 years; yet we must take up the mandate to work furthermore towards TB elimination in the country."
Holding his daughter up in the air, their faces gleaming with joy, Chanti said,
My cure from TB is the reason behind where my family stands today. My health in good condition secures their future.
* Names changed to protect identity