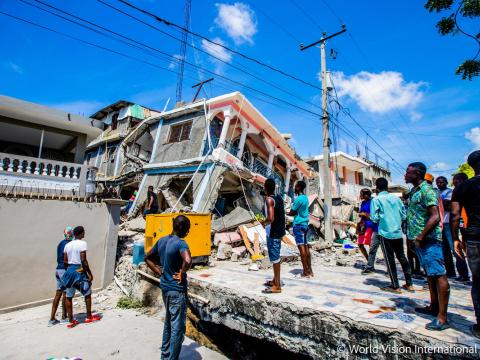 Haiti: Reliving Horror, Resurrecting Hope
Monday, August 16, 2021
Fedorah warns that the window to help Haiti recover from the 7.2 magnitude earthquake is small and shrinking 
By Fedorah Pierre
It was like waking up violently from a peaceful sleep, only to enter another nightmare. At 8:30 a.m. on Saturday, August 14, a 7.2 magnitude earthquake struck Haiti. The shockwave was felt as far away as the neighbouring Dominican Republic and Cuba.
The endless moments of the shaking brought back the horror of the January 2010 earthquake, which left a death toll of more than 300,000.
The instant question was what else could go wrong? The country has not yet recovered from the assassination of the President, Jovenelle Moise, just over a month ago, nor from the deep political and social instability that prevailed even before the assassination.
The population lives under the threat of gangs and organized crime groups that have taken over vast territories. We are dealing with a pandemic with no vaccines yet available, and in general, hunger is rampant in my country. Here, 60% of the people survive on less than $2 a day.
Against this backdrop of uncertainty, our response is hope. It must be revived at all costs. I work for humanitarian agency World Vision which immediately mobilised food, hygiene products and water from the Dominican Republic to bring relief to 6,000 people in the first hours of response. The priority is to respond to the call for help in Creole, "ede mwen" help me.
Going forward, we will focus on assessing the needs of the most vulnerable children. Haiti has a significant population of children in orphanages. They have no one to run to for comfort in the midst of this emergency. By prioritising them, we will provide them with food and water, but first and foremost, psychosocial and emotional support. We are well aware of the traumatic effect of their losses and we will not add abandonment to them. On the contrary, child-friendly spaces will be our main response to protect them.
Ashley, a 16-year-old girl in Jeremie, told a team member that her house was destroyed and she had to sleep out in the open in a neighbour's yard. The aftershocks continue and many children are injured.
For families who remain outdoors and exposed to the elements, we will provide temporary shelter, food, water and hygiene products. In the face of the most basic deprivations, it is important to prevent the spread of contagious diseases such as cholera and the Covid-19 virus.
But the window to send urgent humanitarian aid is narrow, in a matter of hours, Haiti will feel the effects of tropical depression Grace, which threatens to rain in a country where there is no infrastructure for channelling rainwater.
Only the collaboration and commitment of the international community will allow Haiti to rise from this sudden blow, which has already left nearly 1300 dead, toppled hundreds of buildings, stripped thousands of their homes and overwhelmed the limited health care capabilities.
We need the prayers of those who believe, but also the commitment of financial and technical resources to activate a concerted response between civil society, governments, corporations and non-governmental organisations.
As a humanitarian organisation, our commitment is to stand by the most vulnerable, even when the headlines forget the plight of the people of Haiti. Our call is for you to be part of it, to answer the urgent call for help, to donate and to help us restore hope and a sense of future in Haiti.
To learn more about our Haiti earthquake response visit here and our work responding to emergencies here 
​​​​​​​Fedorah Pierre is World Vision Haiti's Public Relations Director.
Main photo: Guy Vital-Herne, World Vision Haiti.