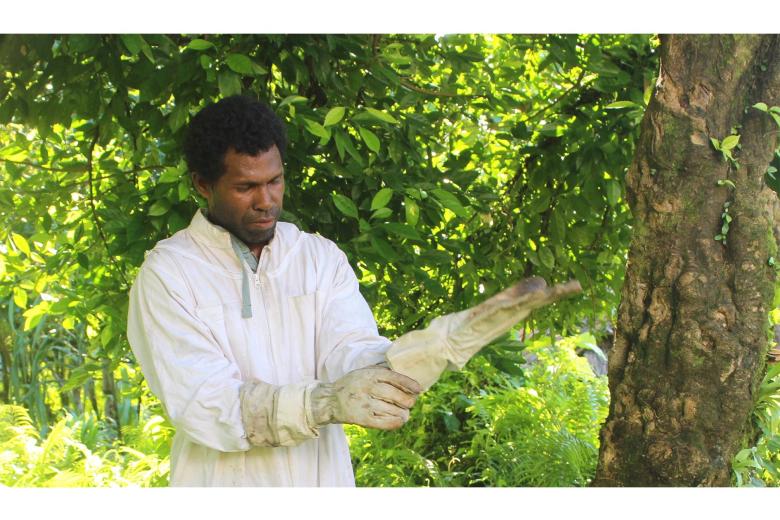 How the bee farming changes David's life
Monday, May 24, 2021
David, a bee farmer from East Malaita in Solomon Islands, shares his testimony about Youth Social Entrepreneurship Development (YSED) Project of World Vision Solomon Islands. He is not only earning income out of his farm but he became a changed person whom recently being appointed as a village chief. 
David from Uatae village has recently decided to embark on the industry with only a brood box after attending the trainings offered by YSED Project. His farm is now reached four brood boxes of bees that he aimed at turning them into nursery as more youths are now growing more interest into the industry. 
The trainings covered topics like entrepreneurship including financial literacy, leadership and many more topics.
Funded by the New Zealand Ministry of Foreign Affairs and Trade (MFAT), the project has two approaches or models it is using on its implementation in the East Malaita communities it is working in. They are Savings of Transformation model (S4T) and Impact Plus.
The S4T approach is based on the Savings Group model that has been utilized by World Vision in parts of Solomon Islands since 2013 and has been effective in building access to both financial and social capital in rural communities of Solomon Islands. This includes training youths on financial literacy including budget, management and savings. The project then established Saving Loan Groups (SLG) or Impact Group to youths.
The Impact Plus model on the other hand is advocating for the social impacts like the tangible development in the communities through engaging the Impact Group members to contribute in the community activities.
Bee farming was a business and a passion of David's father, David Musia who is now in his 70s. However, for the past few years, his bees went wild and his farm ran down as he is old to take care of them.
David Musia said that honey bee farming was part of his life not only because he farmed bees for income but because he loved to take care of this insect as it teaches many lessons of life. He farmed bee since the year 1970s. 
For David, bee farming teaches teamwork and it also teaches human a lesson to be faithful in whatever duties or role entrusted upon the shoulder. That is in a hive each bee has a specific role and interestingly when assuming those roles they carry them out fully. Significantly, bee also teaches mutual care, equality and a sense of justice.
Apart from the lesson bee farming teaches people, bee also contributes to the continuous existence of life especially because of being one of the agents of pollination. 
For David, since he was part of YSED Impact Group in his community especially as their leader, he felt encourage to engage into any entrepreneurship activity so that he can continue to save.
"I looked at every possible entrepreneurship activities where I could engage myself on, but I only see other youths already engaging into such activities like running canteens and other famous small businesses."
"I look back and see what my father had left since he was old, I therefore decided to revive it," says David.
He said, from then he developed first brood box to use until now he is using four brood boxes.
"It was a struggle because the bees were wild from the brood boxes my father was using, but later I managed to capture a few and as time goes they reproduce more bees and now I am using four brood boxes," he said.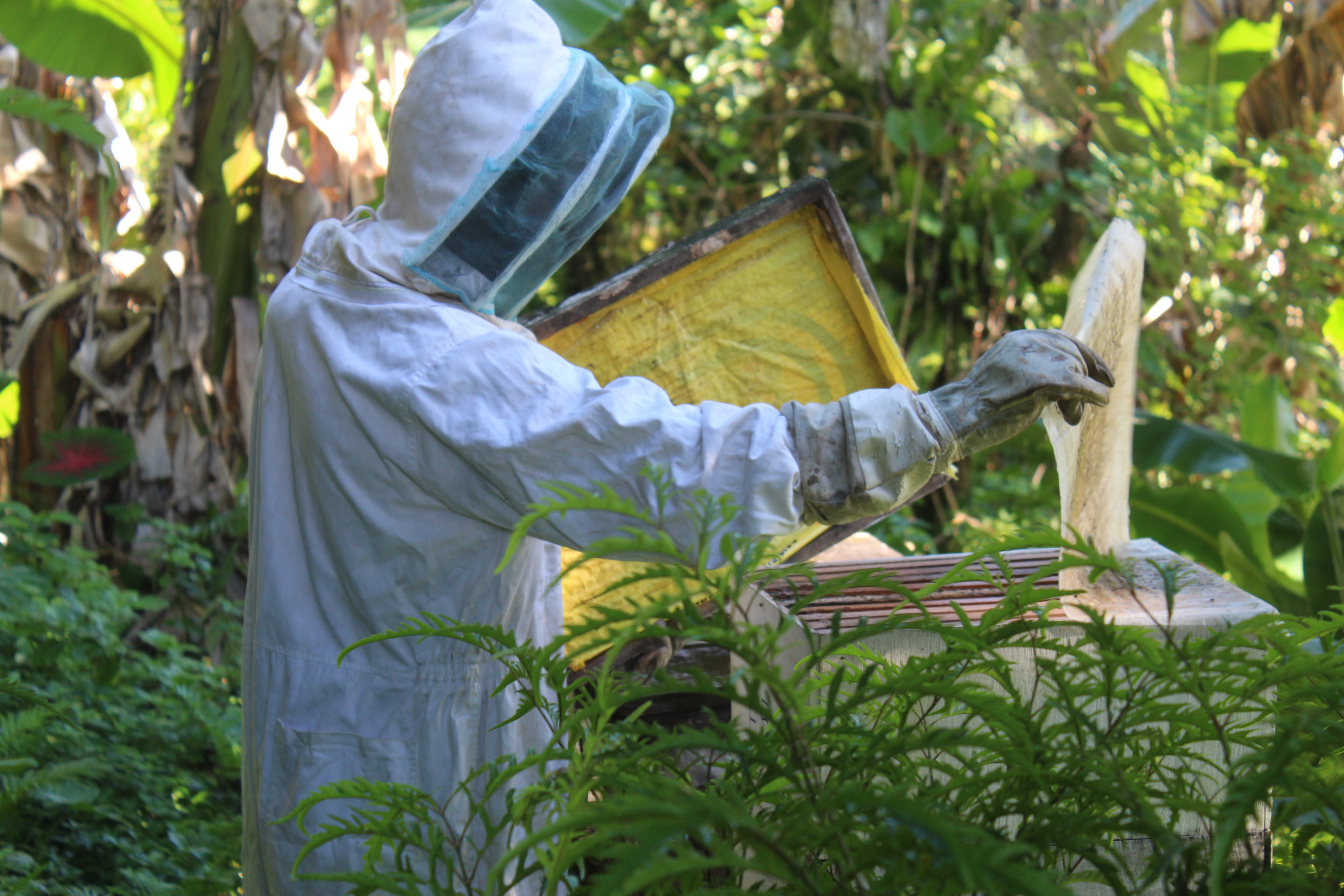 David said when he harvested his farm he usually sale them at home, around Auki and also at times he went to sell them at Honiara.
"A proper market is still an issue for me, but I will not give up as slowly I am having customers," said David. 
"At home I usually sell a bottle for $30 (SBD) while in urban centers like Honiara is $50," per bottle, David added.
Apart from the money he was getting from selling his produces, David shared that farming honey requires patience.
"When I started to embark on this industry, I learnt that despite bees are wild insects, they cannot cause harm if friendly to them," he added.
"I also learnt about their lives especially, if one of them is injured, they will try to treat it and if it dies, they have to take it out from their hive," he explained.
His plan is to turn his farm into a nursery where other interesting farmers can purchase hives from him.
Meanwhile, David testified that YSED Project has not only help him become a farmer but a community leader.
"Before YSED came to our community, I always engage on anti-social behaviors like alcohol, however, my life has changed and now I am not longer taking alcohol," said David. 
Interestingly, despite he is still young, Uatae Community has appointed him as the village "chief," a role he described as really changed his life despite the challenges he faced in his leadership.