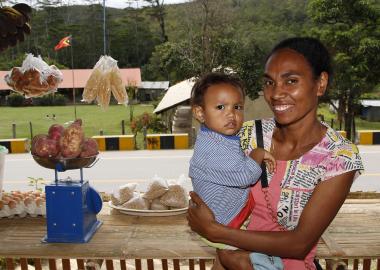 "Just like Facebook": Digital cash a first for rural Timorese families
Wednesday, June 12, 2019 — Therese Johnson
When Joaquina buys food and other everyday items for her family at the local store, she always pays in cash. In her village in rural Aileu, and across all of Timor-Leste, virtually all payments are made this way.
Timor-Leste has a limited banking system that only reaches urban areas, excluding rural and poor populations. Transferring funds comes at a high cost. For those rural households that do hold a bank account, they have to travel to an urban centre and often withdraw all their funds.
Since March 2018, World Vision has been working with partners to develop a digital cash platform called Kartaun Bele to improve access to financial services for rural families. Kartaun Bele facilitates fast, cheap and accurate digital cash payment, transfer and value storage services.
For rural households in Timor-Leste, it's technology they've never seen before.
From February to May 2019, Kartaun Bele was piloted in Aileu to test its functionality with community members. Twenty-three households received a Kartaun Bele smartcard and training on how to use the system, while three vendors received a smartphone terminal and smartcard to make transactions.
Joaquina's was one of the 23 families that participated in the pilot. The mother of three received US $45 over the three-month period, which she used to buy food and other household items. Joaquina happily shared her experience using a digital payment system for the first time in her life.
"When I shopped in the market with physical money, I could not control my expenses because I would see interesting items and buy them," she said.
As she knew how much money was on her Kartaun Bele card, Joaquina was able to plan a detailed shopping list before going to the store. "Kartaun Bele is very useful because it controls my expenses. I also know the transaction history and remaining balance. It especially taught me about saving and transparency of using money in my family, so that I can save for my children's future," she said.
"When I used Kartaun Bele to shop, my neighbour asked me, 'where did you get this card?'. They were surprised that I bought goods but did not pay with physical money. Now my neighbours want to use it too. I hope Kartaun Bele users can increase in the future," Joaquina said.
Joaquim, aged 40, was another pilot participant. He said the first time he used Kartaun Bele, he found it very difficult to operate the new technology. But he soon found the application easy to use.
"Kartaun Bele is just like Facebook," he said. "If you try continuously, surely you will be able to use it. Now Kartaun Bele's operating system is very easy for me."
In the future, Joaquim hopes to save his money using Kartaun Bele. "The massive benefit to me and my family is that I can control my household finances. This can help me save money for my family and my children's education," he said.
Both Joaquina and Joaquim used their Kartaun Bele card at a local kiosk run by Alarico – one of the three vendors in the pilot.
"Before using Kartaun Bele, I went to the market and brought physical money," Alarico said. "This was very dangerous for my safety because people could attack any time or money could fall out of my pocket."
"Kartaun Bele has provided great benefits to me and my family because I have been able to manage my family's finances," the father of two said. "I know how much the balance is, and I can buy items worth ten cents and not be overwhelmed with coins when given change. I can make detailed plans before going shopping, and I don't have to carry physical cash. I know it is secure, because if my card is lost or stolen, they can't take the money on the card because it is accompanied by a PIN," Alarico said.
Alarico said there was great interest in Kartaun Bele in his community. "When others saw Kartaun Bele transactions take place, they wanted a Kartaun Bele card as well," he said.
With the pilot now complete, World Vision plans to expand Kartaun Bele in Aileu and other municipalities in Timor-Leste, as well as work with other NGOs and government agencies, to help more rural families access financial services.