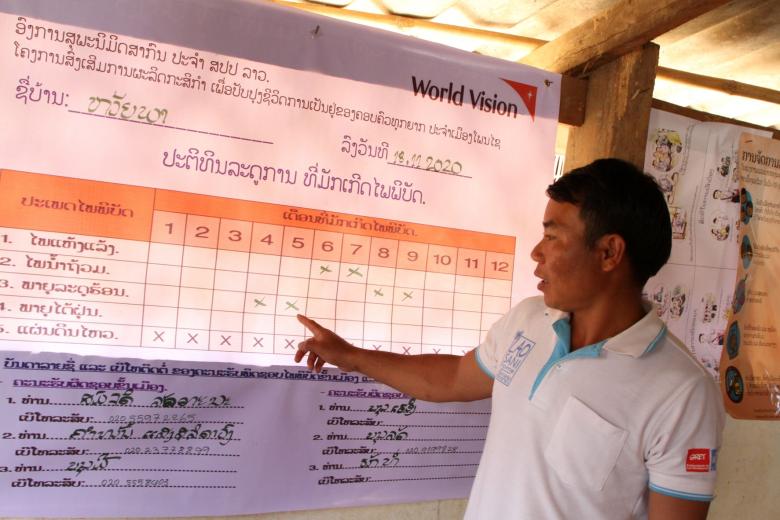 Disaster-ready communities for fast-changing climate
Monday, December 20, 2021
Since 2019, Mr. Syvanh has been used to see the orange beacon on the project car driven by World Vision. He attended numerous meetings organized in Huaypha village, Phonexay district, Luang Prabang province. The man who turned 36 years old this year is the village chief. Indeed, he never missed any meeting from World Vision. More recently, Syvanh joined an unusual meeting held by World Vision and the local government. A meeting that can save lives: how to prepare his community in case of disaster?
Syvanh is a charismatic leader of Huaypha village. People often seek advice from him, especially when serious matters hit the community. "A few years ago, we lost 14 goats, 10 pigs and more than 100 poultries. Our rice paddy was damaged. Community people faced difficulties, we didn't have enough food and their children's education was affected because some parents could not provide support for their children" Syvanh says. The main occupation of the community members is burning and slating the field for rice planting. During the months of June and July, they often faced challenges from natural disasters like landslides, drought, floods and insects which destroyed their crops.  
Since 2017, Mr. Syvanh is also the Head of Village Development Committee of Huaypha, a 94-household's community. He has over the years witnessed positive changes in the village and felt enthusiastic to hold this disaster-preparedness training. "With the Community Preparedness Plan, we are able to protect our children, animals, rice and others crops. We were able to prepare ahead and move to a safe place" Syvanh says.
The Community Based Disaster Risk Management (CBDRM) approach is applied to strengthen the disaster risk management in order to reduce potential risk and impacts from a disaster. It consists in strengthening disaster preparedness mechanism at community level and strengthening the local government capacity to develop disaster preparedness plan.
By the end of the meeting, a smiling Syvanh appreciated being part of the community disaster preparedness plan training: "with the support from the project staffs and government officers, our village was able to set up the Village Disaster Preparedness Plan and identify the risks. This is very helpful for our community people to know and be ready for the disaster preparedness". In 2021, nine disaster preparedness plans drafted by local governments supported by World Vision have contributed to develop 75 village disaster preparedness plans. 3,310 people are now ready to face upcoming climate hazards and are know what to do in those situations. A crucial support in a fast changing environment.
-END-