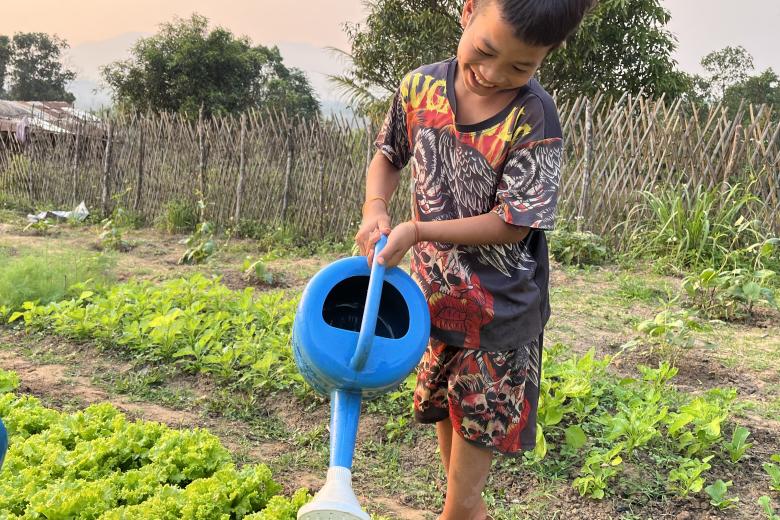 Flooded with Hope: when agriculture uplifts a rural boy's life in Laos
Thursday, May 18, 2023
In 2010, Southern Laos was devastated by deadly floods and torrential rains caused by Typhoon Ketsana, which catastrophically affected over 111 000 people.  Hundreds of people had to relocate as their homes were submerged in water, and Don's family was one of them. 
Nine-year-old Don's family of six relocated to a rural village nine kilometres away from Samoui District center, in Saravane Province. The little boy's parents, Ngom (mother, 33 years old) and Aumdia (father, 35 years old), are primarily rice and cassava farmers. Don is the third son of the family, with siblings ranging between eight to thirteen years old. Don and his younger brother are the only two remaining in education: fourth and third year of primary school. 
Don's family struggled to bring enough nutritious food to the table, without enough rice and produce to eat year-round and high dependence on non-timber forest products for their daily meals. In the worst months, the family survives through boiled cassava only. The lack of proper technical knowledge, financial resources, and equipment, in addition to the cold and constantly rainy weather of Samoui district, does not help growing crops at home.  Aumdia shares: 
Before, the vegetables we tried to grow were dying. It could grow well only from April to May. Other than that, it was difficult. The vegetables died when it rained, so we didn't have enough food.
Consequently, food insecurity affects Don's body and education; he is skinny and often has to skip classes to help the farm work or hunt food in the forest. Numerous girls and boys from the 15 communities targeted by the Samoui Nutrition Action Project (SNAP) share Don's struggle.  In 2021, the prevalence of wasting (12.3%), underweight (51.3%), and stunting (62.7%) in children under five years old in this area doubled the nationwide percentages. 
Things changed for Don's household since they joined the home garden and animal-raising activities introduced by SNAP in early 2023. This project, led by World Vision and funded by the New Zealand Ministry of Foreign Affairs and Trade (MFAT), has transformed the little boy's and his family's lives by providing them with home gardening and fish-rearing technical training suitable for dry and rainy seasons. At the same time, SNAP provided them with various vegetable seeds (dill, lettuce, morning glory, eggplant, long bean, corn, and more), gardening tools (watering can, water tank 100 L, shovel, greenhouse plastic sheets, etc.) and catfish breeds.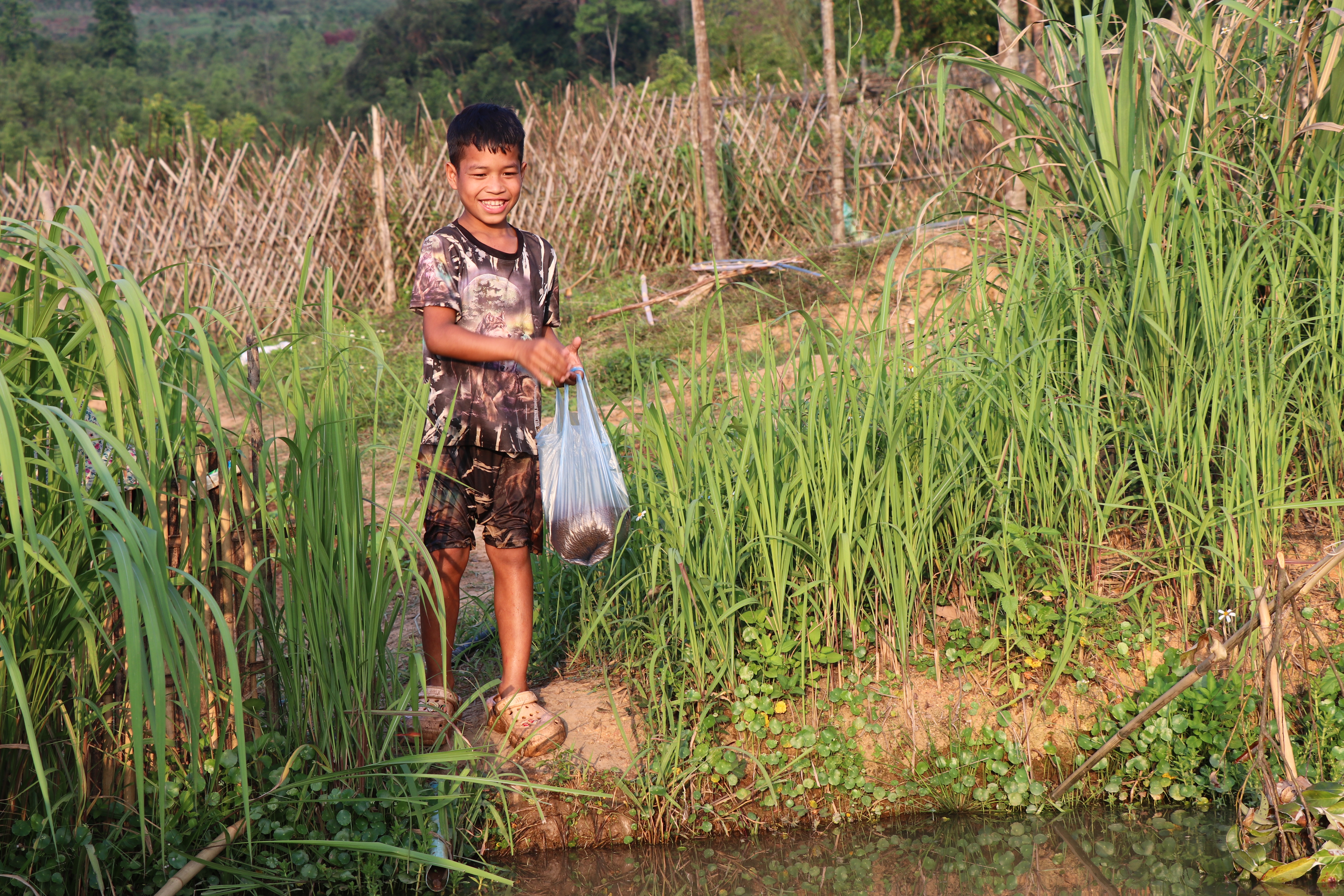 Moreover, in cooperation with District Agriculture and Forestry Office (DAFO), the SNAP team regularly visits Don's family to provide technical support for the family to build a garden and integrated catfish pond at home. For instance, soil improvement training helps household better prepare the land for plantation, followed by bio-pesticide training to prevent pests during the planting period and harvest/post-harvesting techniques like storing, managing garden waste, and seed sprouting. This is to ensure the sustainability of these new sources of food and income for Don's family.
"After receiving support from SNAP, there is a change in our family, especially in nutrition. It is convenient to get vegetables as they are grown near our house, and not difficult like foraging for food in the forest," Aumdia shares how joining SNAP has positively changed his family. He added: "I learnt the home gardening technique suitable for my land. I have extra money from selling vegetables to buy essential things like rice. Sometimes, I share some produce with neighbours." Don smilingly confirmed how he was on the same page with his dad, stating: "Blanch vegetable and grilled fish is my favourite dish!"
Seeing how the home garden works so well, Don's family is determined and in the process of building the greenhouse to safeguard their garden in the rainy season, thus ensuring they have sufficient food year-round. Hence, Don's studies have positively been impacted, with the boy spending more time in the classroom than hunting for food in the wild.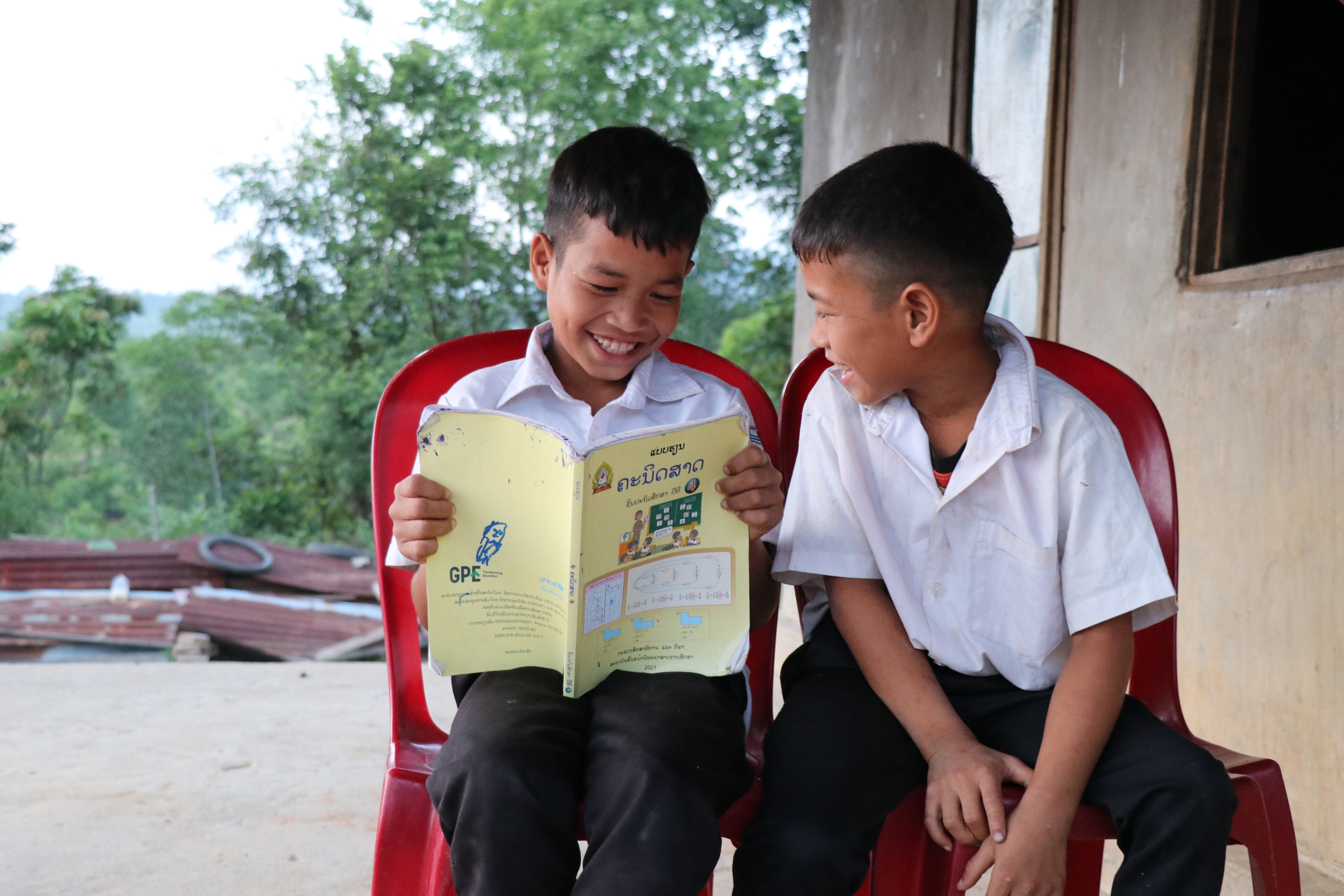 Like Don's, 1060 targeted families receive similar support from SNAP. From late 2022 to early 2023, the project staff and DAFO equipped 220 families with home gardening technical knowledge and tools. While 234 households received animal-raising training, material and livestock (duck, chicken, fish, etc.). 
"I want to be an automotive technician when I grow up and have my own repair store and house in Samoui." - Don shared his dream. A full flow of hope for a better future, where boys and girls are healthy and ready to conquer their goals, has emerged within Don, his family, and his community.