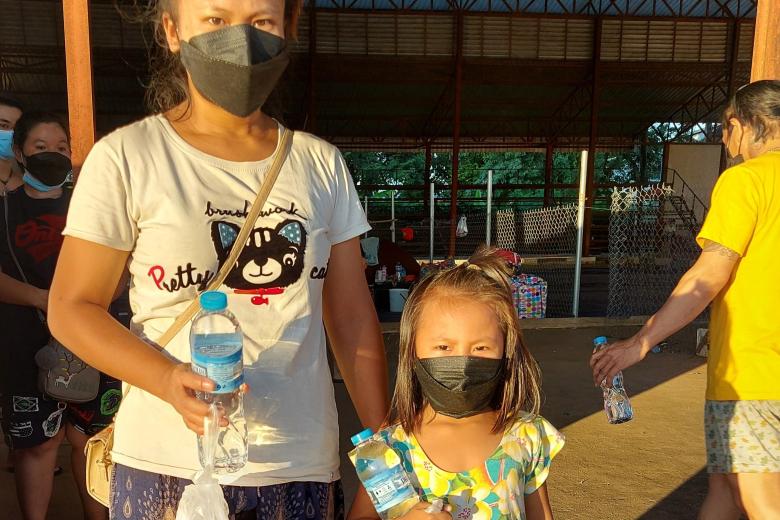 Going back home: a migrant child returning to Laos
Tuesday, November 23, 2021
Four-year-old Fasai and was born in Xayphouthong District, Savannaket Province. Despite her young age, Fasai is already very talented and enjoys Lao traditional dancing. A trait that she discovered on her own, falling in love with Lao culture and traditions.

However, when Fasai was two years old, her parents moved to Thailand to look for better opportunities, find jobs that support the whole family, and hope to save up for Fasai's future education.
The young girl likes to learn independently, and her parents felt encouraged to work hard and make sure Fasai can have a bright future.

While living with her parents in Thailand for two years, Fasai would always find books to read, colour, draw and sometimes play Lao traditional songs to learn how to dance, sing and learn about Lao traditions and culture.
This was until COVID-19 disrupted the whole world, including South East Asia and highly infected Thailand. During those critical times that brought economies on edge, Fasai's parents decided to come back to Laos and her mother, judging the situation was safer in Laos than in Thailand.
In the meantime, her father decided to stay in Thailand to work and earn the income that supports the family and to save up for Fasai's education.
This tearful separation led Fasai and her mother to reach a state quarantine center in Savannakhet Province on their way back to their hometown.
A 21-day stay in the facility to avoid transmission to rural communities once the migrants arrive back to their hometown. During her stay, Fasai had no problem accessing food. World Vision teams and volunteers provided three meals to her, and all migrants gathered in the center every day. Thanks to the project supported by the World Food Programme, the little girl and her mother didn't have to worry about what they would eat the next day, giving them more time to think about the future, the reunion with her relatives.
Fasai can think about her plans to go back to school, make new friends, and listen to new teachers.