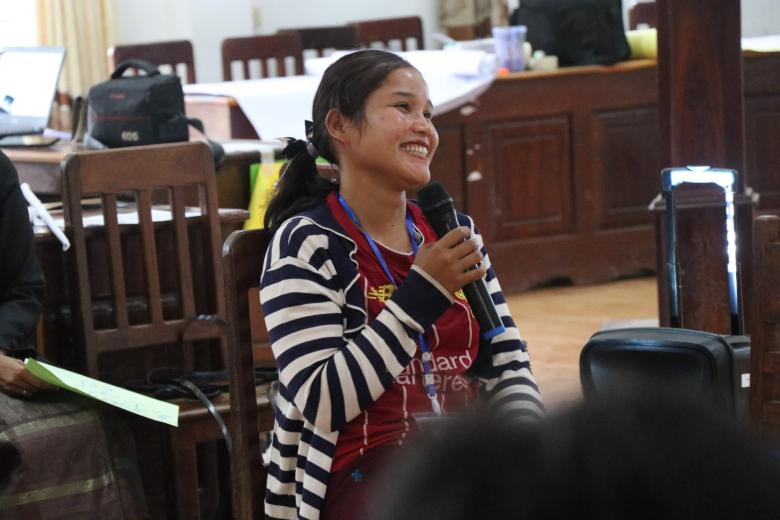 Guiding youth through the 'stress and storm' of adolescence
Tuesday, March 7, 2023
Once a teenager, now a mother. ArOrk, 24 years old, remembers her adolescence vividly - the time many would describe as a "stress and storm" period.
ArOrk and her family of four reside in a rural village thirty-one kilometers from Samoui District, Saravane province. She is a cassava farmer, married to Sern (aged 29), who is not home much due to his job as a border guard. ArOrk is thus mostly home with her mother-in-law and her daughter, Namfon, who is turning two soon.  
Many young people travel along the Vietnamese border to farm or cross the border to work there. Girls get married early here, like at 14-15. In terms of food, they don't eat enough nutritious food: only those with money can afford meat, most people cannot.
As a neighbouring country, Vietnam and its culture greatly influence this community of 70 Pacoh-ethnic households. Besides the Pacoh dialect, most locals, especially young ones, can speak Vietnamese. Some know and are more comfortable speaking the neighbour's language than the official Lao language. This language barrier and the lack of proper telecommunications prevent youth from receiving crucial information, such as family planning, sexual and reproductive health, nutrition and more from the local government. Many turn to drugs when they lack the knowledge and information on handling "stress" from various physical or mental changes during adolescence. While the lack of sexual and productive health understanding leads to the "storm" of unplanned pregnancy. ArOrk has witnessed it all; she empathises with them and wishes to help. Luckily, ArOrk was given a chance to do so. 
In 2022, the Samoui Nutrition Action Project (SNAP), led by World Vision and supported by the New Zealand Ministry of Foreign Affairs and Trade (MFAT), conducted the Life Skills and Adolescent Sexual and Reproductive Health (ASRH) Training for more than 30 Adolescent Group Leaders and Mentors from 8 villages. ArOrk is one of them. 
Soon, her role will become fundamental to ensure adolescents are better informed and can avoid early obstacles to fulfilling their potential. With the support of the Lao Women's Union, the Lao Youth Union, the Provincial Health Department of Saravane and the SNAP team, ArOrk has learnt how to touch base on cultural-sensitive topics like puberty, contraception, gender-based violence, drugs and alcohol abuse. During the training, these taboos are approached with a series of skits and simulations reproducing real-life situations, and group discussions where the participants can freely share their opinions and experience, and find solutions on their own, with the guidance of health professionals and gender specialists. So that once back in her community, ArOrk and fellow trainees have the tools to ignite a significant change for their community. 
 Shy at first, ArOrk shows promising proactiveness and enthusiasm in leading her community now. She states:
I firmly believe the information will be beneficial for adolescents. I will ensure to share this knowledge with them, so they will not get involved with drugs or get married too early. 
ArOrk is ready to be the compass that helps guide and navigate youth in her community to turn 'stress' into 'hope' and seek 'opportunities' in the 'storm' through this turbulence of adolescence.