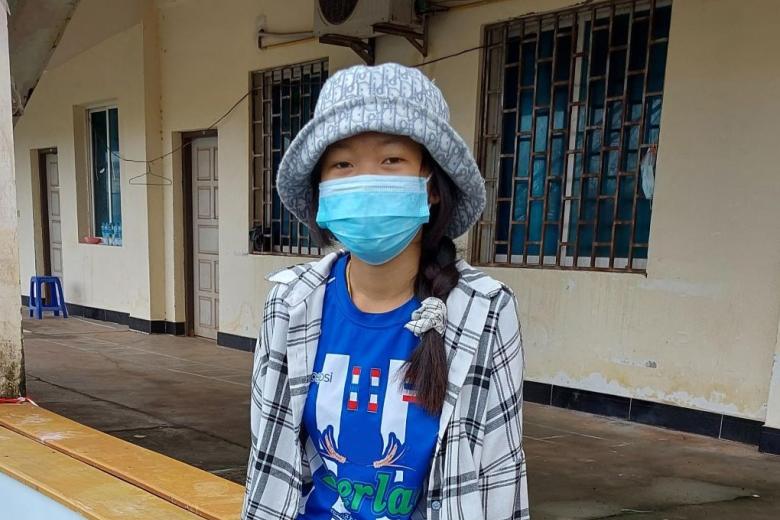 Joy's journey back home during COVID-19
Monday, October 11, 2021
At 18, Joy, the oldest sister of four siblings, left her remote rural village in Atsaphone district (Savannakhet) to work in Thailand to support her family.
Her parents only generate low income, and the regular remittance that Joy is sending is their only means to fend for their daily needs.
Joy started to sell meat in one of the markets in Bangkok. As the COVID-19 outbreak worsened in the city, Joy panicked and had no idea what to do if she got infected.
When the meat market she was working closed, she left with no choice but to go back to Laos. Joy took the bus from Bangkok to cross the Second Thai- Lao Friendship Bridge, arriving at the Savannaket Quarantine Center.
"I was worried about not being able to go home directly, and I was anxious to get the virus on my way from Thailand to Laos and spread it to my family and loved ones," says Joy. She worried about being quarantined or being sick.
Thankfully, the local authorities arranged for Joy to be quarantined for 14 days before returning home.
"After staying a few days at the quarantine center, I was able to adapt to the new surrounding environment. I saw different people who came to help, including the food supply program from World Vision. I am very thankful to have the staff and organizations to take care of us during this crisis."
World Vision is continuing the provision of food assistance supporting returning migrants in targeted quarantine centers. World Vision expanded its operation to an additional Province, in partnership with the WFP, the Provincial Governments, and the Ministry of Health. Since the beginning of July 2021, we have supported:
*4,836 people (2,360 women) in Savannakhet quarantine centers with 163,275 meals provided
*2,851 people (1,350 women) in Saravane quarantine center with 70,171 meals distributed.
These included 257 children (121 girls), 45 pregnant women and one person with a disability. All returnees were provided with three nutritional meals a day during their 14 days of quarantine.
During this reporting period, 2,148 COVID-19 cases were detected at the quarantine centers during routine screening procedures. The vaccination of returning migrants is crucial and supported to minimise the community transmission risk.