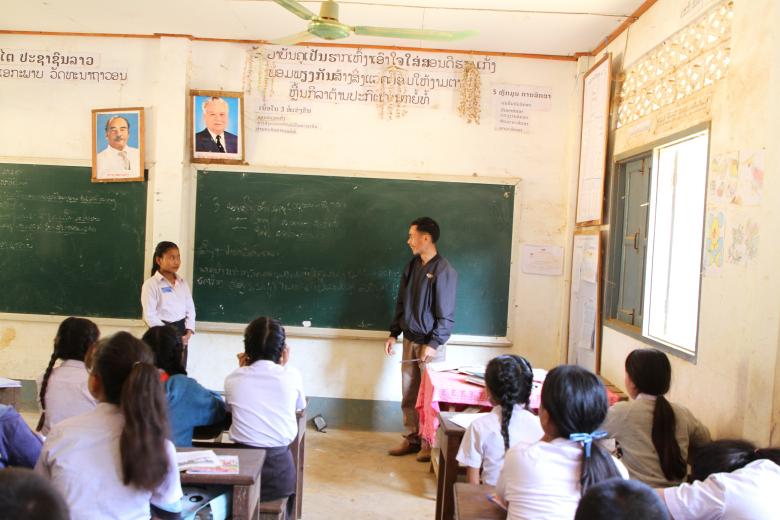 Overcoming barriers to learning – Funding Advancement and Secondary Transition project
Wednesday, June 16, 2021
While all children have the right to go to school and learn, regardless of who they are, where they live or how much money their family has, the reality might sometimes be different in Lao rural areas. During the school year 2018-2019, the percentage of children attending lower secondary school  decreased overall in the country, reaching 82.8%[1] participation for this fundamental education stage. In comparison, almost all children in Laos are completing their primary education.
The step from primary to secondary school can indeed be hard to take. It can be a difficult journey of kilometers to walk or ride on a bumpy and slippery road every day, to reach the school far from their village. It can be the low income of the parents, who don't have enough resources to buy supplies for their kids, or just can't afford to lose the money from their child's labor. It can also be the perception by the caregivers of the low quality or irrelevance of education provided at school.
Pak Ou district, in Luang Prabang Province, is part of the 29 districts with an enrollment rate lower than 70% for lower secondary school. This year, World Vision started the implementation of the Funding Advancement and Secondary Transition (FAST) Project in Pak Ou district. With the financial support of World Vision Taiwan, the project intends to address the obstacles for a vulnerable child to reach lower secondary school. FAST is supporting 54 teachers with the Unlock Literacy training focused on student-centered teaching approach to increase children's reading skills.
This means more interactions between the teacher and the children, more fun for students like Khamna, a young girl who is 11-years-old. Unlike previous generations of girls in her family and neighborhood, Khamna is able to enjoy learning after completing her primary education. She is one of the 120 children from Pak Ou district who received school assistance from the FAST Project, to attend the first year of lower secondary school: "I am very happy to be able to continue my studies. I have saved money to purchase stationary, a new uniform, and for my daily food" she says.
The education development committee of her village and the project selected Khamna and her family to receive the education assistance. "Without World Vision's support, my daughter wouldn't be able to study after primary school" says her mother Phai, aged 26. The family incomes rely on slash and burn agriculture, which didn't allow Phai and her husband to send their first child to complete her secondary education. However, Phai now sees her daughter blooming and understands the importance of education for her future: "I want to thank all the donors who kindly support my daughter's education and our community. It encourages me to do my best to give her all the chances to succeed".
During the end of the FAST project, World Vision will conduct a research project to assess the impact and effectiveness of  the conditional education assistance program. A crucial work to understand which approach works best in Lao PDR to give young girls like Khamna the chance to have her dream  for a brighter future come true.
[1] Ministry of Education and Sport Lao PDR, Performance Annual report 2018-2019, development plan for 2019-2020.