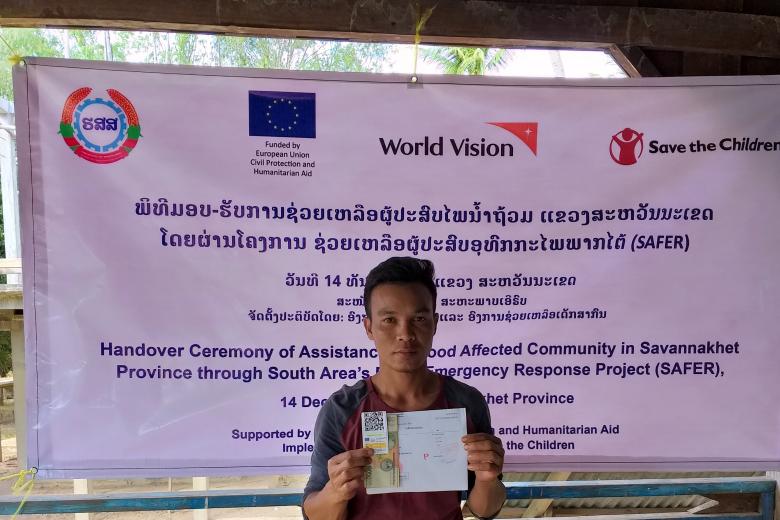 Rebuilding hopes through cash transfer programming
Tuesday, February 23, 2021
"I was heartbroken by what happened to us. What I'm worried the most is my children's welfare and future".
Kongkham has two children. After the death of his parents-in-law, he and his wife welcomed her two sisters to their household. A big-hearted father who has been struggling to meet the needs of his household, with rice farming as a main source of income. Kongkham has been doing extra labours to make sure his family doesn't lack anything.
Living in Xonnabouly district (Savannakhet province) has not been easy over the past years: "We have been hit by typhoons 3 years in a row here", explains the 25-year old man. And when the tropical storms Linfa, Nangka and Saudel successively hit Lao PDR back in October 2020, it affected his village, once again. With a damaged house and flooded rice fields, Kongkham's vulnerable situation has been even more fragilized.
Repairing the souls
To better support the basic needs and the resilience after the flooding disaster, World Vision supported Kongkham, and other most vulnerable households, with a cash transfer.
World Vision has been working in consortium with Save The Children and the Ministry of Labour and Social Welfare with the support of the European Union Civil Protection and Humanitarian Aid (ECHO). After a rapid assessment of the needs, cash transfer programming was selected as the most efficient way to enable affected communities to recover.
In Xonnabuly, like Kongkham, over 9,000 people benefitted from the support of the European Union through SAFER II.
As well as keeping money for the nutrition needs of his family, Kongkham decided to use part of the 500,000 KIP (56 USD) he received to build latrines, aware of the importance to keep his household healthy. "I worry about my family's safety. We go to the forest or to the rice field to defecate and it's not safe, especially during the rainy season," to continue "I'm concerned about the impact of open-defecation to my children's health".
While Kongkham knows there are still many challenges upcoming for him and his family after the disaster, he is inspired to rebuild knowing that there are people who are thinking of them and helping them to build back better. "I am grateful for the cash support I received from SAFER Project. As I rebuild our damaged house, I can be hopeful for the future" he smiles.