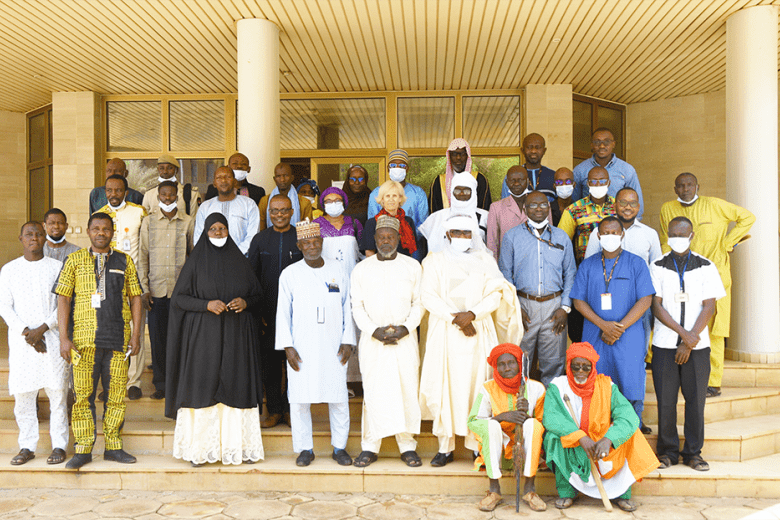 Launch workshop of the Ouallam Socio-Economic Strengthening Project (RESO)
Friday, April 29, 2022
As part of the strengthening of social cohesion and socio-economic capacities, World Vision under the direction of the National Director Mr. Yves Habumugisha organized on Tuesday, April 19, 2022, at the Grand Hotel of Niamey, the workshop to launch the Project of Socio-Economic Strengthening of Ouallam (RESO). The objective of the project is to promote the economic, political and social stabilization and resilience of communities living in the Department of Ouallam, and foster local conflict resolution and the prevention of violent extremism.
The Department of Ouallam located in the Region of Tillabéry, has been going through a situation of insecurity in recent years made up of armed attacks that cause loss of life. This situation led the Nigerien authorities to establish a state of emergency in the Department in 2017. A measure that allows the military to better fight non-state armed groups. However, this measure is not without consequences on the daily lives of the populations, which is characterized by massive displacements, the closure of several markets, the prohibition of sowing around military camps, etc. These restrictive measures and the security situation have plunged the population into a critical socio-economic situation in addition to the consequences of climate change.
World Vision Niger and its local partner, the Nigerien Association for the Treatment of Delinquency and Crime Prevention (ANTD), will implement this project funded by the PATRIP Foundation. The launch took place in the presence of the Director of KFW in Niger, the local authorities, the Mayor of the commune of Ouallam, the Secretary General of the Department of Ouallam, the heads of technical services of the department. . This financing worth two (2) million euros over an execution period of thirty (30) months from 01 March 2022 to 31 August 2024 will focus on conflict resolution, environmental and social management (land recovery, rehabilitation and construction of livestock markets) and the construction of five (5) mini-drinking water supplies,  and also the construction of fodder pens.
According to the National Director of World Vision Niger "it is indeed a celebration, because this project reflects the commitment, at the same time, of the government authorities in their highest representation, the German Cooperation through the KFW and World Vision International to accompany the most affected populations (those in the border areas with Mali) by the cumulative effects of the security crisis and climate change in their effort to strengthen better social and economic conditions. Moreover, I warmly welcome your presence here in Niamey and all the stakeholders of this project, with whom I would be happy to advocate and accompany such initiatives, which could serve as models. I know I can count on you as it has always been. Seeing you gathered here today reminds us of your commitment and your interest in a fraternal and peaceful climate in the Communes of Ouallam and Simiri. ''
To this he adds "my warm greetings and thanks, to the Technical and Financial Partners including the KFW through the PATRIP Foundation who accompany World Vision in the implementation of this project called RESO, for their invaluable support for the benefit of the communities of Ouallam and Simiri. ''