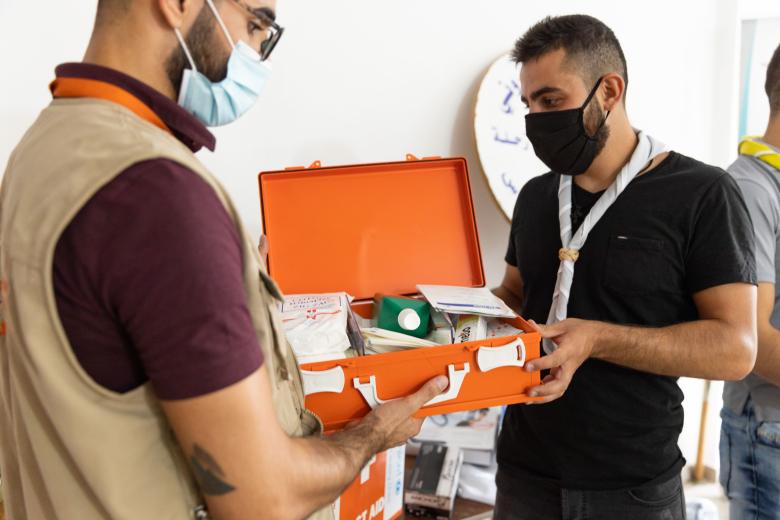 Equipping the community
Tuesday, September 22, 2020
Early in 2020, a global pandemic took over the world and changed life as we know it. Until today, primary safety measures are still applicable worldwide, from travel restrictions to complete lockdown.
In partnership with UNICEF, World Vision Lebanon is distributing Personal Protective Equipment (PPE), first aid kits, and tablets with data cards to provide remote COVID-19 awareness sessions to caregivers through scouts groups and community-based organizations (CBOs). Caregivers will receive invaluable child protection and psychosocial support resources addressing important topics through stories and self-engaged activities related to intra-personal skills (managing stress, anxiety, depression and psychosocial distress). Also, World Vision is addressing stigma and discrimination against the most vulnerable groups like children with disabilities and the elderly, and discussing child labour, early marriage, gender equality and facilitation skills.
For the Maronite Scout members in Qab Elias, Beqaa, the items provided by World Vision will help them through their work with the community. Roy, a scout member, explains the benefits of the items, "As scout members, we are participating in Beirut response to the explosion, so having a PPE and first aid kit will facilitate and ensure our safety during our work with the community there." He adds, "we are also distributing medicines to the elderly people of Qab Elias, so having the right PPE will keep them safe as well."
For Petra and Jocelyn, from the Michel Daher Social Foundation (MDSF), a community-based organization in Beqaa, the kits and the tablets will provide them with better ways to serve the community. "Through the sessions we attended with World Vision, we became aware and gained knowledge of child protection, child labour, disability inclusion and many more topics", says Jocelyn, "and with the tablets provided, we can now disseminate these sessions to the caregivers in the community we serve virtually," explains Petra.