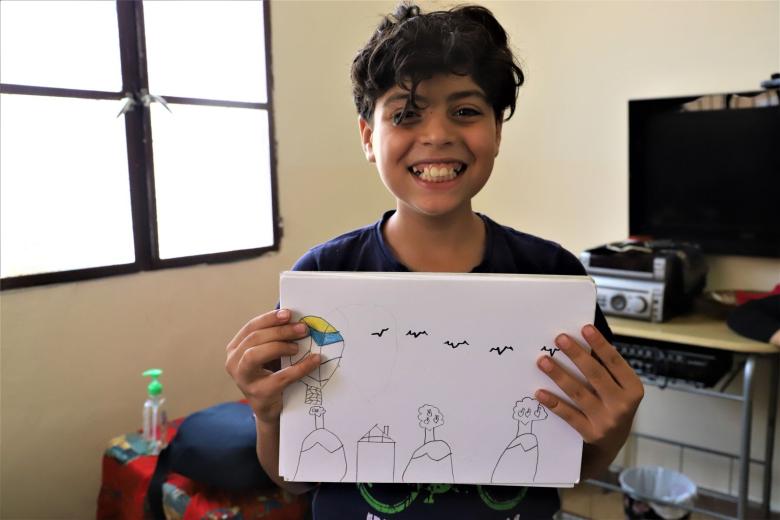 Jamil, twice a survivor, forever a hero
Wednesday, October 20, 2021
"Stay with your sister" are the last words that Jamil remembers from August 4, 2020. He didn't scream back then as he remembers, he did not even cry as he recalls. Jamil was in shock.  Thoughts came across his mind, "were these the last words I will ever hear? Is this the last time I hold my sister's hand?" This 11-year-old cancer survivor is now a Beirut blast survivor too.
It was a regular day.
Jamil and his younger sister Sharifa, four, were home with their parents in Al-Jisr, Beirut area. "It was a regular day, my sister and I were in the bathroom washing our hands after having dinner, and suddenly a huge explosion shook our home. We heard the sound of glass shattering all over and cars sirens went on, and loud screams filled the area," says Jamil. "Luckily we were in the bathroom, the only place in our home that doesn't have a window," he adds. "The aftermath of the explosion was horrible, my sister Fifi - as he calls her -  still gets a shiver every time she hears a loud sound", Jamil explained, "whenever she feels afraid, I hold her tight and tell her that everything will be okay."
Problems are like balloons!
World Vision in Lebanon, in partnership with the local NGO "Tabitha for relief and development", is offering affected families from the Beirut blast, Psycho-Social support.
"Being able to attend the online psycho-social support sessions and providing me with a tablet to make this possible, meant a lot to me, especially after all what I've been through in the past three years from dealing with cancer to the Beirut blast. I learned how to express my feelings whenever I feel nervous and frustrated by doing some activities that I like, such as drawing and playing football." Jamil elaborated, "I also learned that problems are like balloons.  They start small, they might get bigger but eventually, they fade away," says Jamil.  "For me, attending these sessions was fun and beneficial at the same time, and I will definitely enrol in the upcoming sessions," he adds.
Jamil is one of 570 children dealing with an incident that might not be forgotten, but with the help of the psycho-social support sessions, their recovery will be faster Jamil's ability to fight and resist cancer made him a hero and a survivor, add to that getting through the blast physically and psychologically, this made him a survivor for the second time and a hero forever.