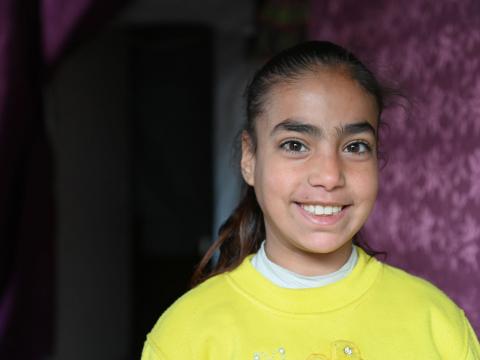 Nour, a strong math teacher... One day!
Monday, April 26, 2021
A decade of war in Syria has passed since 2011 and left a devastating impact on the country's children. This conflict has created the largest refugee crisis in modern history. Besides the social and emotional impact that being a refugee has on young children and their families, children have been always the most vulnerable in refugee camps, being forced to flee their home in a life-changing event at a very young age, in addition to the lack of proper education and other basic human rights. Lebanon, The host country of the largest number of Syrian refugees (more than 1.5 million) has already been facing a prospect of a complete collapse in all sectors due to the economic crisis that exploded back in 2019 and therefore has struggled to address the children refugee's basic education needs. With 10 years since the start of the crisis, and one year into the COVID-19 crisis, Syrian refugee children were facing unpleasant  views about their dreams and future. For them, education has never been a  is not a child's right, it was always a privilege.
Nour, a 10-year-old Syrian refugee in Lebanon, her age symbolises the beginning of the war in Syria, a war that left her with harmful images and significant distress that paused serious risks to her cognitive and psychological development and overburdened her emotionally. It started when a bomb hit a very close spot to her house in Syria 4 years ago. "I remember the whole scene, my mom was visiting her neighbour when a plane dropped a bomb next to our house and left us under the pile," said Nour. At that moment, Nour's mother Aisha, 38, thought she lost Nour and the rest of her children," I thought they were dead. They were very scared after the incident, they used to shiver whenever they hear a loud noise" said Aisha.
World Vision Lebanon, through its education intervention programming, has been providing Syrian refugee children an environment that can mitigate many of the risks they face by boosting their education and career trajectories. As part of the Covid-19 response plan, World Vision Lebanon funded the "Children in Crisis Approach" that targets children through remote learning and aims to empower them by responding to education and child protection needs in the informal tented settlements in Bekaa, South, and Akkar.
Aisha is very grateful for the opportunity this educational programme provides for her children "I am willing to sacrifice my life so that my children receive an education and a better life." She is eager to cooperate and collaborate to ensure that her children engage well in the program.
Nour participated in the "Basic literacy and numeracy" and has been provided with all stationary and material needed for her remote learning activities. "I am learning the alphabets, numbers, colours and shapes," said Nour. Her favourite subject is Math" She was the first member of the family to get an education and she has changed a lot for the better since she started the program with World Vision. She is very eager to learn and she is interacting with her teachers and learning new lessons remotely" assures Aisha. "I want to learn to become strong, my dream is to become a math teacher when I grow up" Nour added.
Through this project, 33 Syrian children in Qabelias has benefited from the BLN interventions including Nour. The project was implemented for 16 weeks through remote learning and the aim was to target children out of school and prepare them to get back to formal education, giving them hope for the future.
"Nour" a common Arabic name meaning "Light" has found light through education after years of distress, which empowered her to have dreams about her future. An education that should never be a privilege!