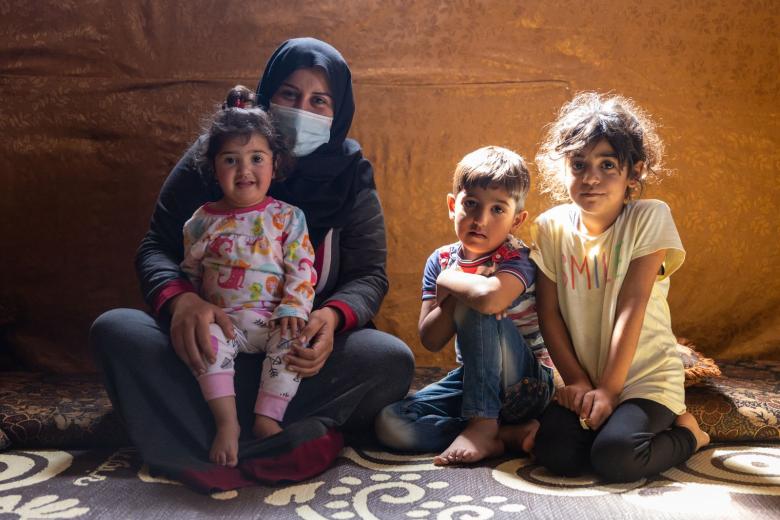 Water for everything, water for everyone.
Thursday, August 5, 2021
While water occupies 71% of the globe, many communities find it very challenging to access one of the most fundamental human needs. Around the world, millions of people are suffering from the lack of water which increases their exposure to diseases, due to poor hygiene and dehydration. With the current COVID-19 outbreak, the role of water in the recovery and resilience process is essential.
World Vision in Lebanon, in partnership with UNICEF and funds from Canada, is offering Syrian refugee families a clean and hygienic environment by providing them with chlorinated water that can be used for several purposes such as drinking, showering, cleaning, and others.
This is better: In an informal tented settlement in Bar Elias, Bekaa, resides a family with three children; Bashayer*,7, Abdel Nasser, 5, and Mal el Sham, 18 months.
"Being provided with water five times per month is sufficient for my family. It works well even for families with more members," says Abir, the children's mother, "even during the pandemic, I am not worried that my kids will be exposed to any kind of viruses, as they have the option to shower twice a day." She added.
Being able to access water easily after having problems in installing water pumps from the wells has a major impact on Abir's family daily routine.
Abir also mentioned, "World Vision conducted an awareness campaign that involves how to clean the water tanks and the materials and products to be used in the process, in addition to regular visits from World Vision members to check and clean the tanks for us."
The eldest, Bashayer, is more comfortable playing with her brother and friends outside their tents. "I feel good knowing that for sure when  I come back from playing outside, there is enough water for me, my brother, and little sister to clean up and possibly get rid of the viruses we may have caught outside".
The story of a little family represents the story of a whole refugee community residing in the informal tented settlements. Between surviving in hard conditions and being able to keep themselves healthy, clean, and safe, the help of Water, Sanitation and Hygiene programme, children and their families can benefit from water for a better more protected life and well-being.
*Names changed to protect identity