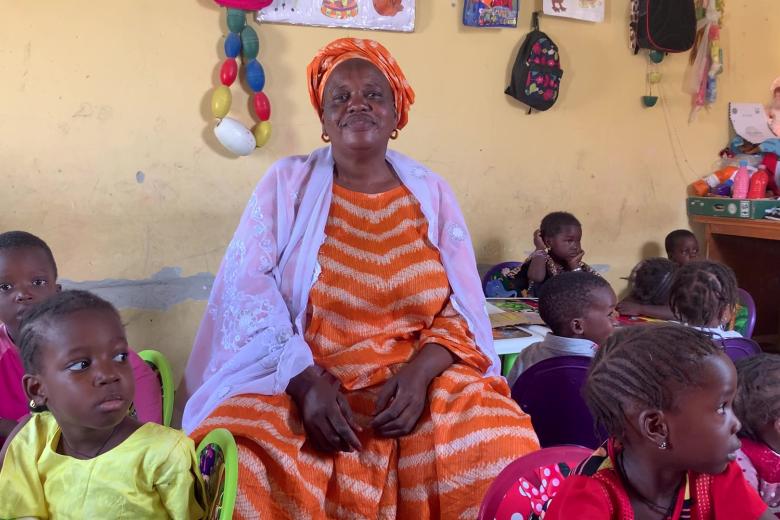 Aissata and her life-long commitment to communities and children
Tuesday, August 24, 2021
Aissata Djibril Dieng was a volunteer at with World Vision in Mauritania from 1999 until 2015 in the Area Programme of El Mina in Nouakchott. She started with in sponsorship at the organisation and was part of the Women's Relay Programme. Her role was also to raise awareness on children's nutritional health after having received several trainings with World Vision.
Her involvement with World Vision started very early on after her studies. "It was with World Vision that I started working. I was able to develop something to change my life", she narrates.
Through her contact with women and children, she developed a lot of knowledge and her immeasurable love for children led her to open a kindergarten for their welfare. "Aissata is a child in a woman's body because of her constant contact with them!", shares Houriya Mint Boutou, Nutrition Specialist at World Vision.
After the programme closed in 2015, Aissata continued her activities in her new community, Riyadh, by opening a kindergarten for nearly 30 children. Her establishment has allowed women to go about their business to support themselves.
In 2019, thanks to her skills and her position in her community, Aissata was contacted again by World Vision to expand her activities in this locality with the establishment of a Community Development Centre (CDC) which groups together sponsorship activities, a nutrition centre and savings groups.
Today, Aissata monitors nearly 200 children, 60 of whom are sponsored by World Vision (Germany office), and also manages four saving groups. In addition, she is constantly involved with the women of her locality in order to bring them together in cooperatives for their empowerment. However, the welfare of children remains her primary concern.
"Apart from her friendliness, Aissata is concerned about the future of the children who have had to attend her school. She manages to amaze many people thanks to her commitment, her perseverance, and her mastery of the situation of each child on a daily basis", says Houriya Mint Boutou.
Over the years, Aissata Djibril Dieng has shown her passion for the community through her hard work, dedication, and commitment.