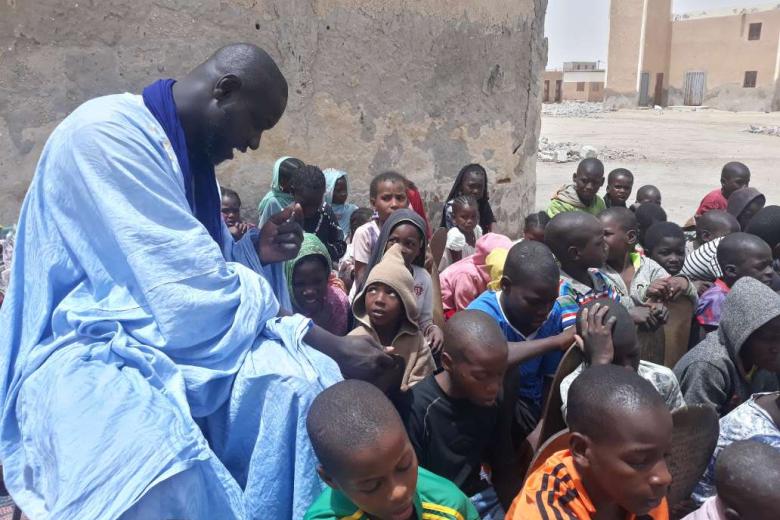 Celebrating Families in Dar El Beida
Wednesday, July 10, 2019
Dar El Beida is a peri-urban district of the municipality of El Mina in Nouakchott with a population of 7,000.   Sidi Mohamed is a 37-year-old Koranic teacher who is a prominent figure in his community. He teaches about a hundred children every day from 8am to 12pm and then in the afternoon, aged 3 to 6 years old.
In 2016, with the implementation of the sponsorship projects, he met with World Vision agents who came to his community to raise awareness and recruit children.
He has been trained in sponsorship, protection, advocacy and the CVA approach. He is a member of the CDC committee, and is appointed to be in charge of the CVA. He raises awareness in his community and talks with the authorities about child protection, health, parents and school monitoring. In addition to this, he has done two training courses through the F&D project.
He notes that his CVA and CFC training has really changed his life. Before, he was not interested in what was happening in the community, because he thought that only local elected officials, the town hall and the State should deal with this kind of business and that he had no say in it
Today, thanks to the various training courses in which he has had to participate, I know my rights and duties as a citizen, as an educator, as a member of the Dar el Beida community, and as a father.
For Sidi Mohamed, the discovery of the "Celebrating Families" tool during a training session in 2016 marked a turning point in his life. The objective of this training is to equip families to create a healthy and loving environment for the well-being of children and the search for happiness among families.
Celebrating families is based on these five precious concepts: creating a framework of love and grace, and finding seeds of kindness, opportunities to forgive, and reasons for thanksgiving. They guide families towards the fullness of life by focusing on four parts of the journey: Examining the past, recognizing the present, looking to the future and pursuing dreams. The hope is to start with a generation of fullness of life and favor, and to break the cycle of break-up and poverty in all its aspects within families.
"I have always loved children, but I was hard and demanding with them because I thought that the best education for them should be through rigour and respect. As a result, the children feared me and did not laugh with me. I didn't understand why. After the training, and the understanding of the modules, I questioned my attitude and my way of dealing with children and my family. I have learned that my religion prohibits these kinds of practices and instead requires that we put children at the centre of everything, that we express our love and cherish them.  Celebrating Families has helped our community to reconsider our religious principles regarding the place of the child and the family. »
Sidi Mohamed has not only positively changed the way he interacts with children and family members, but he has also seen how this has transformed the relationship between children and adults in his community.
"In talking with community members we were pleasantly surprised to see how the children look more fulfilled, more jovial. They confide more in us and ask us more questions. We feel that they trust us more and do not hesitate to submit their concerns and fears to us, whereas before that were not even possible.                                          What impressed me about what I learned was that attention is focused on the family, not just the child, not just the parents. It is an attempt to support the basic unity of society, which is in many ways the foundation of love and charity. In many cases, this foundation will be both children and parents. But in some situations the basic unit will be any group of people who provide love and charity to children in the context of cultivating relationships. Today that is what we have managed to do in our community. »