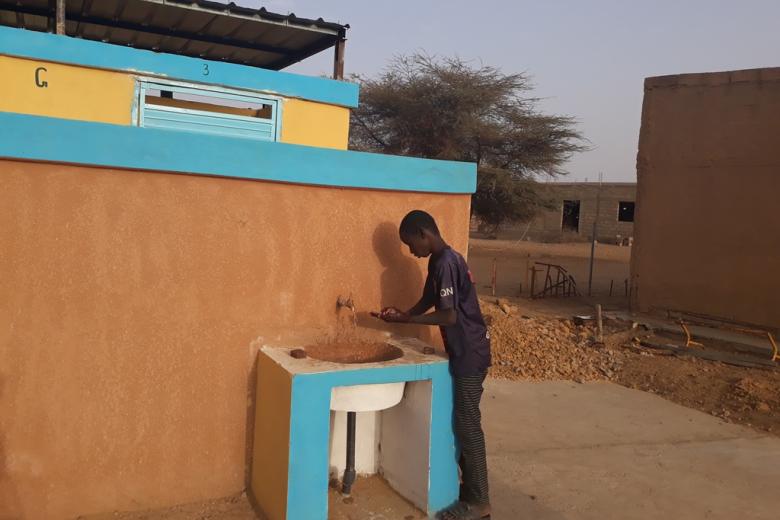 The end of a nightmare at Loboudou school
Wednesday, July 10, 2019
Loboudou primary school, located at 67 km from the city of Boghé in Mauritania, had water supply problems and very limited access to latrines because of the number of girls and boys and also the oldness of the latrines system, which put students in total insecurity.
Latrines were built with equipment that was failing from day to day. The students travelled huge distances in search of water; they were not helped out in some families.
This situation had a negative impact on school performance with regard to the education received, as they had to drop out of school to make long lines to get water and also for access to the toilets. 
Aboubacar Ly the village chief testifies: ''Today we give thanks to God, our school is the pride of the village, we are convinced that the acquisition of water and latrines built for girls and boys has really changed school life. We no longer see our children in families during school hours looking for water or looking to relieve themselves in the latrines of nearby houses, thanks to ȧ World Vision the students have regained a smile''.
The school environment is the only place where the community can receive foreigners while the students are on holiday and also the school is the place where all the major meetings of the village are held, a polling station par excellence, inappropriate hygiene conditions were a disgrace to the village, the lack of water and latrines.
"We no longer have any shame in receiving anyone in our school, because it has become a modern school for us with the conveniences we had aspired to long ago, namely water and good latrines, today our aspirations have come true," added the village chief.
Let us not say it: a healthy body in a healthy mind. The acquisition of water and latrines for boys and girls has given a new impetus to the students. The chore has ended; they are on time in the morning the results of the end of the years are appreciated.
Yaya Seck, the headmaster of the school, added:» 'The whole village benefits from drinking water, our students are the first beneficiaries, we teachers are also very happy, to tell the truth. The students and teachers were experiencing the same difficulties within the school compound, it is a general relief.
At Louboudou School, hygiene practices are performed by the students, and this behavioural change is spreading in the families.
"We are grateful ȧ World Vision, for these precious gifts, we no longer live the past in our school, no more difficulties, it is reality, it is wonderful. We practice these behaviours changes in our families and this has reduced diarrheal diseases, caused by poor hygiene, the separation of toilets at school gives us much more privacy as girls," Alimatou, a 6th grade student, told us.