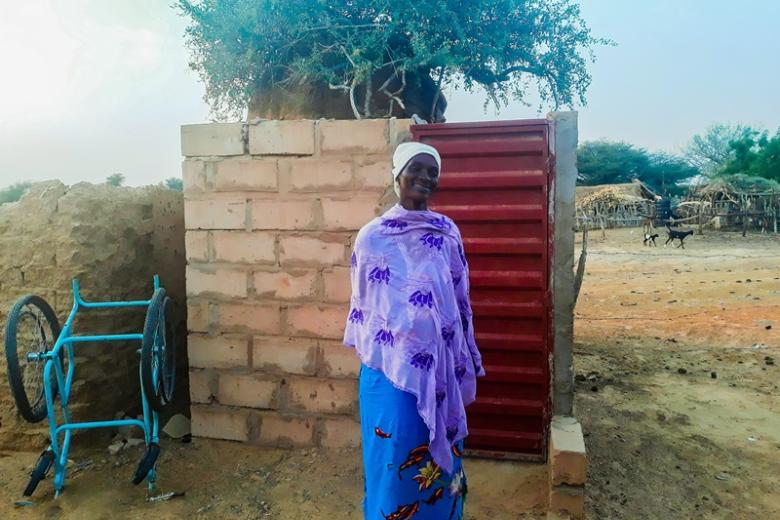 Fatima dignity restored
Wednesday, July 10, 2019
Loboudou, is a village located 67 km from the city of Boghé in Mauritania. In this village, World Vision carried out awareness-raising activities on water, hygiene and sanitation to encourage people to change their behaviour.
A large part of the population has joined this initiative: the construction of family latrines to eradicate defecation ȧ the open air. But within this population, some families have remained on the margins due to lack of resources. Fatima is a happy beneficiary of this World Vision project.
Fatima Samba is a housewife, mother of four children; her financial means did not allow her to have a traditional latrine, let alone an improved one. It has benefited from an improved latrine thanks to the support of World Vision.
She tells us this: 'Before I didn't have a latrine in my family, I felt very unhappy with my neighbours. For my toilet and defecation needs I went to the neighbours, for a woman it is not easy, not easy and shameful, I was not welcome at others, my children went to defecate in the bush and were very exposed to dangers''.
It was with great difficulty that Fatima told us her story, we felt in her the powerlessness to change things by herself.
World Vision was considered for her a divine blessing. She added, "Now I have finally regained my dignity. I feel very relieved and so does my whole family, no more chore, no more humiliation, I finally have a latrine at home, my children are no longer exposed to snakes and other dangers in the bush''.
It was with a smile and great joy that she ended these words by entrusting us with this: 'In addition to regaining my dignity, I have regained my privacy and that of my family, finished this nightmare, I thank World Vision who has relieved my whole family''.