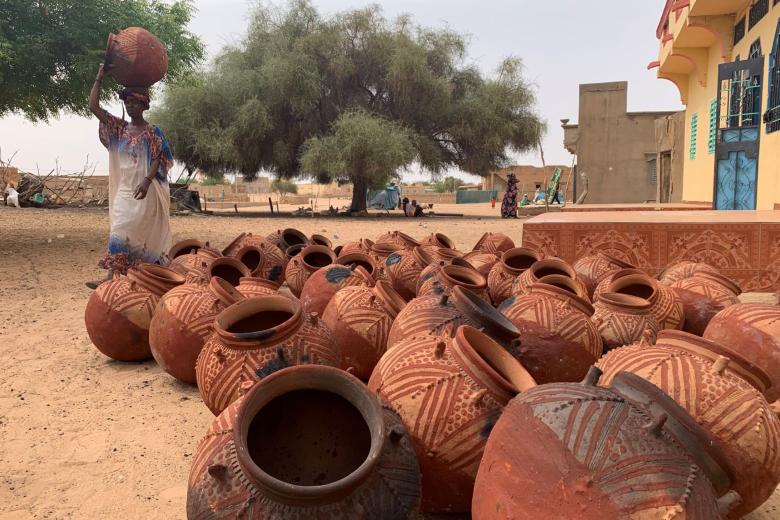 Strengthening Mauritanian civil society organisations for local development
Tuesday, August 24, 2021
In cooperation with World Vision and the NGO Tenmya, the European Union initiated in 2016 a project of capacity-building and restructuring of civil society in Mauritania through the European Programme for Civil Society and Culture (FED/PESCC). The project covers six intervention poles across the country: Nouakchott, Nouadibou, Atar, Boghé, Kaédi and Aioun.
In partnership with Tenmya, World Vision intervenes in the Boghé pole, which is at the centre of a 100 km radius of action with 13 beneficiary communes. The objective of this programme is to contribute to the development of Mauritania through the existence of a strong civil society, structured and well organised in network, in order to become a major actor for change.
The project focuses its capacity-building interventions on three components: health, agriculture and income generating activities (IGA). In its first phase, the project enabled local organisations to become legally structured and to meet the eligibility criteria for existing funding. In the Boghé area, where World Vision works with its partner Tenmya, 50 local organisations and cooperatives have received training and coaching, 22 of which have received funding of up to 2 million UM (approx 55,400 USD) each.
"With the PESCC we are now better equipped to face our responsibilities thanks to the training they have provided in project set-up, management and farming techniques. This has enabled us to obtain funding from other structures for the development of our activities", says Oumou Kalssoum Thiam, President of the Badio Goldo Agro-Sylvopastoral Cooperative.
In order to better capitalise on the achievements, a reflection and consultation process identified the needs of civil society organisations in Boghé in terms of capacity-building, empowerment and participation in communal and departmental consultation frameworks. It is in this context that the European Union and its partners decided to join their efforts to launch the second phase of the PESCC project (PESCC2) in order to provide sustainable solutions in the areas of handicrafts, culture and agriculture in the Boghé activity pole.
The programme selected 60 Civil Society Organisations (CSOs). Fifty of them were selected to benefit from cascaded funding, including 25 in agriculture, 10 in crafts and 15 in culture.
The president of the Fédé Djarno Niabina cooperative, Fatima Mamadou Sy, who is one of the beneficiaries, is delighted with the support provided by this programme for their pottery activity. "The funding from PESCC has encouraged us in our work, and we have been able to buy the tools that we lacked for our activity. Thanks to our income, we can now send our children to school and improve their diet by adding a variety of fruits and vegetables to their food to support their growth", she says.
Among the CSOs supported by the programme, high value-added processing activities, including the manufacture of enriched flour and couscous, have been financed to empower them and help them contribute significantly to the fight against child malnutrition. "We have experienced a considerable increase in demand for enriched flour with the growth of our activities", says Oumou Kalssoum Thiam.
Ultimately, PESCC will allow Mauritanian CSOs to strengthen their capacities while ensuring the continuity of their achievements and working towards social cohesion and citizenship education for women, men and children.