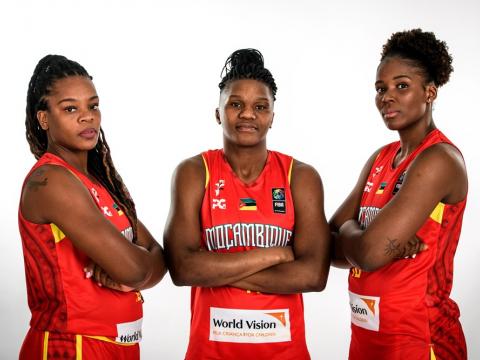 Mozambique's Women National Basketball team plays "for children"
Friday, February 7, 2020
"For children" is the message the women from Mozambique's female National Basketball team has literally taken to a sports arena in Belgrade, Serbia, to fight for a historic place in the upcoming Olympic Games.
The selection's new jersey features the words "for children" just underneath the logo of the non-governmental organization, World Vision, a social responsibility partner of the country's Basketball Association. "For children" is a call for girls and boys to be given the opportunity to fulfil their potential.  In order for that to happen, World Vision says, children must feel and be loved, cared for and protected.
World Vision describes the heights Mozambique's national ladies basketball team has reached as a particularly powerful and inspirational example for girls around the country whose dreams are often cut short by early marriage. 
In fact, one in every two Mozambican girls is married off before her 18th birthday.  "They are living proof of where girls' and women empowerment can take us as a country. We can go places. We just need to be intentional about changing what needs to changed," says Eleuterio Fenita, the World Vision's Advocacy and External Engagement Director in Mozambique. 
World Vision has been actively involved in a number of local and national level advocacy initiatives aimed at tackling child marriage and other forms of violence against children in Mozambique.  The organization played an active part in the process that culminated in the recent approval of the country's first anti-child marriage legislation and has been educating and equipping community and faith leaders to address harmful the social and cultural norms driving the practice.