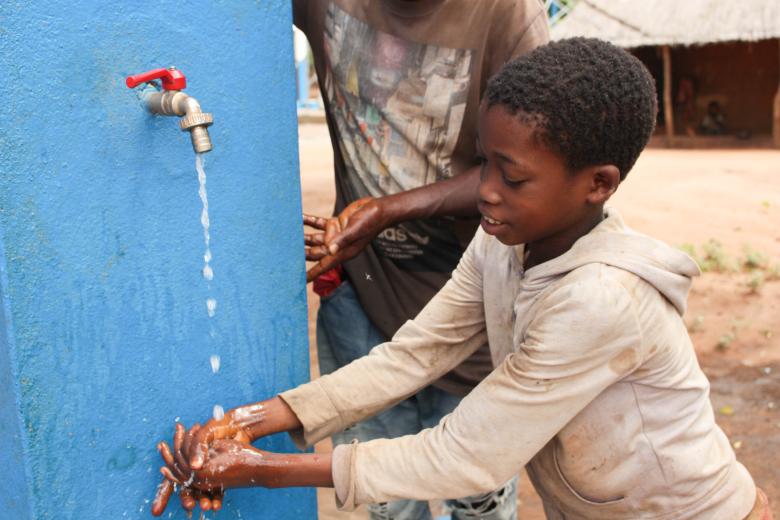 Small community water system spares children from hard journey in Tulua
Thursday, July 1, 2021
By Benjamin Capito
"Now, life is easy because the water tap is near our home and I don't worry about being attacked by robbers along the way", says Dércio (14), rejoicing at the new piped water system in Tulua village, in the northern province of Nampula in Mozambique. Dercio is one among 1,200 people in Tulua community who now have access to safe and clean water thanks to a system built by World Vision through funding from the United States Department of Agriculture (USDA).
On dark nights, Dércio and his mother previously only had only the dim light of the moon and stars to guide them on their way home, back from the river where they once used to get water to drink, cook and bathe. 
Going to the river during the night was frequently a dangerous endeavour for children and women. Dércio's father, Silvério (45), remembers vividly a time when robbers chased the boy and his mother away, in attempts to steal the 20-litre water containers.
"At least three times, thieves hiding in the bushes tried to steal water containers by throwing stones at my son and his mother. Fortunately, they were not harmed, but the containers were damaged on the run", recalls Silvério.
Yet, fetching water during the day also came with its burdens. During daytime, the river used to be crowded, and so safe access to the water source was limited.
Walking to the river took more than two hours. The walk was a challenge for the barefooted boy, who had to make his way through a rocky trail, balancing his thin body to sustain the container on top of his head. A few minutes wasted on the road to find water meant being late for school.
Light began to shine on the life of Dércio's family, and for their community, when local authorities opened a borehole with a manual pump. However, issues remained, as the community had to wait in long lines to use the one and single manual water pump.
In partnership with the local Government, World Vision, under the "Educating Children Together – Phase III" (ECT-3) project, upgraded this borehole to a piped water system.
More than 1,200 people in Tulua community now have access to clean and safe water thanks to the new system, which has also made water available in Tulua Primary School, reinforcing hygiene practices for students who returned to school on March 22, after a year of school closures as a preventive measure to halt the spread of COVID-19.
Since the completion of this water supply system in early 2021, finding water is no longer associated with dangers and heavy burden for children in the community.
"Now, life is simple because the water tap is near our home and I don't worry about being attacked by robbers along the way," says Dércio, who is aware that permanent water makes it easy to wash hands and prevent the spread of the novel coronavirus.
By the end of 2021, the project expects to complete eight piped small community water systems to provide easy access to clean water for schools, health facilities and communities.  Additionally, World Vision will drill 20 new boreholes on the premises of selected schools equipped with a hand pump and protected from contamination according to Government standards. Each of these water facilities is expected to serve at least 1,200 people.