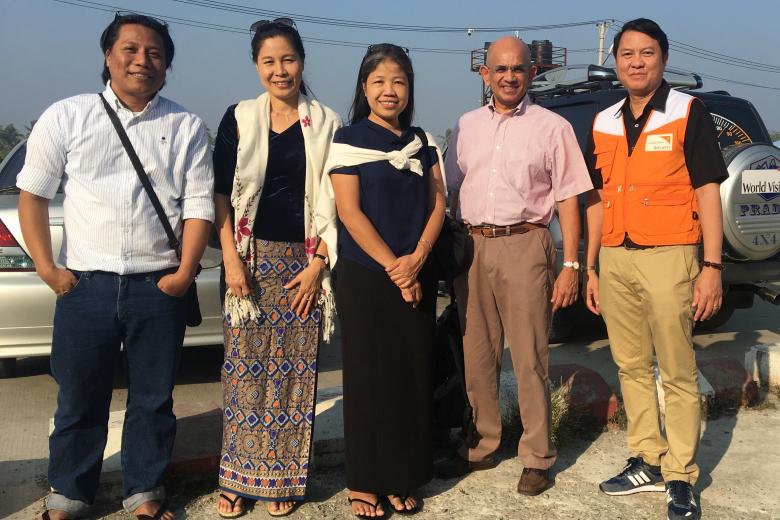 A journey to the centre of fragility
Tuesday, March 17, 2020
Flying from the business capital, Yangon to the capital of Rakhine state, Sittwe, feels like business as usual. Still, the reality of the ongoing tension is apparent while travelling from town to town within the state as you require permissions to enter even for local citizens. The landscape is full of checkpoints where the border police force, strictly monitor the flow of vehicles and persistently check required documents. There was an unsettling emotion at first, which overwhelmed me, but I stayed calm -- positive to take away some learning and inspiration.  
The peaceful community before is now underlying unrest. People used to move anywhere and anytime, but now, it seems restless and the place under surveillance all the time. The natural scenery exudes a sense of calmness and tranquillity, yet the underlining issue of unrest dwells in human interactions.
Reaching Rakhine
Half an hour by car to the jetty, we travelled the Magyeechaung estuary for about an hour to reach Angumaw village. While crossing the sea, I saw several fishing boats – agriculture and fishing are their main livelihood. After an hour of bouncing over the waves, green mountains rose up out of the water. Life seemed to go back to normal again, in the sea, shrouding the instability on land. Once we arrived at the Angumaw, we embarked on a three-hour journey by land in a vehicle convoy to Buthidaung. Vehicles were stopped and checked at every border police post. 
The ethnic conflict in Rakhine state started in 2012 with prolonged fighting between two groups. Many lives have perished, properties were destroyed and families were displaced. The situation has intensified by armed conflict between the military and ethnic group, which makes the people in distressed while the place was unstable.
With an internet blackout in Buthidaung and Maungdaw and curfew in place, we returned from the field visit before 8 o'clock in the evening. The limited connectivity took me back to the conventional way of face-to-face interaction – talking in person with staff and colleagues. I wondered how the people survived in the 21st century without the internet, for us who stayed just a night, it was a minor inconvenience. For those who permanently stayed there, it's normal not having access to news and information from the outside world. Oblivious to the fighting at night near the town, I laid down my head to rest for the night. 
"Without internet, we cannot send any information to our family members back home who are worried about us," says a staff, based in Maungdaw. "We have to go to the United Nations (UN) compound and ask for their assistance to use the internet to send our reports and situation to our head office in Yangon," he says.
Access to the villages and camps is restricted mainly for expatriates. Although we did not get a chance to visit the villages, we met some enthusiastic staff who shared their achievements and challenges, working in a challenging environment.
The need is still evident, even if aid organisations have been present in the area since the conflict started. The total population has increased even after the incident. 
Thankfully, World Vision Myanmar began its operations in Rakhine in 2016 in response to the people affected by communal violence and continue to assist those in need until now.
Talking to staff one gets a sense of the issues she said, "Armed conflict and fighting persists." The tension between Rakhine and minority Muslim communities has declined," says one of the staff who is a resident in Rakhine.
It was heart-warming to see the staff, working hard to reach the most vulnerable people, amidst the many challenges. The recovery programme cover food and cash distribution, livelihoods support and area rehabilitation programme, focusing on child protection, education, water and sanitation and livelihoods support, has impacted many lives. 
Meeting Yasin
I walked further into the area to see the conditions and speak to people. I met Yasin, one of Muslim people living in Rakhine State. Yasin's family was relocated due to the conflict. His original home was totally destroyed when a major conflict broke out in 2017. Feeling for his life, he moved to another village in the pursuit to find a peaceful settling place.
Supporting a family of nine was a challenge when everything was destroyed brought by the conflict. "Life was so better before the tension broke out. My business was doing so well. I was able to provide for my family," says 51-year-old Yasin.
As part of World Vision's livelihood programme, Yasin is one of 1,642 people who received livelihood support for his family. He attended a two-day small business start-up training and a cash investment of 270 USD (375,000 MMK) to start his little shop. Currently, his income from this shop in between 29 to 36 USD (40,000-50,000 MMK) a day supporting his three children's education as well his family's needs.
When the work impacts lives, it serves as our inspiration to keep pressing on, even in the most challenging context. Despite these challenges, World Vision Myanmar will continue to assist and support the most vulnerable children and families. I leave Rakhine with a flare of inspiration, hoping that peace will be restored despite all the obstacles that still exist.
Written by: Phoebe Naw, Associate Director, External Engagement Division, World Vision Myanmar