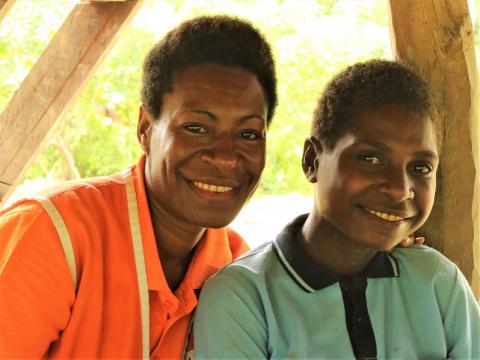 God works in mysterious ways: Our lone female staff in Middle Ramu
Thursday, March 5, 2020
My first impression of Middle Ramu was that it was a very challenging place and I had made up my mind back then that I would never set foot in Middle Ramu.
However, all of my negativity about the place vanished one afternoon in 2018.
My colleague Walter and I had just completed a week long identification of Primary Schools that the new Australian NGO Cooperation Program – Access to Literacy and Learning (ANCP_ ALL) project would be working with in Middle Ramu District and were on our way back to Madang.
That afternoon was very different I would say, the sound of our outboard motor was the only thing that could be heard for miles, the place looked sad as the setting sun danced across the milky brown Ramu River.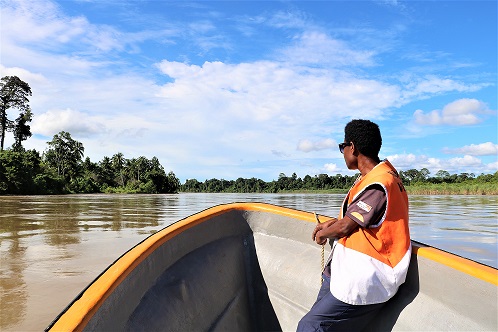 My eyes were following the sunset, admiring it, and as I followed it, my eyes fell upon a boy of about 11 years old standing by the river bank.
As soon as I saw the boy I remembered how Walter and I had gone to each school in the area to find out about issues affecting children. We found out that most did not have a fully functioning school board, students lacked learning materials, and some schools were shut down because of land issues and a lack of teachers which affected the learning of children in the District.
Seeing that little boy reminded me of my own children and how fortunate they were in Madang, I felt my heart go out to these children in Middle Ramu as they too deserved the same attention and quality education.
I could no longer hold back my tears as they flowed freely down my cheeks and felt a knot in my throat as I tried to fight away the rush of emotions. For the first time in a long time, I gave in and cried the rest of our journey back to Kwanga.
That night was very restless for me, I couldn't sleep, I tossed and turned in my tent, I woke up several times and then I decided to pray, I think I said something like, "Lord, if this is your will, I will stick with this project for the entire duration." I don't know what I said then, but I felt comforted as prior to this experience, I was so negative about the place and had contemplated resigning.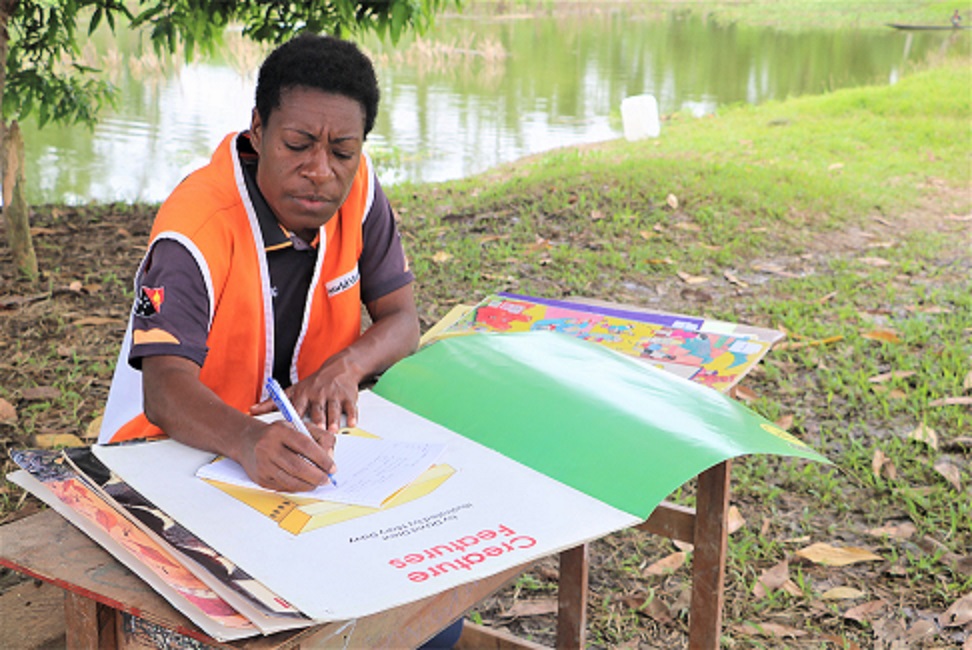 That afternoon changed my perspective of the place, and that prayer sealed my fate and gave me the faith and strength to stay on in Middle Ramu to implement the World Vision ANCP-ALL program.
I never met the boy or knew him but to me, that was a sign that I had work to do in this District and so my humanitarian work in Middle Ramu really began on that day back in 2018.
All my negativity about Middle Ramu is now a thing of the past, I consider it my home and the people as my people. I have made great friends, I work with some of the most caring, fun loving and dedicated field staff and we have become a family. Whenever I go to town I always want to come back quickly because Middle Ramu has now grown on me.
My name is Erinol Polengi, I am 33 years old and a mother of two beautiful children whom I often leave behind to work in the far flung district of Middle Ramu in Madang Province of Papua New Guinea.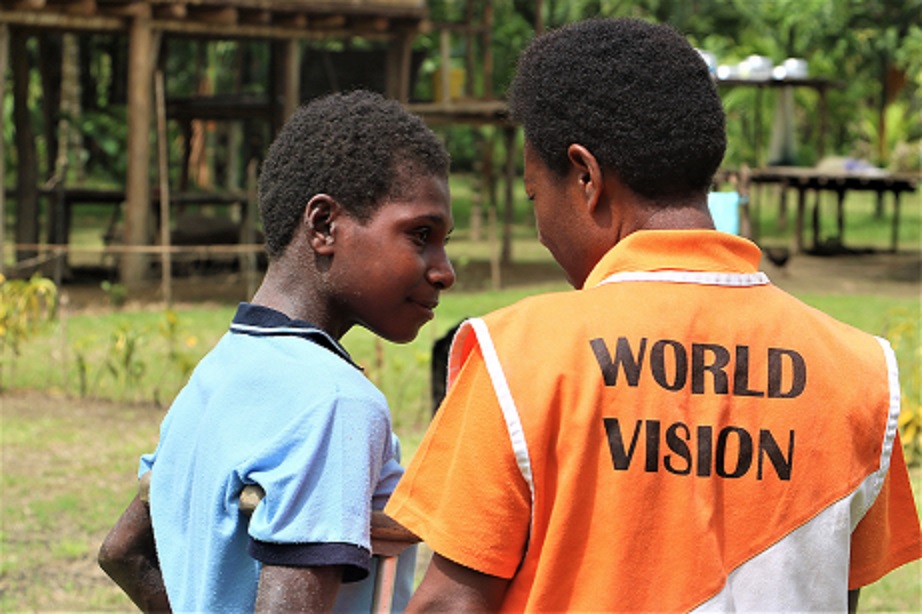 As a project officer with an education project supported by the Australian Government through the Australian NGO Cooperation Program Access to Literacy and Learning (ANCP - ALL) , I often leave my husband and children behind for two weeks to work in the field in our peak months which are February, March, April and May.
In June we spend only a week in the field and use the remaining three weeks to compile our project reports. Similarly for the months of December, January and September.
The trip to get to our program mission station of Kwanga is an estimated 9 hour journey by dingy when the tides are low, on some occasions we have had to spend the night along the way due to poor weather conditions or poor visibility due to the sun setting which does not allow us to continue our journey.
I'm the only female project officer amongst all the men who work in this area but I enjoy it very much, I refer to all of them as my brothers and they all respect me as the only female staff.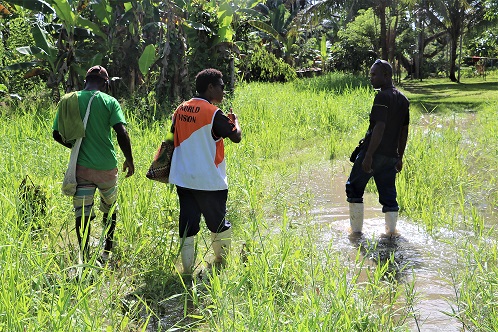 It can get really rough sometimes out in the field but I have learnt to adapt and be like one of the guys. We do not have any of the basic services such as electricity, or tapped water or internet so I do miss my children and often think about them therefore when I do get home on my breaks, I try as much as possible to spend quality time with them because they are the people who keep me going.
I have been with World Vision since 2012, I started off with a TB project then moved on to two other projects on Maternal and Child Health.
I took a break but was called to return to the organisation and I am now part of the ANCP – ALL project. It has now been seven years and I just recently received my 5 year employment Certificate which I am very proud of.
As a mother of two young children – twins, a boy and a girl and working in a place like Middle Ramu where there is no mobile network is very challenging.
I had a hard time coping with the fact that I could not call my children for three weeks but as time went by I got accustomed to it and the transition was not very difficult because my family were very supportive of me as they understood my passion as a humanitarian,
While I am in the field, I can only reach them through my cell phone when I get to Annaberg (a project school where ANCP – ALL is implemented) but when I get into town, I always try my best to spend quality time with my children because World Vision as an organisation value children and advocate for better work life balance therefore our families must come first.
In 2018 when we first started identifying schools, we were given 7 schools, today we work with 11 schools in the District.
Change takes time but I have seen a lot of improvement in the schools we have worked with.
Most of them now have functioning school boards who know their roles and responsibilities through our training, we have mentored reading club volunteers and have taught them how to write short stories for children in their very own local context and most schools that were once closed are now re- opened and children are back in the classroom learning.
The ANCP – ALL project in Middle Ramu implemented by World Vision in PNG is made up of three staff members, myself, my colleague Walter, our Coordinator Mr Iso Nom and our Dingy Skipper, Freddy - a local from the area who helps us travel to and from the schools, most of which are an hour or two from where we are based at Kwanga Catholic Station.
Part of my role in the project is to mentor reading club volunteers, meet with and mentor school boards of management by providing training on their roles and responsibilities through our partnership with other stakeholders in the province.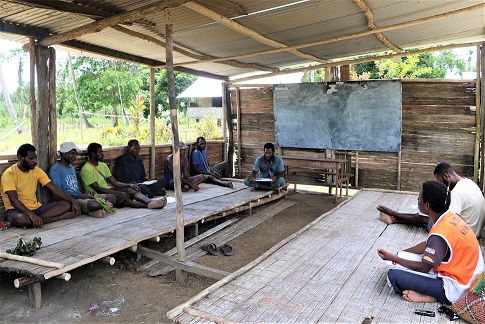 I also assist my Project Coordinator where necessary in attending partner meetings.
I am happy of the work I do and I thank God for this calling because I believe the ANCP ALL Program I am implementing will impact the lives of children, their families and the District as a whole so when these children grow up, they can contribute positively to their communities.
Apart from her project duties Erinol also contributes to helping children with special needs where she finds them, she also helps her colleagues in the Financial Literacy and Inclusion Project (FLIP)- a sister project of the ANCP- ALL project both supported by the Australian Government through the Australian NGO Cooperation Program (ANCP).